Culinary Bucket List: The Treasures of the Emerald Isle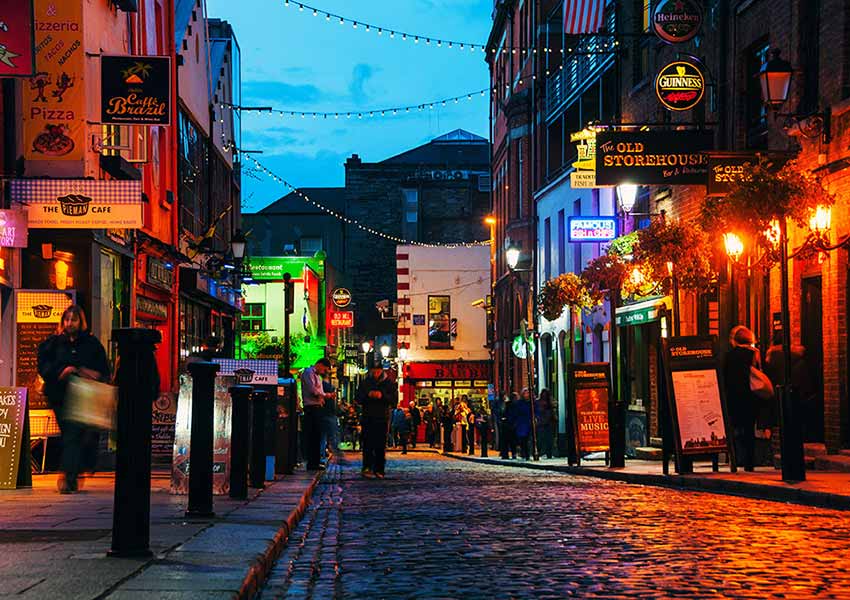 F.N.Sharp
Ireland hasn't always been known for its food scene – quite the opposite, as a matter of fact.
But throughout the last decade or so, the country has shaken off its reputation for being a place where bland food is the norm. With more and more restaurants in Ireland earning top reviews and industry kudos, such as Michelin stars and other coveted cooking awards, the country is quickly becoming known for its revamped foodie scene
While Dublin is still the center of Ireland's culinary renaissance, many other locations throughout the country – including Northern Ireland – are appearing on the radar of food lovers. In addition, Ireland offers a handful of unique dining experiences presented in unusual or historic locations. It all adds up to a fine culinary adventure for those travelers who love a combination of sightseeing, outdoor activities, and good eats all rolled into one great vacation.
Here's a list of eight dining experiences that might even be worth going out of your way to find!
Restaurant Patrick Guilbaud
Dublin 
Credit: @Restaurant Patrick Guilbaud
The only restaurant in Ireland with two Michelin Stars, Restaurant Patrick Guilbaud was one of the first to offer Ireland's contemporary cuisine. Opened in 1981, it offers diners a taste of Ireland mixed with a dabble of French.
Local sourcing is what it's all about at this gem, with food coming from a host of local farmers, fishermen, and growers. The result is absolute perfection! Choose from an a la carte menu or the 4-course degustation or 8-course tasting menus (these are surprise menus; trust them, it'll be good!). Lunch is available as well.
Check out these unique dishes:
The Ravioli of Blue Lobster appetizer, covered in lobster coconut cream and almonds with a split curry dressing
Artichoke and Chestnut soup with a hint of madeira wine
Celtic Sea Black Sole (likely caught that morning) with prawn and saffron butter and tomato Viennoise
Roast Red Leg Partridge with parsnips, cabbage, cherry mustard, and smoked black pudding
Guanaja Tart Soufflé with stout ice cream
Restaurant Patrick Guilbard also has a beyond-impressive wine cellar, offering more than 30,000 bottles from every corner of the world.
Restaurant Patrick Guilbaud
21 Upper Merrion Street
Dublin 2, D02 KF79, Ireland
https://restaurantpatrickguilbaud.ie/
Tel: +353 (0)1 676 4192
Deanes EIPIC
Belfast 
Credit: @Deanes EIPIC
A Michelin-starred restaurant for the last 4 years, EIPIC is owned by Executive Chef Michael Deanes, who runs two additional restaurants in Belfast. Quite formal with pristine white tablecloths and a very serious but cordial wait staff, EIPIC takes local ingredients and turns them into a somewhat contemporary comfort food. Their fresh-baked bread is always on the table, along with light and sweet desserts to end the meal. The menu is small but there should be something for everyone. Prices are prix fixe.
Consider these excellent offerings:
Short ribs with carrots, cavolo nero, and lovage
Venison carpaccio with kohlrabi, mushrooms, and almonds
Poached rhubarb with white chocolate and ginger
A cheese course is available as an add-on to each meal and a full vegetarian menu is offered as well. A sommelier offers his expertise in helping you pair wine with your menu choices, and some excellently-crafted and unique cocktails are available as well, including Deane's signature Black Apple Pie made with Bushmills and apple and cinnamon syrups.
Deanes EIPIC
28-40 Howard Street
Belfast, BT1 6PF, Northern Ireland
https://www.deaneseipic.com/
Tel: 028 9033 1134
Ichigo Ichie
City of Cork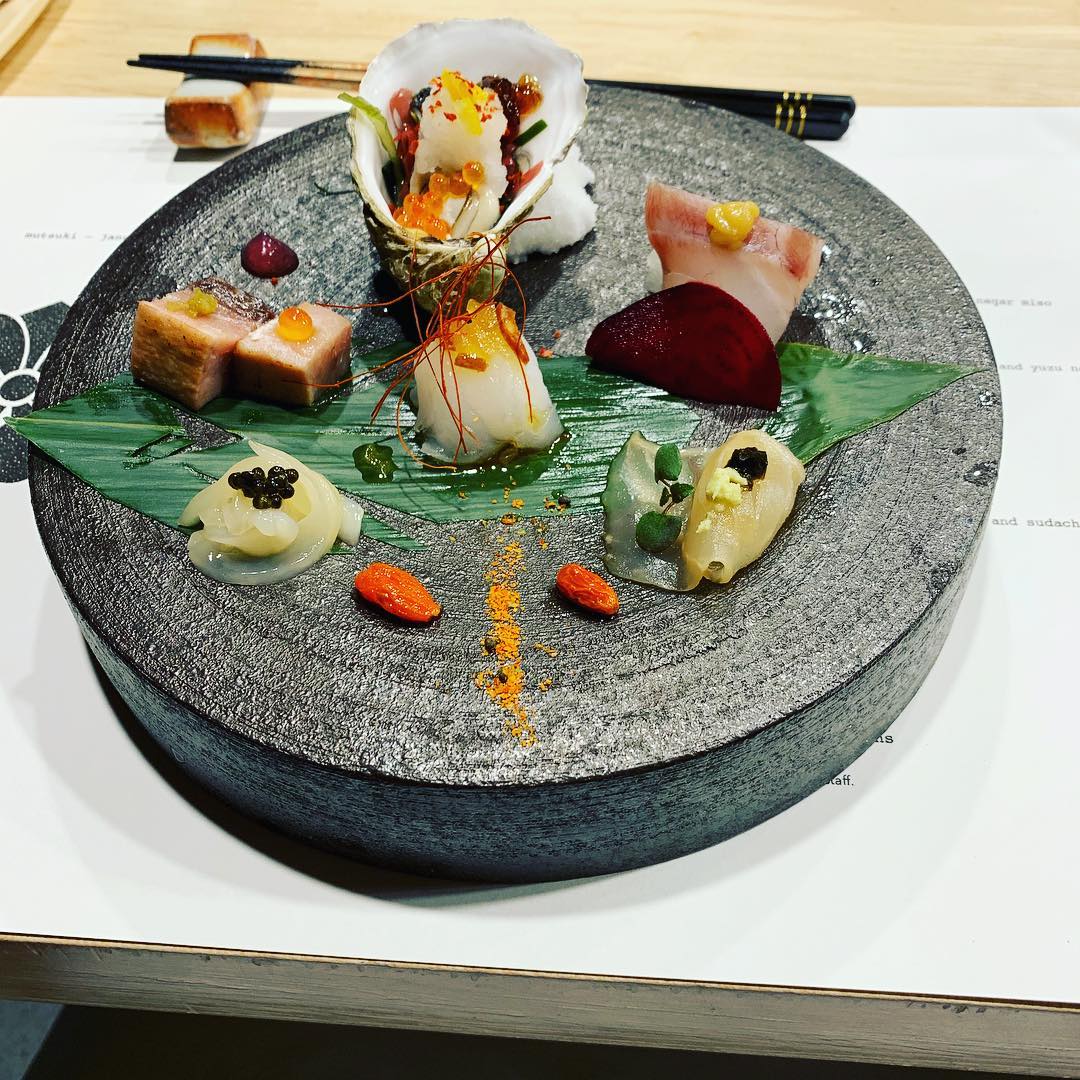 Credit: @Salman
Tucked away in southwest Ireland in the City of Cork, Ichigo Ichie is the first kappou-style and kaiseki restaurant in Ireland. Kappou is a multi-course meal that's left entirely to the whims of the chef, so it's always a surprise – albeit a pleasant one at Ichigo Ichie. Kaiseki refers to a very elaborate and almost art-like presentation of seasonal foods, usually served in small portions. Texture, colors, and appearance make for an exquisite presentation.
At Michelin-starred Ichigo Ichie, the menu will likely include items you don't normally find at your average Japanese restaurant. Even when the food names are recognizable, however, chances are the presentation and taste will be like nothing you've ever experienced.
This is a very small establishment, so it usually takes months (or more) to snag a table. The Stone Garden dining room seats eight, the Nagomi room seats twelve, and the chef's counter table has room for just five guests.
Selections at Ichigo Ichie include:
Uni wan yuzu tosazu - Bantry sea urchin, Castletownbere crab, Ballymaloe black radish, carrot and yuzu namasu
Dobin mushi - Lough Neagh eel, hen of the woods, gingko nut, mitsuba and sudachi lime
Beef fillet - aged beef fillet, garlic, daikon, yuzu pepper and sudachi ponzu
A selection of sushi and sashimi
Ichigo Ichie
No. 5 Fenns Quay,
Sheares ST, Centre,
Cork, T12 RY7Y, Ireland
https://ichigoichie.ie/
Tel: (021) 427 9997
The Brazen Head
Dublin 
Credit: @B4bellb4be
If it's not necessarily fine dining that you seek but real Irish history and flavors, then head to The Brazen Head – the oldest pub in Ireland, opened in 1189. Yes, 1189! There's so much history in this pub, perhaps it should be your first destination when you reach Dublin.
But you don't have to trade taste for history. The Brazen Head makes great food and is especially known for its traditional Irish stews and, quite naturally, its pub food available from noon to 9:30 p.m. No reservations are necessary, but large groups should call ahead.
Some favorites include:
Irish Stew - Chunks of Irish lamb and vegetables topped with creamy mashed potato and served with brown bread.
Brazen Bangers and Mash - Jumbo Irish pork sausages made from a traditional butcher's recipe, served with creamy mashed potatoes, vegetables, sundried tomato pesto and parsley sauce.
Fish & Chips - Fresh cod deep fried in a homemade beer batter and served with tartar sauce, a lemon wedge and chunky chips.
Honey Mustard Glazed Bacon and Cabbage - Glazed bacon loin served with boiled cabbage, creamy mashed potatoes, vegetables, sundried tomato pesto and parsley sauce.
The bar has a very extensive collection of Irish whiskeys, gins, vodkas, wine, and more. With a casual and friendly atmosphere, you'll want to stay all night and listen to the live music, which starts after the kitchen closes. Dancing is strongly encouraged!
The Brazen Head
20 Bridge Street Lower
Dublin, 8, Ireland
www.brazenhead.com
Tel: +353 1 6795186
The Church Restaurant
Skibbereen, Cork 
Credit: @Flick
One of Cork's most unique and delicious dining experiences, The Church Restaurant is located in a setting that you might surmise by its name is rather ecclesiastic. Situated in a nearly 200-year-old former Methodist church, this eatery provides plenty to admire while you're dining, including beautiful stained glass and original cast iron fixtures, as well as other pieces from old churches such as an oak pulpit from Lancashire and Gothic choir panels from London. It really is quite stunning.
As far as food is concerned, The Church Restaurant is known for its fairly traditional but quite tasty offerings. Nothing super fancy but certainly satisfying, and it's open for breakfast, lunch, and dinner so guests can enjoy the unique atmosphere just about any time of day.
Menu selections include:
Irish stuffed pork filet - Stuffed with black pudding and gubbeen cheese and wrapped in bacon. Served with garlic potatoes and honey roasted vegetables with a calvados applesauce
Roast Irish Chicken Supreme - Stuffed with Parmesan cheese, sundried tomatoes and rocket, wrapped in a Serrano ham, wild mushroom sauce, chive mash and honey roasted vegetables
Thai Red Vegetarian Curry – Served with basmati rice
Look for special menus at holiday times, like their four-course Christmas dinner, available through much of December.
The Church Restaurant
Bridge St
Skibbereen, County Cork, Ireland
https://thechurchrestaurant.ie/
Tel: 028 23625
Il Vicolo
Galway 
Credit: @Il Vicolo Restaurant & WineBar
Michelin-starred and winner of the 2018 Best Italian Establishment in Ireland award, Galway's Il Vicolo opened in late 2011. They started off small with just a few seats and a few offerings but now offer a wealth of what they bill as "contemporary Italian". The wine cellar stocks only Italian wines, about 75 in all.
But the most enchanting aspect of dining at Il Vicolo – besides the food - is the location of the restaurant: it's nestled in an old flour mill and sits on the River Corrib, which you can hear trickling past when the conditions are right.
Hungry for Italian? Here are a few menu samples.
Chianti risotto with gorgonzola, crushed walnuts, and pangrattoto (bread crumbs)
Handmade gnocchi with chestnuts, creamed squash, shallots, and house-made ricotta
Pan-roasted Chicken Supreme with romesco, broccolini, and crushed baby potatoes with an almond jus
Also consider spending a few Euros to taste the array of olives they offer and opt for the cheese board as an extra treat.  Sunday brunch is also available.
Il Vicolo
The Bridgemills
O'Brien's Bridge
Galway City, Ireland
https://www.ilvicolo.ie/
Tel: 091 530 515
Fahrenheit at Clontarf Castle Hotel
Dublin 
Credit: @Clontarf Castle Hotel
A 2-AA Rosette-rated restaurant, which is an honor given by the British Automobile Association to less than 900 restaurants in the UK, Fahrenheit lets you dine within the walls of a real twelfth century castle, something you likely don't get to do very often. (It's actually very romantic when you time it right to avoid the crowds, as it does get a little tight at busy times.)
Nevertheless, what you get here is small-ish plates of food, artfully dressed and served by an impeccable wait staff that cares about your experience. The menu changes as the local produce and other offerings change, so you can expect a different dining experience each season.
The restaurant is open early for breakfast, serves a weekday early bird menu until 6:30 p.m. and has an all-day 3-course prix fixe menu on Sundays from 1 p.m. to closing.
Menu selections include:
Slow-cooked pork belly with quince, savoy cabbage, and date puree
Roasted gnocchi with crispy sage spinach and butternut squash puree
Wild Irish salmon with confit baby squid, Dublin bay prawns, and licorice bisque with purple potatoes
There's also some fun and tasty signature cocktails and a sizeable wine list.
Fahrenheit at Clontarf Castle Hotel
Castle Avenue, Clontarf
Dublin 3, Ireland, D03 W5NO
https://www.clontarfcastle.ie/dining/fahrenheit-restaurant
Tel: +353 (0)1 833232
The Titanic Menu at Rayanne House
Belfast 
Credit: @PaulManning84
Though this experience doesn't happen every day, if you can catch it while you're in Belfast, you'll love partaking in the delicacies of this recreated menu from the Titanic's maiden voyage. This would have been the dinner served to the upper crust on the ship, like the Benjamin Guggenheims, Abraham Strausses, and "The Unsinkable Molly Brown".
Nine lavish courses from the Edwardian Era will grace your plate as you enjoy the atmosphere of the 1886-built Rayanne House, which boasts views of the Belfast Lough, a stretch of water where the Titanic would have sailed as it made its way out of Belfast in April 1912.
The meals are served only a few times each month, so it's essential to plan ahead if you hope to participate in this fun and delicious experience as a single, couple, or small group. However, if you're traveling with a larger group, you can plan a private party that features the Titanic meal.
Menu items include:
Asparagus and Watercress Salad with Champagne Saffron Vinaigrette served with Roast Squab
Pan-Seared Filet Mignon topped with Foie Gras and Truffle drizzled with a Cognac, Madeira and Red Wine Reduction served with Potatoes Anna, Creamed Carrots and Zucchini Farci
Spiced Peaches in Chartreuse Jelly and French Vanilla Ice Cream
Rayanne House
60 Demesne Road
Holywood, Belfast BT18 9EX
https://www.rayannehouse.com/
Tel: +44 28 9042 5859