Luxury and Romance Intertwine at These Greek Island Hotels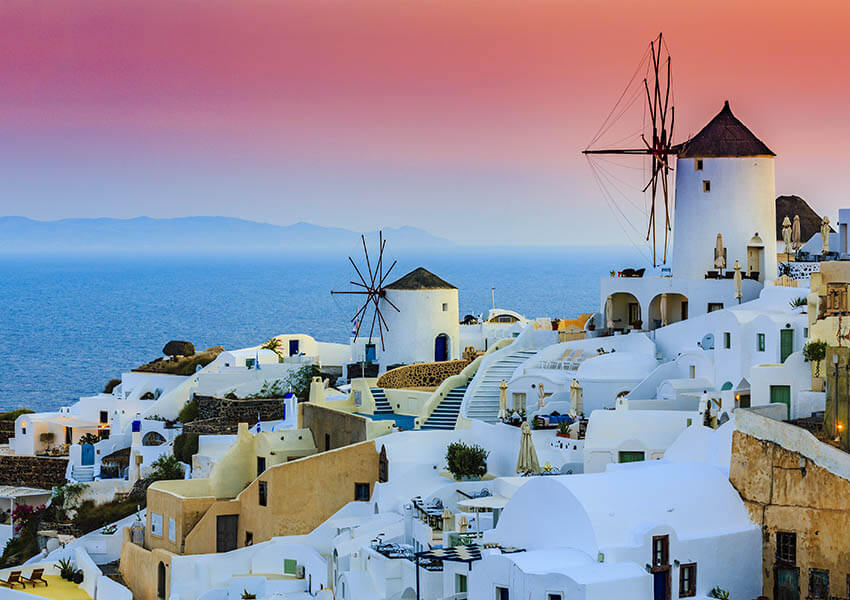 F.N.Sharp
If you've been lucky enough to spend time on one or more of the dramatic and gorgeous islands of Greece, you know how appealing the views, the beaches, the nightlife, the cuisine and the cultural and archeological sites are. If you've never been, you're in for one of the most memorable trips of a lifetime! The biggest challenge is trying to decide which Greek Islands to visit — with 6,000 of them and more than 227 inhabited ones, you could spend years exploring them. To make your decision a little easier, we're going to explore three of the best Greek Islands — and find the best hotels on each.
Santorini
Credit: @Nicole Whitmore
Santorini is the crown jewel of the Greek Islands in a crowded crown of glittering jewels! If you've seen any images of sugar-cube white houses, blue roofs, cobblestone streets, tangerine sunsets, dramatic cliffs and black sand beaches, they were probably taken on Santorini. If you only have time to visit one Greek Island, Santorini should be it. Santorini is incredibly popular with visitors and honeymooners during the summer months, so if you want to avoid the masses, visit in June or September.
Santorini's caldera (volcanic crater) is flooded, which creates particularly stunning scenery, enhanced by the Aegean Sea and nearby islands in the backdrop. Visitors love Santorini for the romantic vibe, archeological and cultural sites, the beaches and the cuisine. You'll find no shortage of luxury hotels and resorts here — throw a rock in any direction and you're bound to hit some of the Greece's most spectacular hotels! A few of Santorini's best hotels include:
Canaves Oia Hotel
Credit: @Canaves Oia
The ultimate in luxury, this hotel is perched above the fishing village of Ammoudi, near Oia, one of Santorini's most Instagrammed towns! Almost the entire property offers insanely gorgeous sunset views. The hotel offers a variety of accommodations, from rooms to suites to villas, some with private pools and maximum privacy. Enjoy spacious living and dining areas, plus amenities such as SONOS speakers, Nespresso machines, satellite TVs, iPhone docking stations and en-suite bathrooms with soothing rain showers.
You can walk to the beach or lounge at the hotel's infinity pool in a private cabana. Make time to indulge in the Canaves' world-class spa, rejuvenate in a yoga class or work off that indulgent cuisine in the fitness center. If you're celebrating an anniversary or simply a romantic night out, be sure to book the Panorama Balcony Experience — a private, candlelit terrace with only one table and unparalleled views of the sea. The hotel's other onsite restaurants (all with equally stunning views!) include Petra, Infinity Pool Bar & Restaurant, Veranda Caviar & Oyster Cocktail Bar & Restaurant and Elements Restaurant.
Grace Hotel
Credit: @Grace Hotel Santorini
One of the highlights of this Auberge Resorts cliff-top retreat in yet another Instagrammable village, Imerovigli, is the 72-foot-long infinity pool with panoramic views of the caldera. You don't have to leave the hotel to enjoy luscious cocktails, wine and Michelin-star-worthy cuisine. If you choose to meander off the property, you'll find delicious dining and interesting sites within a few minutes. Imerovigli sits at the caldera's highest elevation, with unparalleled views of Skaros Rock, volcanoes, nearby islands and Oia.
Accommodations range from 164-square-feet sophisticated rooms to 1,300-square-foot luxury villas. The overall coastal vibe is created by the blurred flowing lines between indoor and outdoor living spaces. Some of the suites come equipped with hammam (steam) baths, spacious terraces and heated outdoor plunge pools. Pamper yourself at the spa and indulge your culinary desires in Santoro, the award-winning indoor-outdoor restaurant. Be sure to sip a glass of champagne at the 363 Champagne Lounge perched almost 1,200 feet above the sea!
Hydra
Credit: @Daisy Estall
This picture-postcard island sits in the Argo Saronic Gulf (part of the larger Aegean Sea) but is only about a two-hour ferry ride from Athens — making it easy to spend a few days here if you don't have enough time to get to Santorini. One of the most appealing things about Hydra is that it is entirely car-free! So how do people get around Hydra? By foot, boat or on the back of a donkey. Hydra has a long naval history, so you'll see plenty of cannons pointed at the sea and converted ship captains' mansions.
Artists and art-enthusiasts have been flocking to Hydra for decades, and Canadian singer-songwriter Leonard Cohen lived here part-time starting in 1960 until his death in 2016. Celebrities and jetsetters brought fame to Hydra in the 1960s — long before Mykonos became the celebrity playground it is today.
Visitors also come to Hydra for the architecture, museums — and, of course, delicious Greek cuisine! Due to its proximity to Athens, Hydra gets pretty busy, so book early. Hydra's beaches can't compare to some of the other top Greek Islands, but there are a few beaches to explore. Any new buildings built in Hydra must adhere to strict architectural styles to protect its status as a national historic landmark, so you won't find high-rise apartments or sprawling resorts — instead, this Greek island's best boutique hotels are:
Four Seasons Hydra Luxury Suites
Credit: @Four Seasons Hydra
Located on the beach in Vlichos, this ancient stone mansion has been converted to a series of seven suites and one villa. Each suite's color and decor are patterned after a season, the sun or the moon. A favorite among honeymooners and wedding parties, you'll find jaw-dropping views of the sea and sunsets. Dine in the open-air restaurant just steps from the water!
Hydrea Exclusive Hospitality
Credit: @Hydrea Exclusive Hospitality
Built in the 19th century, this historic mansion contains eight suites, blending elegance and simplicity. The hotel's scenic waterfront terrace hosts weddings and special events and boasts wonderful views of the port and town. Just a short stroll away, you'll find plenty of bars, restaurants and shops. Museums and other attractions are also just a short walk away.
Mykonos
Credit: @Melike
While Hydra no longer claims its fame as a celebrity playground, Mykonos has taken that title and sprinted away with it! You'll find wild 24-hour beach bar parties here, world-renowned DJs, a ridiculous number of superyachts anchored offshore, bucket-list dining and a seemingly endless supply of luxury resorts.
If you're seeking golden-sand beaches and crystal-clear turquoise water, you'll find plenty of those on Mykonos too. Some such as Paradise Beach and Super Paradise Beach are where the best parties are, but you can find some lovely secluded beaches such as Fokos, Ftelia and Kapari.
Accommodations range from sprawling, seaside villas to big, splashy resorts to secluded, romantic boutique hotels. Here are two of Mykonos' best hotels, the first a smaller, romantic getaway and the latter a luxurious resort:
Bill & Coo Suites and Lounge and Bill & Coo Coast Suites
Credit: @Con dos Tacones
The Bill & Coo Suites Hotel offers spacious blue and white suites with private terraces, some with sea views, and a mesmerizing infinity pool that has a fantastic starlit bottom. The onsite gourmet restaurant, The Gastronomy Project, is one of Mykonos' most romantic, with breathtaking sea views.
More Must-Experience Fine Dining: The Best Restaurants in Greece
For a truly bucket-list experience, stay in one of the Coast Suites, a separate property about 2 miles away. Each suite features a spacious bedroom with living area, luxurious bathroom with a rain shower, plush linens and a smart home automation system. Some offer private balconies, verandas, plunge pools or hot tubs. Workout in the waterfront fitness room or relax by the communal pool.
Santa Marina Resort and Villas
Credit: @C LUXUEUX?
Situated on a private peninsula, Santa Marina Resort and Villas offers the ultimate upscale resort experience — and is the only resort on Mykonos with a private beach. The resort offers private aviation services and has a private helipad onsite!
Choose from beautifully appointed rooms or suites featuring gorgeous sea views, king-size signature beds and coastal color schemes. For a more opulent stay, book one of the 13 villas that sleep from four to 12 people — all with those never-ending views! And as with almost all upscale luxury Greek Island hotels, you'll find an elegant spa and world-class dining. The Santa Marina is home to an iconic Buddha Bar (the first one on the beach) — where you'll be immersed in the "Art of Life" concept that features renowned DJs spinning eclectic tunes and legendary cocktails.
Santorini, Hydra and Mykonos are among the most popular Greek Islands. It's no easy feat to decide which Greek Island is the best since they offer such diverse experiences — some are home to only a few hundred people! These six Greek Islands luxury hotels are among the best you'll find, but they are a mere tip of the iceberg — the islands are loaded with magnificent villas, beautiful resorts, and secluded boutique hotels. Just make sure to book early as the summer months often sell out six to 12 months in advance!
Tagged in: