Luxury Meets Italian Charm at These Lake Como Hotels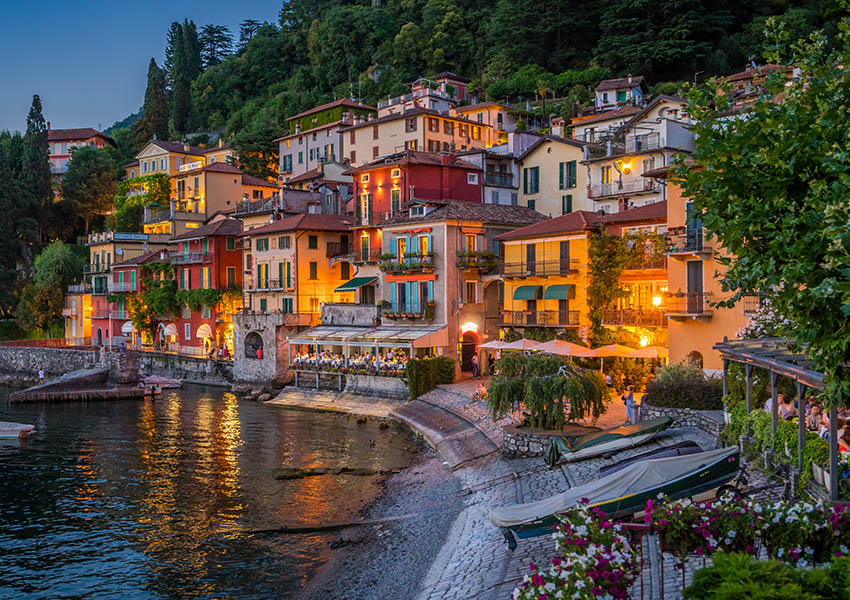 F.N.Sharp
Northern Italy's Lake Como has been enthralling visitors since the days of Julius Caesar — Caesar founded the town of Como in 49 BC! Royalty, dignitaries, wealthy business owners and just about anyone who is anybody has descended on this insanely gorgeous region for centuries. The actor George Clooney owns a villa here that was even featured in his blockbuster film "Oceans Twelve". It should come as no surprise that Lake Como is home to some of the world's best hotels.
If you've never experienced Lake Como, the moment you see its palatial villas, picturesque villages and clear azure water surrounded by snow-covered Alps, vibrant gardens and steep wooded hills, you'll know why its magnetic force is hard to resist. The lake is shaped like an upside down "Y," so it offers miles of insanely beautiful coastline dotted with boutique hotels and extravagant 5-star resorts.
Summers are the best time to visit for warm, sunny days but be prepared to share this lovely location with hordes of tourists. Fall and spring can be excellent times to visit when the weather is still reasonably warm, but the crowds are gone. Winter is very quiet, and you can spend more time getting to know the locals; however, many businesses shut down or perform renovations.
The Best Hotels Along Italy's Lake Como
Check out the following four and five-star hotels that are ideal places to stay while you fall under Lake Como's enchanting spell!
Grand Hotel Villa Serbelloni
Credit: @Grand Hotel Villa Serbelloni
Perched on a promontory jutting out into Lake Como, the five-star Grand Hotel Villa Serbelloni has been an elegant landmark for more than a century. The guest list includes renowned royalty, politicians and actors such as Franklin Roosevelt, John F. Kennedy, Winston Churchill, Al Pacino and Clark Gable. Michelin-starred chef, Ettore Bocchia, heads up the hotel's fantastic lakefront restaurant, Mistral Ristorante.
You'll find the Grand Hotel Villa Serbelloni in the stylish town of Bellagio, AKA the "Pearl of the Lake." Bellagio sits at the enviable point at the intersection of the upside "Y" with majestic views of all three of the lake's fingers. The hotel's amenities include an indoor and an outdoor swimming pool, a full-service spa, a fitness center and 95 air-conditioned rooms overlooking the park, village or lake. Rooms are adorned with neoclassical features, Grand Murano chandeliers and Persian carpets.
Explore the Streets of Bellagio: The Most Instagrammable Things to See in Lake Como
Villa D'Este
Credit: @DestQuest
Originally built as a summer home for Cardinal Tolomeo Gallio in 1568, Villa D'Este converted to a luxury hotel in 1873. In 1856, Baron Ciani built another building, the Queen's Pavilion, in honor of Queen Caroline of Brunswick, King George IV's wife. Considered one of the most beautiful 16th-century architectural works, Villa D'Este sits on 25 lavishly landscaped acres on a desirable spot on Lake Como's shore.
The rooms, suites and private villas overlook the gorgeous gardens or the lake and are divided between the original Cardinal Building and the Queen's Pavilion. You'll find elegant furnishings with antiques, paintings, precious velvet and glorious marble bathrooms. La Veranda, the hotel's top restaurant and one of the best places for dining in Lake Como, features an expansive dining room with remarkable garden and lake views. Situated in the lovely town of Cernobbio, Villa D'Este could easily claim the prize of being Italy's finest hotel.
Grand Hotel Tremezzo
Credit: @Grand Hotel Tremezzo
Arguably one of Europe's most famous hotels, guests savor the unparalleled views overlooking Lake Como and the Grigne Mountains at the five-star Grand Hotel Tremezzo! Located in the popular town Tremezzo, the resort has hosted celebs such as Greta Garbo, George Lucas and Uma Thurman. With more than 100 years of history, this stunning hotel is an authentic Art Nouveau palace with three glittering pools surrounded by more than 12-square-miles of tranquil gardens filled with meandering footpaths.
Choose a room that opens to private gardens — or for a real indulgence, book a rooftop suite with fabulous views of Bellagio across the lake. Be sure to book a treatment at the T Spa where you'll also savor the views. In addition to being one of Lake Como's best hotels, Grand Hotel Tremezzo boasts one of its best restaurants, the famous La Terrazza.
Il Sereno Lago di Como
Credit: @il Sereno Lago di Como
Lake Como is awash in neoclassical and Art Nouveau architecture, furnishings and décor, so if you're in the mood for something more modern, check out the award-winning Il Sereno Lago di Como. Situated in Torno, a scenic town perched on a headland facing the south-western end of the lake, Il Sereno Lago di Como offers 30 contemporary luxurious designer suites with floor-to-ceiling windows and spectacular views from every inch of the property.
This top Lake Como hotel combines the lake's staggering beauty and historical surroundings with modern comfort and luxury. Milan-based architect and designer Patricia Urquiola designed Il Sereno, which opened with much anticipation in 2016.
Be pampered at the full-service spa situated under original, century-old arches or relax on the private beach. One of the hotel's showstopping features is its 60-foot-long infinity pool suspended over the lake! Be sure to indulge in delicious cuisine in the hotel's Michelin-starred restaurant Berton al Lago.
Mandarin Oriental at Lago di Como
Credit: @Stefania
Formerly the CastaDiva Resort & Spa, for a truly romantic Italian experience complemented by timeless Oriental charm, book a stay at the Mandarin Oriental at Lago di Como. In addition to being one of Lake Como's best hotels, the Mandarin Oriental at Lago di Como's spa is worth a visit alone! The 4,265-square-foot spa carved into rock features four VIP suites, seven treatment rooms, two couple's suites, and a Hammam-style (steam bath) suite. The hotel's pool is another treat — it actually floats on Lake Como!
Choose from 75 accommodations including 52 elegant suites and two gorgeous private villas, all with unique layouts dictated by the hotel's unique architecture. Room options include garden views, lake views, small or large terraces, kitchenettes or full kitchens, private sundecks, pools or hot tubs.
Getting Around Lake Como Without a Car
Credit: @Lake Como Water Taxi
Now that you know which are Lake Como's best hotels, you should know a little about how to get around if you don't want to rent a car.
Plan to spend some time onboard a boat if you visit Lake Como! The larger hotels all have private docks and boats to ferry you around the lake. In fact, many guests arrive via boat after taking a train from Milan or another city. Public ferries connect the most popular towns along the lake and run frequently — or book a private tour if you want to explore the lake at your own pace. You can also hop on a bus, as bus service operates regularly around the lake and has stops at all the villages. However you choose to get around, you're sure to enjoy an unforgettable experience at one of the world's most beautiful destinations!
Tagged in: