Culinary Bucket List: Dining Through Lake Como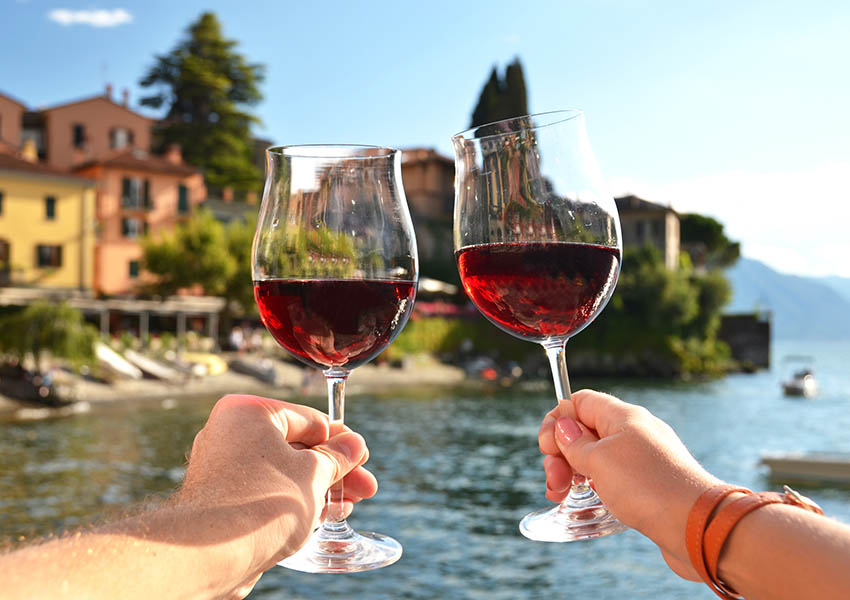 F.N.Sharp
Not to be confused with the over-the-top Bellagio Hotel in Las Vegas, the town of Bellagio perched on northern Italy's ridiculously beautiful Lake Como should most definitely be on your bucket list — and not just the culinary one! Visitors have been flocking to Lake Como since the time of the ancient Romans for relaxation, pampering and to revel in its glorious natural scenery.
You're just as likely to bump into celebs such as George Clooney, Prince Harry, Meghan Markle, Jennifer Aniston and Chrissy Teigen on the picturesque cobblestone streets as you are wealthy villa-owning Italians. Bellagio is just one of many gorgeous towns sprinkled along Lake Como's shores.
While many come to Lake Como for the luxurious spas, elegant shopping, breathtaking scenery, perfect climate and rich history, the culinary scene is worth a visit alone! You'll find talented chefs performing their culinary magic at Lake Como's top restaurants.
The Best Restaurants of Stunning Lake Como
Lake Como is home to an incredible array of some of the world's best restaurants featuring the best of Northern Italian food, so we couldn't list them all. The following are among Lake Como's best restaurants that should be on your Lake Como culinary bucket list:
Mistral Ristorante at Grand Hotel Villa Serbelloni
Credit: @Olivia Fierro
You'll find this Michelin-starred restaurant on the slopes of the Bellagio promontory inside the splendid Grand Hotel Villa Serbelloni. Mistral's chef, Ettore Bocchia, is renowned for his expertise in molecular cuisine. In case you're wondering, molecular cuisine (or gastronomy) is a fancy way of saying the chefs pay careful attention to how ingredients transform chemically and physically during food preparation. The technique is a combination of artistic talent and science, which results in alternative cooking styles and innovative dishes.
To embark on a memorable molecular cuisine journey, your best bet is to go with Mistral's Molecular Cuisine Tasting Menu. You'll taste exquisite delights such as:
Sicilian Red Prawns with guacamole ice cream, coconut cream and cuttlefish ink waffles.
Curdled" Egg filled with sweet herbs and tartare of Fassona
Turbot fried in sugar with steamed vegetables, mashed potatoes and leek sauce.
Veal cooked at low temperature with chicory sabayon, fried potatoes and caramelized onions.
Peach melba with raspberry sauce, almonds and nitrogen-frozen ice cream
Mistral Ristorante 
Grand Hotel Villa Serbelloni
Via Roma, 1
22021 Bellagio (CO) – Italy
Phone: +39.031.956.435
La Veranda at Villa D'Este
Credit: @Villa d'Este – Lake Como
Situated in the small town of Cernobbio, Villa D'Este has been welcoming guests since 1873 and could easily claim the prize of being Italy's finest hotel. La Veranda, the hotel's top restaurant, features an expansive dining room with remarkable views of the lovely hotel gardens and the lake. Enjoy al fresco dining on its wonderful terrace during the summer months.
The team of 40 chefs keeps things relatively simple but elegant and delicious — and the wine list offers more than 500 selected labels. Must-try dishes include:
Veal Carpaccio with artichokes and mustard sauce.
Tortellini with quail eggs, herbs, formagella and Bianca d'Alba
Milanese-style Veal Cutlet with asparagus in Mimosa style.
Barbarian Duck with flax seeds, spicy ravioli, shiitake mushrooms and ginger sauce.
Soufflé al Marron Glacé with salsa gianduia.
La Veranda
Villa d'Este
Via Regina, 40
22012 Cernobbio
Phone: +3. 031.3481
La Terrazza at the Grand Hotel Tremezzo
Credit: @TheJetsetCollection
Arguably one of Europe's most famous hotels and one of Lake Como's oldest, the views alone overlooking the lake and the Grigne Mountains at the five-star Grand Hotel Tremezzo are worth a visit!
Located in the popular town Tremezzo, La Terrazza's expert chefs will seduce you with modern Italian cuisine. The menu changes with the seasons and takes advantage of what is fresh and local. Glamorous 1920s and '30s film actress Greta Garbo frequently dined at La Terrazza.
Top dishes include:
Wild Sea Bass Carpaccio served with fermented cucumber pesto and cumin broth.
Tortellini filled with butter stewed guinea fowl and black truffle shards.
Braised Veal Shank with gravy with saffron risotto.
Duck Breast with balsamic Modena vinegar sauce.
Calvados-style Veal Kidney Flambé
La Terrazza
Grand Hotel Tremezzo
Via Regina, 8 – 22016
Tremezzina (CO)
Phone: +39.0344.42491
La Vista at the Albergo Milano Hotel
Credit: @HOTEL MILANO
Located in the historic center of Varenna, a charming lakeside village looking over the central part of the lake toward Bellagio, you'll view spectacular sunsets from La Vista's open-air terrace. Varenna is appealing to some visitors due to its slightly more authentic vibe when compared to the other hotel-packed towns along Lake Como.
La Vista offers an a la carte menu featuring regional and national dishes using fresh, seasonal ingredients. You can choose a three or four-course meal. Like most of Lake Como's top restaurants, the wine list at La Vista does not disappoint. If you are unable to dine outside, you can still enjoy the views from inside.
Be sure to try:
Steamed Perch Fillets marinated with pink peppercorns on potato and nettle dumplings with melted butter.
Veils of Salted Cod with barley and tamarillo salad scented with basil and pecorino cheese sauce.
Blackened Ravioli with squid ink filled with ricotta cheese and salmon, Chardonnay curry sauce with smoked salmon.
Baked Guinea Fowl Breast wrapped in bacon from colonnata potatoes with melted Castelmagno
La Vista at Albergo Milano Hotels
Via XX Settembre, 35
23829 Varenna (LC)
Phone: +39.0341.830298
Berton al Lago at the Il Sereno Hotel
Credit: @Sereno hotels
You'll find no shortage of Michelin-starred restaurants in Lake Como and Berton al Lago has earned its star! Berton al Lago is in Torno, a scenic town perched on a headland facing the south-western end of the lake.
Berton al Lago will delight you with its flavorful and surprising modern Italian cuisine served in elegant and relaxing dining rooms. Weather permitting, dine on the beautiful outdoor terrace made with Venetian terrazzo and travertine stones, including a section built right over the water!
Menu highlights include:
White Asparagus with peach and char.
Quail with almonds, sweet chili peppers and mollusks.
Saffron Risotto with Genovese ragout and mushrooms powder.
Veal Milanese with spinach, spicy sauce and lime
Berton al Lago
Il Sereno Hotel
Via Torrazza 10
22020 Torno CO
Phone: +39.031.5477.800
I Tigli in Theoria
Credit: @I Tigli in Theoria
Head to Lake Como's principal town, Como, for another top Michelin-starred restaurant situated in a historic palace built in 1013 in the heart of town. Once a residence for important bishops, the lovely building also houses an art gallery. For an upscale experience, you can book one of its four private rooms or a seat at the chef's table with only a glass wall separating you from the kitchen. The restaurant covers three floors, with the first overlooking a cozy courtyard and the private rooms on the upper floors.
I Tigli in Theoria's lunch and dinner menus feature delicate yet sophisticated tasting paths and refined food. The sommelier can propose a series of tastings from the many outstanding wine selections. For dinner, you can choose a fish or meat-based tasting menu — or make your own four-course a la carte meal, which might consist of delicious options such as:
Scallops served with ponzu sauce, daikon, potatoes fondue with katsuobushi and Siberian caviar.
Carnaroli Acquerello Risotto served with creamy of "Gobbo" cardoon, fennel, licorice gel, artichoke cooked at low temperature and glasswort powder.
Roasted Suckling Pig Pluma served with Kintoki and Parisian carrots, wine reduction and sauce.
Chocolate Mousse served with wild strawberries, hazelnuts and smoked lapsang souchong.
I Tigli in Theoria 
Via Bianchi Giovini, 41
22100 Como, (CO)
Phone: +39.031.305272
Al Porticciolo 84
Credit: @Porticciolo 84
We continue our journey exploring Lake Como's finest restaurants to Al Porticciolo 84, another Michelin-starred restaurant. Converted from an old farmhouse in 1600, Al Porticciolo 84 is on a quiet alley in Lecco, a bustling provincial capital city of 48,000. Lecco lies on the eastern branch of Lake Como, right where the Adda River flows out and at the foot of Mount Grigna and Mount Resegone.
The intimate dining room features a large stone fireplace and only seven tables inside. During the warmer months, you can dine al fresco on Al Porticciolo 84's lovely terrace. You can choose a la carte or from tasting menus. Stand out dishes include:
Marinated Calamari served with sautéed green beans, miso dressing, parsley and fried chickpeas.
Yellowtail Carpaccio served with red and yellow pepper, tarragon and poppy seed emulsion.
Gnocchi with salmon, pistachio and cucumber.
Dark Chocolate Terrine with anglaise cream, raspberry, rose hips and licorice crumble.
Al Porticciolo 84 
Via Fausto Valsecchi 5/7
23900 Lecco
Phone: +39.0341.498103
These are just a handful of the unparalleled culinary experiences that await you in Lake Como! You'll find more delicious cuisine at top restaurants in Lake Como's other beautiful towns such as Ristorante Imperialino in Moltrasio and Al Terrazzo Restaurant in Valmadrera, or you can get a bigger taste of Lake Como cuisine with these food tours. With whichever you choose, your culinary journey to Lake Como will surely be memorable and your taste buds will thank you!