The Most Instagrammable Sites of the Greek Islands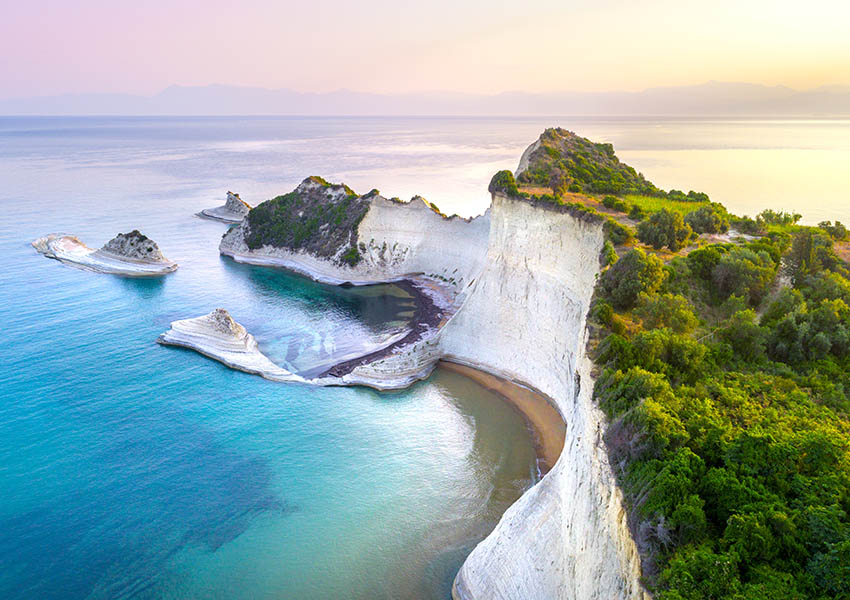 F.N.Sharp
It's no surprise some of the most photographed places on Earth are in the Greek Islands! Long known for some of the world's most breathtaking places, the hardest part is figuring out which are the best Greek Islands to visit.
About 227 of the 6,000 Greek Islands are inhabited and grouped into collections across two seas, from the Aegean Sea to the east and the Ionian to the west of Greece's mainland. Each group of islands has its own culture, climate, history and appearance. Some islands are green and fertile, some are hot and dry, and others have volcanos, rugged mountains and rocky coastlines.
You'll find no shortage of breathtaking beaches, either. Greece ranks second in the world for its number of Blue Flag beaches, which are beaches that meet vigorous eco-friendly standards created by the Foundation for Environmental Education. One thing they all have in common is epic Instagram photo ops! We found some of the best places to visit in Greece with your camera in hand.
Elafonisi Beach, Crete
Credit: @Greekcitytimes
The soft, pink-hued sand and shallow turquoise water attract droves of beachgoers to southwestern Crete's Elafonisi Beach. Crete is the largest Greek Island, so it's no surprise you'll find a plethora of beautiful beaches. Elafonisi Beach's best part is Elafonisi Island, a mile-long island you can walk or wade to across a sandbar from the main beach. Elafonisi Island is a protected nature preserve and is home to rare plants including Androcymbium rechingeri, a white flowering plant only found here. You can spend the day exploring little coves, small beaches and interesting rock formations.
The main beach is bustling during the summer months, but you can escape the crowds by heading out to the island! Or try to visit during off-peak months — September and October are best as the spring months can be windy. If you go during peak months, try to get there early before the tourists-loaded buses arrive.
Balos Lagoon, Crete
Credit: @ʙᴇsᴛ ᴏғ ᴄʜᴀɴɪᴀ | ɢʀᴇᴇᴄᴇ ??
Head to the northwest corner of Crete to visit this stunning lagoon filled with vivid turquoise water and surrounded by dazzling white and pink sand beaches. As with Elafonisi Island, Balos Lagoon and its surrounding area are designated nature preserves to protect monk seals, loggerhead turtles, Eleonora falcons and native plant life. You can reach Balos Lagoon by car or by mini cruise ships that depart daily from Kissamos port from late April through October. The lagoon is shallow and warm, perfect for children.
Balos Lagoon is a truly mesmerizing place, which makes it very popular. Try to go early in the morning before the boats arrive or during off-peak months since Balos is overrun with visitors during July and August!
Cape Drastis, Corfu
Credit: @Rudy Wii
These dramatic cliffs soar above sparkling blue water and tiny beaches on Corfu's northwestern point. Corfu boasts some of the best beaches of the Greek Islands — and the views at this one are worth the trip! You can drive to the end of the road and then walk down to the tiny cove — but you probably want shoes more substantial than casual beach flip flops as it's long, winding path and the rocks near the water can get slippery. From the cove, you can take a dip and cool off if the water is calm. If you're not up for the walk, you can take a boat from a nearby cove between Cape Drastis and the small resort town Sidari.
Cape Drastis makes a nice side trip if you're visiting the ancient village of Old Perithia. Old Perithia was built in the 14th century and was once home to about 1,200 people. By the mid-20th century, residents left for more prosperous jobs elsewhere. You can visit the abandoned 130 Venetian-style homes and eight churches.
Canal d'amour (Channel of Love), Corfu
Credit: @World trip-Travel-Vacations
Not far from Cape Drastis and the resort town Sidari is one of Corfu's most stunning beaches, the Canal d'amour. Wind and water erosion carved a channel into the sandstone coastline, creating a beautiful little canal surrounded by gold-tinged cliffs leading to a small beach. You'll find amazing little tunnels and caves you can swim through — and if you're brave enough, you can jump from the rocks into the clear Ionian Sea below!
The spectacular Canal d'amour received its name from local legends about love. One legend says if couples swim through the canal together, they will remain in love forever. Another says you will meet the love of your life if you swim through the passage. Regardless of the reason for swimming through this lovely channel, you won't be disappointed by this unforgettable experience! Try to go early to avoid crowds.
Vlacherna Monastery, Corfu
Credit: @Milos Vucicevic
Once used as a scene in the James Bond movie, "For Your Eyes Only," the photogenic Vlahcherna Monastery was actually a nunnery. Built in 1685, Vlacherna sits on a tiny islet close to the southern tip of the Kanoni Peninsula. You can visit the monastery by walking across a stone pier. It's open to the public and the small chapel is used for occasional celebrations. Enjoy lunch or a glass of wine at one of the two cafes that sit perched above Valcherna — both have open-air balconies and impressive views. Another fascinating thing to see here is jets flying overhead since Corfu's international airport is nearby!
Try to visit in the late afternoon and you'll be rewarded with a stunning sunset that bathes Valcherna in a tangerine glow. You can also take a boat out to nearby Pontikonisi (Greek for "mouse island"), another one of Corfu's Instagrammable spots.
Sarakiniko Beach, Milos
Credit: @Welcome to Milos, Greece ??
You might think someone snuck out to the moon and snapped this photo! Sweeping, horizontal white pumice rocks with large swirls and hollows form this fabulous beach on a Greek Island renowned for its beaches. The brilliant white stone is made more vibrant by the surrounding turquoise water. While there is a small, pebbly beach, most visitors like to spread out on Sarakiniko Beach's smooth rocks. If you're up for an adventure, you can leap from the high rocks into the crystal-clear water below! In addition to paddling around and enjoying the view above the water, you can snorkel or scuba dive in a series of underwater caves.
For an otherworldly experience, visit at night during a full moon! The contrast of the glowing white rock against the dark sea is an enchanting sight.
Little Venice, Mykonos
Credit: @Visit Greece
The Greek Islands are awash in romantic sites and views, and Mykonos' Little Venice rides the crest of that wave! Gorgeous 18th-century houses with waterfront balconies jutting out over the azure sea line the coast here, reminiscent of Italy's Venice. Little Venice is a magnet for artists and photographers hoping to capture its ageless beauty in paintings, drawings and photos. Many of the houses have been converted into cafes, shops, bars and restaurants, drawing visitors by the droves.
Although you'll have plenty of company, head to Little Venice at sunset to watch the blazing orange and pink sky!
Little Venice Windmills, Mykonos
Credit: @Mykonos Secrets
While you're sipping a glass of wine at one of the waterfront cafes in Little Venice, you can look to your left for a spectacular view of a series of picturesque windmills perched above the shore! These historic windmills demonstrate the innovation of 16th-century builders and were once vital to Mykonos' economy. The region's powerful winds powered the windmills to grind grain into flour, either grain that was grown locally or imported from other areas. Local bakeries produced hard bread called rusks that lasted a long time, so sailors stopped in Mykonos on their way to other ports to stock up on this staple food supply. Mykonos is still one of the most visited Greek Islands today, renowned for its flamboyant 24-hour beach parties, excellent cuisine and amazing beaches.
Mykonos is fortunate to have 16 surviving windmills, and you can see seven of them in Little Venice. For the best view, hop on a ferry to see them from the sea!
Seven Springs, Rhodes
Credit: @Imen
Rhodes is Greece's most eastern Greek Island, just off Turkey's coast. While Rhodes is home to many long, sandy beaches, a must-see is the amazing Seven Springs, Epta Piges in Greek.
Hidden in dense woods, seven natural springs flow through a valley into a small, clear lake. The springs flow year-round, making this an especially appealing place to visit during the hot summer months. You can even walk through a one-kilometer watery dark tunnel to reach the lake! If tunnels aren't your thing, you can reach the Instagram-worthy Seven Springs along a road above the tunnel.
You can spend a few hours here, strolling along scenic paths amid flowers and shady trees. The water is drinkable, so you might see signs posted asking you not to put your feet into the springs!
Red Beach, Santorini
Credit: @The best travel bucket list!
No visit to the Greek Islands is complete without spending time in Santorini, often cited as one of the best Greek Islands. If you've seen any postcards or calendar photos of white, sugar-cube buildings, blue domed roofs, cobblestone streets and dramatic sea views, it was probably Santorini! One amazing beach you must visit is Santorini's Red Beach. The vivid blue sea and the intense red sand here create a breathtaking contrast, which you can admire and photograph when you stand above it and look down.
You won't find facilities or water sports here, but you can snorkel around the interesting rock formations scattered just offshore. You can also reach Red Beach via boat from nearby Akrotiri port, Perissa or Kamari.
Amoudi Bay, Santorini
Credit: @Lisbeth Goossens
You won't see sandy beaches in Santorini's Amoudi Bay — but you will discover striking red cliffs and a charming port dotted with whitewashed buildings. Located in one of the Greek Island's most jaw-droppingly beautiful villages, Oia, a visit here is one you won't forget. One of the most popular things to do in Amoudi Bay is to climb stairs along a massive boulder and jump off into the clear, blue water! If cliff jumping is beyond your comfort level, you can simply swim from the rocks.
Oia is perched above Santorini's breathtaking, water-filled caldera (volcanic crater). You can walk down to Amoudi Bay or drive. The best time to visit is in the afternoon — and then sip a glass of wine at one of the local tavernas and be dazzled by the sunset!
Navagio Beach, Zakynthos
Credit: @Must Do Travels
Last but certainly not least, Zakynthos (or Zante) should be on your bucket list of best Greek Islands! Zakynthos is lined with spectacular little secluded beaches and one of the absolute best is Navagio Beach, AKA "Smuggler's Beach" or "Shipwreck Beach". A cargo ship reportedly smuggling booze and cigarettes ran aground here and washed ashore in 1983. You can still see the rusting carcass, but the real attraction here is the sandy beach surrounded by dramatic white cliffs.
Navagio used to be a true off-the-beaten-path experience, but today tour operators run daily trips here. You can only reach this magnificent beach via boat.
Now that you know where to go to fill your Instagram feed during a trip to the islands of Greece, here are some of the best restaurants to visit along the way! And if you can't make it to Greece, then send your taste buds on an island vacation with this Greek Strawberry Melon Mojito!
Tagged in: