The Coachella Valley Music and Arts Festival Survival Guide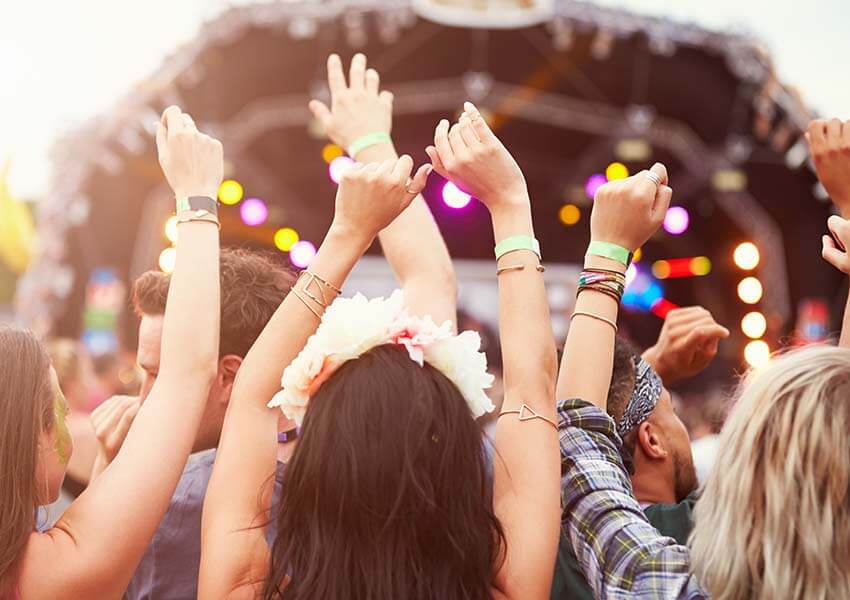 F.N.Sharp
If you're planning to hit up the famed Coachella Valley Music and Arts Festival for the first time this year, you'll find there's a lot to love. For starters, there are practically non-stop stars on display, both on the stages and cruising the event. Whether you're watching a world-class performer like Queen Bey twerk it to "Crazy in Love" or you're scoping Alessandra Ambrosio, the Kardashian/Jenner clan, or Rihanna's latest festival getup for some summer style inspo, you can hardly avoid the celebrities at this star-studded event, which hits Indio, CA every April.
There are plenty of food stands featuring some truly enticing cuisine from L.A. vendors, you can take in art exhibits or get pummeled by water hoses at a DJ dance party, and you can cruise through tents sponsored by brands like H&M and Sephora to snag free beauty samples and update your look mid-festival. Whether you're napping in the grass, cheering your favorite bands, or racking up Instagram followers by swapping handles with everyone you meet, there's no end of entertainments to be had when you hit Coachella.
Of course, as a newbie, it's easy to miss out on the seemingly endless opportunities for fun, socialization, and partying until dawn and beyond. You really need a basic primer to ensure you don't get lost, miss the main event, or end up passed out under a palm tree outside the Biergarten like a complete amateur. Here are just a few things every first-timer should know to make the most of this premiere music festival.
What to Pack
Credit: @FESTIVAL CLOTHES HANDMADE
It's late spring in Cali, so it's going to be hot, hot, hot. If you look online, you'll learn that average temps in Indio during the month of April are nearly 90 degrees Fahrenheit during the day, but the truth is that temps can easily go into the triple digits, and there's no shade in the venue. NO SHADE. In other words, you need to prep for glaring sun, and lots of it.
So, what should you pack? Easy-breezy clothing is best, and luckily, pretty much everyone is walking around in cut-offs and bikini tops, so you'll fit right in. Bring a simple cover up for evening hours, when it could get as cool as about 60 degrees. Make sure to pack plenty of sunblock and bug-eyed sunnies for UVA/UVB protection. It's wise to bring a hat or umbrella to create your own shade.
Water is also essential, and whatever you don't bring, you're going to have to buy at the venue. A camelback is ideal, especially since you can cart along other essentials like snacks and extra clothes. Bring a towel if you feel like you might want to sit during the day, and eschew flip-flops in favor of comfy walking shoes. It's a big place and you're going to walk a lot if you want to see bands at different stages throughout the day.
You should also bring some TP, not to mention baby wipes and hand sanitizer. There are plenty of porta-potties, but with more than 250,000 people in attendance, they can run out of essentials. You'll also want a flashlight to find your way through the tent city at night. Finally, bring portable chargers for your cell – there's no place to charge up in the venue.
Getting There
Most people get to Indio by way of Los Angeles, and it will take you over two hours to reach it from LAX. You might want to look into closer airports like Ontario (in Riverside) or Palm Springs, if flights are available to skip L.A. traffic and save some time on the drive.
One thing you need to know is that parking is a nightmare. Sorry, there's no getting around it unless you elect to stay at an area hotel or Airbnb and Uber in and out each day. Good luck.
Where to Stay
Credit: @BMG ☾ Mobile Camp
There are two main options for lodgings – you can camp at the venue (arrive early to get a spot) or you can stay at an area hotel (or Airbnb, if you book well in advance). Which is better? On the one hand, camping is a bit cheaper and you're super close to the venue.
On the other hand, it's going to be hot, the campground is crowded and noisy, porta-potties get real gross, shower lines are insane, and security comes through and wakes everyone up at the crack of dawn to avoid heat stroke situations, even though the venue doesn't open for hours. So, there's that.
Generally speaking, a hotel is going to provide much nicer accommodations and greater privacy, but getting to and from the venue can be a beast and prices get pretty outrageous due to high demand.
But if you're set on camping, and want to camp in style, then check out these Palm Springs glamping spots nearby.
What to See
Planning your itinerary ahead of time is critical to seeing as much as possible, but you should know that a lot of stuff is happening simultaneously, so you'll have to prioritize. Just make sure to leave plenty of time to get from one stage to another (this arena is huge and packed with people) and arrive at least 30 minutes before the band you want to see if you hope to get a decent spot near the stage.
Having the Time of Your Life
Credit: @Cassie Diamond
There are a few tips for having fun at Coachella. First, come with a good attitude. It's going to be hot, smelly, and crowded, so it's easy to get frustrated, but try to remember that everyone's there to have a good time.
Keep valuables safe and drink A LOT of water. Heat stroke isn't fun. Finally, if porta-potties make you squeamish, go first thing in the morning, right after they clean them and hose them down. They'll be steamy and damp, but at least they won't smell. Other than that, just have a great time and take plenty of selfies to give your friends back home the worst case of FOMO.
Tagged in: