8 Rocky Mountain Craft Beers You Absolutely Must Try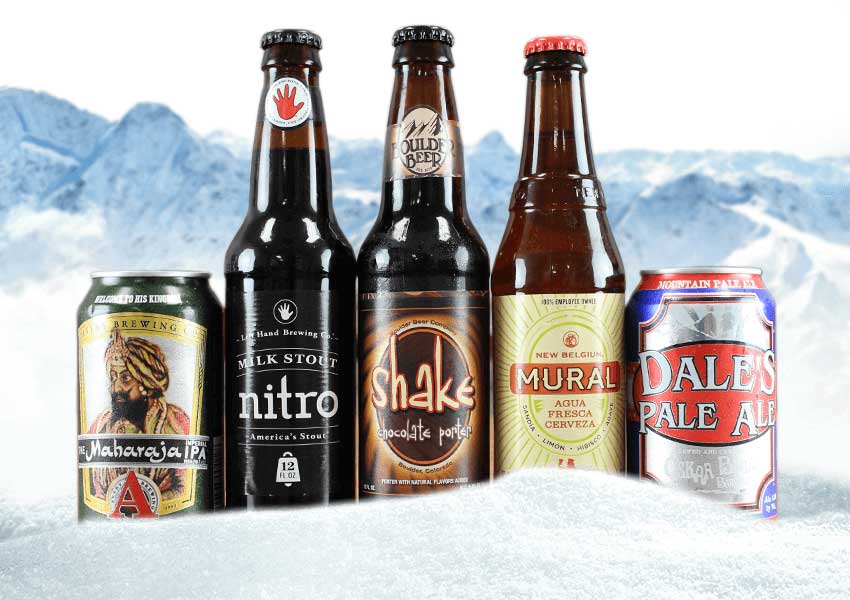 F.N.Sharp
The last decade has been, for a lack of better words, a boom for the craft beer industry. What was once considered a "weirdo" niche has become a multi-billion-dollar industry across the country. While the art of brewing small batch beer is nothing new (thank you Prohibition), the professional craft brewing business didn't get up and running until the mid 1970's. Most beer aficionados will hate to admit it, but the two brands that truly brought craft beer to the masses were Sam Adams and Sierra Nevada, both of which would be considered mainstream brews in the current craft beer space.
With nearly 4,000 independent breweries throughout the United States, choosing a favorite is no small feat. Year after year, Rocky Mountain craft beer and their brewers continue to push the envelope of flavor and innovation.
Is it the pure mountain water? Maybe it's the access and proximity to the freshest West Coast and Pacific Northwest-grown hops?
Whatever the reason, we're glad these 8 beers are available to the public. Make a point to track these down for a taste test during your next visit to the Rockies!
Bourbon Barrel Aged Ten Fiddy
12.9% ABV
Credit: @Oskar Blues Brewery
Oskar Blues Brewery • Longmont, Colorado
One of the highest rated beers from Colorado, according to Beer Advocate, Ten Fiddy from Oskar Blues is a truly unique imperial stout. By aging the batch for four full seasons in barrels from some of the top bourbons, Oskar Blues has found a way to introduce new levels of flavor not commonly found in stouts. With each sip, your palate will be delighted with notes of espresso, rich chocolate, burnt sugar, and caramel, followed by a smooth aftertaste featuring a blend of vanilla, oak, and bourbon.
Big Bad Baptista
12.0% ABV
Credit: @Epic Brewing
Epic Brewing • Salt Lake City, Utah
Borrowing inspiration from traditional Mexican coffee, Epic Brewing's Big Bad Baptista is an imperial stout that embraces strong coffee flavors through each sip. Featuring a combination of vanilla, cinnamon, and Mexican coffees, as well as Solstice Chocolate cacao nibs, this craft brew generates a pleasant warming sensation as you drink your way through your glass or bottle. Crack open a Big Bad Baptista during Après-ski with friends around a fire, and you'll be doing Rocky Mountain craft beer the right way!
Dale's Pale Ale
6.5% ABV
Credit: @Oskar Blues Brewery
Oskar Blues Brewery • Longmont, Colorado
This is the one that put Oskar Blues on the map! Dale's Pale Ale is the flagship beer from the ColoRADo-based brewery and has become one of the most recognizable craft beers in the world thanks to its unique can and label. Back in 2002, Dale's Pale Ale was the first independent craft beer to be offered in cans, opening a door for Rocky Mountain craft beer and craft breweries around the world to get their brews out of the tap room and onto store shelves.
You'll find a delightful balance of pale malts and citrus hops from start to finish in each can of Dale's Pale Ale, making it an ideal craft beer for any time of year!
Mural
4.2% ABV
Credit: @New Belgium Brewing
New Belgium Brewing • Fort Collins, Colorado
New Belgium is another big player in the craft beer space, with popular brews like Fat Tire Amber Ale and Voodoo Ranger IPA. With Mural, New Belgium pays homage to the strong Mexican cultural influence throughout the Rockies and created the Agua Fresca Ale that is part craft beer and part agua fresca, a refreshing fruit drink commonly found in Central American countries.
In partnership with Mexico City's top craft brewery, Cerveceria Primus, the two breweries created a light and refreshing ale featuring flavors of agave, hibiscus, watermelon, and lime – making it the ideal beer for cooling off after a long day exploring the Rocky Mountain wilderness.
Maharaja
10.0% ABV
Credit: @Avery Brewing Co.
Avery Brewing Co. • Boulder, Colorado
Meaning "Great King" in Sanskrit, Maharaja is an American Imperial IPA that is brewed with a mind-blowing combination of hops, giving it a tangy and vibrant flavor while still producing the pungent, malted barley taste that gives this American IPA it's fashionably dark amber hue. For a craft beer enthusiast who enjoys when brewers put the flavor of hops on display, look no further than Maharaja from Avery Brewing.
Milk Stout Nitro
6.0% ABV
Credit: @Left Hand Brewing
Left Hand Brewing Co. • Longmont, Colorado
While not a beer that we'd recommend drinking a bunch of, the Milk Stout Nitro from Left Hand Brewing Co. is a reminder that Guinness isn't the only stout on the menu! Giving off aromas of brown sugar and vanilla, Milk Stout Nitro is certainly on the sweeter side, but it's creaminess and smooth-roasted coffee finish will leave you smacking your lips in between sips. Be sure to enjoy your Milk Stout Nitro in a glass so it's thick, whipped cream-like head can properly form. Bonus points if you find a bar or pub that serves it up from a nitro tap!
Shake Chocolate Porter
5.9% ABV
Credit: @Boulder Beer Company
Boulder Beer Co. • Boulder, Colorado
If you're a chocolate lover, Shake Chocolate Porter is a beer you should certainly order while relaxing in the Rocky Mountains. This unique take on an American porter features flavors of dark chocolate, coffee, and caramel. Brewed by Boulder Brewing, Colorado's first independent craft brewery, Shake Chocolate Porter was named the 2014 World Beer Cup Gold Medal Winner in the chocolate beer category. Enjoy the decadent porter after dinner as you and your family/friends gather around the fire to share stories from a day spent on the slopes.
Vieille
4.2% ABV
Credit: @Crooked Stave
Crooked Stave Artisan Beer Project • Denver, Colorado
Most craft beer fans expect rich porters and hoppy IPAs to make up the majority of Rocky Mountain craft beer, but Crooked Stave Brewery of Denver has turned that notion on its head with Vieille. This delicate saison was crafted based on century-old traditions of brewing by farmhands in the region who were looking to create a refreshing and sustaining beverage. The initial sip of Vieille Artisanal Saison will unveil notes of lemon and lime citrus hops, followed by a subtle herbal spice and crisp, tart finish. A must-try for fans of sour beers!
If you're more into spirits – specifically whiskey – then be on the lookout for the new Rocky Mountain high during your trip to the Rockies.
Tagged in: