Culinary Bucket List: The Rockies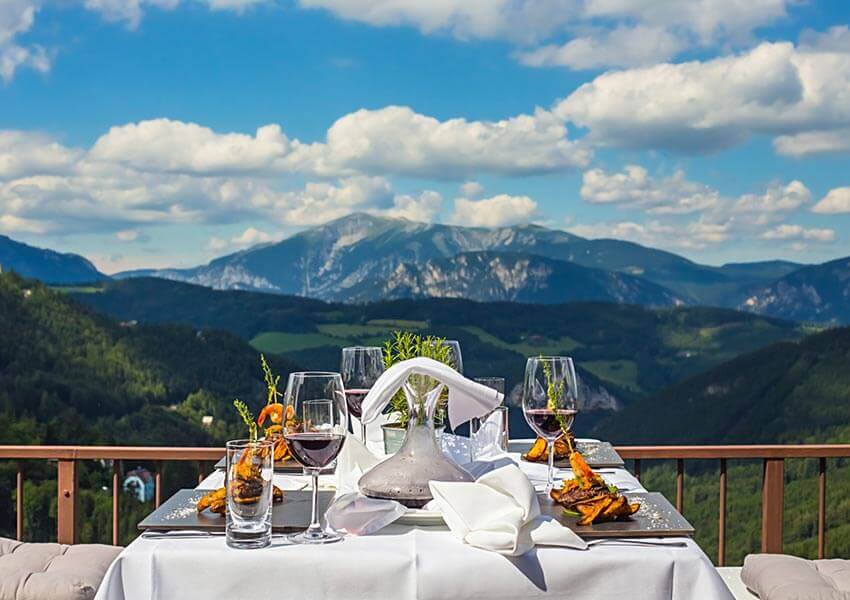 F.N.Sharp
Every corner of the earth features culinary institutes on the must-visit list for both travelers and locals alike.
When you're a mile high in the Rocky Mountains, the level of craftsmanship and care put into each dish at the region's top restaurants is – pardon my pun – elevated above the rest.
The Rocky Mountain region showcases its culinary expertise and cultural influence on every page of the menu, from world-class sushi to expertly-prepared wild game, like bison and elk.
When planning your next visit to the Rocky Mountain area, be on the lookout for these 7 dining experiences that will certainly make your meal one to remember!
Mariposa
Deer Valley, Utah 
Credit: @Deer Valley Resort
If dining at an elegantly rustic and highly rated restaurant is a requirement for your dinner plans, then look no further than The Mariposa.
As the featured restaurant of Deer Valley Resort in Park City, Utah, The Mariposa has been named the #1 restaurant in the Salt Lake City area and has earned a handful of other awards from dining magazines and websites.
The Mariposa's New American themed menu features a range of delectable dishes, including:
Bison Fillet served with Saint Andre triple cream brie, yam-yukon potato gratin, zinfandel jus, and rainbow chard

 

Morgan Valley Lamb Chop served with lamb bacon, turnip hash, charred tomato aioli, and black garlic

 

Kombu Cured Niman Ranch Pork Belly served with petite vegetables, bok choy, and house sriracha

 
And with an expansive beverage menu and award-winning wine list featuring wines from around the world, you're bound to find a vintage, spirit, or aperitif that will hit the spot before, during, or after your meal.
The Mariposa 
7600 Royal St, Suite 305 
Park City, UT, 84060 
Phone: 435-645-6632 
www.deervalley.com  
Element 47 @ The Little Nell
Aspen, Colorado 
Credit: @Alex Seidel
If you're next trip to The Rockies includes a stop in Aspen, Colorado, then be sure to visit Element 47 @ The Little Nell.
The big accolades racked up by this small, slope-side restaurant include James Beard awards and Five-Star Restaurant Awards from Forbes – not to mention the recognition Element 47's out-of-this-world wine list has received from a variety of wine journals.
Named for silver's place on the period table of elements – and in honor of the precious metal that put the city of Aspen on the map – Element 47's dining experience is easily worth its weight in silver. 
Serving breakfast, lunch, après, and dinner seven days a week, Element 47's  award-winning menu focuses on farm-to-table Coloradan fare. Some standout items include:
Waygu Chorizo Hash served with yams, onions, pepper, mountain rose potatoes, and salsa mancha

 

Alpine Cheesesteak served with raclette, portabello, and truffle aioli

 

Antelope served with parsnip, pomegranate, barley, and cocoa nibs

 

Buffalo "Wellington" served with foie gras, duxelle, and celery root

 
Have a hard-to-find wine you'd love to add to your meal? Element 47 would be the place to find it! Their wine list consists of 98 pages – that's more than 20,000 different wines from wineries around the globe , including vintages dating back to the early 1900's.
True wine connoisseurs can enjoy a private cellar tasting, hosted by one of The Little Nell's world-class sommeliers.
Element 47 @ The Little Nell 
675 E Durant Ave 
Aspen, CO 81611 
Phone: 970-920-6330 
www.thelittlenell.com  
Matsuhisa
Aspen & Vail 
Credit: @Matsuhisa Aspen
Matsuhisa is not your traditional Rocky Mountain dining experience – but it should certainly be on your list of restaurants to visit for world-class Japanese cuisine.
Matsuhisa is the creation of world-renowned Chef Nobu Matsuhisa, known for his fusion of Japanese and Peruvian ingredients.
With locations in Vail, Aspen, and Denver, you'll enjoy some of the same menu items the restaurant became famous for at its Malibu, Beverly Hills, and Manhattan locations, but will remain surrounded by the alpine ambiance of luxury ski towns.
Matsuhisa's menu features a wide variety of Japanese dishes, both hot and cold, as well as sushi and sashimi. Take a bite of the best Japanese food in the Rockies with one of these dishes:
Lamb with Anticucho or Wasabi Pepper Sauce

 

King Crab Tempura "Amazu" Sweet Ponzu

 

Washugyu Beef Tataki

 

"Omakase"-Japanese for "I'll leave it up to you". Let the world-class Chefs of Matsuhisa create a multi-course dining experience for you with the freshest and best ingredients on hand that day.

 
While the wine list at Matsuhisa is humble compared to the previously mentioned restaurants, guests will find a nice selection of Sake to pair with their meals.
Be sure to ask the server for recommendations to pair with each dish!
Matsuhisa 
141 E Meadow Drive 
Vail, CO 81657 
970-476-6628 
 
303 E Main Street 
Aspen, CO 81611 
970-544-6628 
https://www.matsuhisarestaurants.com/ 
Million Dollar Cowboy Steakhouse
Jackson Hole, Wyoming 
Credit: @Million Dollar Cowboy Bar
Jackson Hole is a special place in the Rocky Mountains where the spirit of the Old West is infused with modern-day luxury and elegance.
The Million Dollar Cowboy Bar sits smack in the middle of Jackson Hole's main strip and is adorned with neon lettering and a vintage cowboy riding a bucking bronco.
Originally opened in 1937, the Million Dollar Cowboy Bar oozes Wyoming culture. Here, you can literally "saddle up" to the bar by taking a seat on one of their saddle-turned-barstools and enjoy a cocktail as you take in the ambience and live music.
Once you've had your fill of cowboy culture in the upstairs bar, head downstairs to the Million Dollar Cowboy Steakhouse where you'll feel like you just entered a secret Old West saloon serving up the best cuts of beef money can buy.
If you've come to the Cowboy Steakhouse, you're here for one thing: meat! And you won't go wrong with any of the following:
Allen Brothers Ribeye, New York Strip, or Tenderloin

 

Forest & Field Bison Ribeye, Bison New York Strip, or Elk Medallion

 
In true steakhouse fashion, sauces, sides, and additional add-ons are available to include with your steak. Just be sure not to skip out on the Bacon Fat Grits with 10-year aged cheddar!
The bar menu at Million Dollar Cowboy Steakhouse features an excellent selection of both regional, domestic, and international wines and beers. For those looking for a more elevated cocktail than what is served up at the upstairs bar, the Cowboy Steakhouse also serves up a sophisticated cocktail list, affectionately referred to as "dust cutters."
Million Dollar Cowboy Steakhouse 
25 North Cache Drive 
Jackson Hole, WY 83001 
Phone: 307-733-4790 
jhcowboysteakhouse.com  
Game Creek
Vail 
Credit: @Vail_Brasil
Perched high up the mountain overlooking the Game Creek Bowl, you'll find Game Creek Restaurant.
A meal at Game Creek is truly one of the most unique dining experiences you can find in the Rockies. The European chalet-style restaurant is only accessible by taking a ski lift up the mountain, then switching over to a snowcat for a ride the rest of the way.
Don't worry about booking lift tickets, though – reservations to Game Creek Restaurant include lift passes for your entire party!
Once you've arrived at Game Creek Restaurant, you'll enter a warm and inviting space teeming with Vail history and aura. There, you can grab a glass of wine and cozy up to the roaring fireplace, or pull up a chair at the bar for a cocktail before heading to your table for your 3, 4 or 5 course, alpine-inspired dinner.
The menu at Game Creek Restaurant is constantly changing in order to serve up the freshest, in-season ingredients. Some highly recommended items include:
Colorado Lamb Rack served with root vegetable gratin, cippolini, red endive, and tarragon jus

 

Wild Boar served with gnocchi, sage, asparagus, brussels sprouts, and brown butter

 

Black Cod served with duck confit fingerlings, red cabbage, honey mustard, and squid ink tuille

 

Anything with Palisades Peaches for dessert!

 
Since the restaurant is a part of Vail Ski Resort, the wine and spirit offerings at Game Creek Restaurant is world-class. Ask your server or host about arranging a pairing dinner in which one of the restaurant's Sommeliers serve up the perfect wine for each course of your dinner.   
Game Creek Restaurant 
Vail, CO 
Phone: 970-754-4275 
https://www.gamecreekclub.com  
Beaver Creek's Cabins
Beaver Creek, Colorado 
Credit: @Trinity Wall
Take in true alpine living at Beaver Creek Resort where you'll find THREE mountainside cabin restaurants that are only accessible by open-air sleigh rides.
Beano's Cabin, considered one of Colorado's top restaurants, features massive windows and an open kitchen allowing guests to gaze out into the snowy wilderness or watch as master chefs prepare five-course meals made up of local Colorado ingredients.
Zach's Cabin, perched high above Bachelor Gulch, is the "fine dining" cabin of Beaver Creek. Here you'll find a world-class wine list that pairs perfectly with a rotating menu of alpine-inspired dishes.
Allie's Cabin is the perfect family-dining experience. After arriving via open-air sleigh, you and your family will be greeted with warm and plush lodge slippers to wear during your stay at the cabin. A children's buffet serves up top-notch, kid-approved foods like White Cheddar Mac n' Cheese, while the adults can still be treated to a decadent three-source meal that includes dishes like Garlic and Rosemary Crusted Prime Rib.
Since there are 3 different cabin-dining experiences at Beaver Creek, we decided to just choose one dish at each cabin to recommend if you get the opportunity to visit:
Beano's Cabin-Grilled North American Elk Chop served with house made spice rub, roasted cauliflower, brussels sprouts, caramelized onion maple heirloom grits, cranberry reduction.

 

Zach's Cabin-Smoked Spiced Venison Chop served with maple gastrique, rapini, caramelized gnocchi, apple-beet puree.

 

Allie's Cabin-Pan Fried Ruby Trout served with black bean & sweet potato hash, roasted avocado, grilled scallion, salsa fresca.

 
Beaver Creek Resort 
210 Beaver Creek Plaza 
Beaver Creek, CO 81620 
https://www.beavercreek.com/
Looking for a little bit of adventure during your culinary journey through the Rocky Mountains? Take a helicopter ride to ski your own private mountain, covered in the most pristine snow you've ever seen, with Telluride Helitrax.
If hitting the slopes isn't your thing, then check out this list of off-mountain activities that are sure to give you a thrill during your journey through the Rockies.
Tagged in: