5 Glamping Sites for Your Next Visit to the Palm Springs Deserts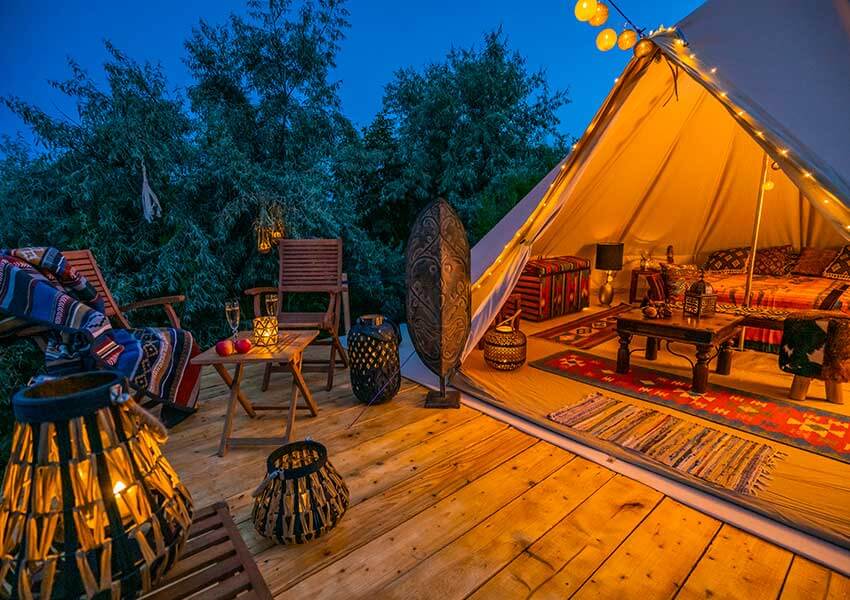 F.N.Sharp
Hot, simmering afternoons fade into warm, starry nights. The harsh landscape of the high desert meets mid-century architecture. A retro-modern flair echoes Hollywood's past, and Joshua trees dot the horizon.
All these sights point to the land of extremes that is the California desert – home to the city of Palm Springs and the Coachella Valley community.
Here, guests can laze around poolside, or pull on hiking boots and explore the unique desert wildlife. One can shop in boutique stores and dine at upscale restaurants. At night, the temperature drops and there's a canopy of stars to enjoy overhead.
No matter what activities you enjoy by day, you'll need a place to lay your head at night. From luxurious modern apartments to tipis under the stars, we've found some of the best glamping sites in Palm Springs.
Sparrows Lodge
Credit: @Andi State Real Estate Photos
Centrally located in the city of Palm Springs, this historic lodge was built in 1952 by MGM actor Don Castle. It was originally used as a getaway destination for those in Hollywood's high society. It was restored in 2013, maintaining a modern rustic vibe.
Each room features an open design with exposed ceiling beams, concrete flooring and original artwork. In keeping to a minimal atmosphere, there are no phones or TVs in the rooms. However, comfort is not sacrificed with both air-conditioning and heating available in each room.
A complimentary breakfast of muffins, yogurt, fruit and granola is included in the room rate and is prepared by the onsite restaurant, The Barn Kitchen. The restaurant is also open for lunch daily from 11 a.m. to 6 p.m., and for dinner on Wednesdays and Sundays.
Enjoy the common fire pit area for drinks and socializing in the evenings.
Sparrows Lodge also offers complimentary townie bike rentals for guests to explore the nearby Palm Springs attractions and all the desert has to offer, while relaxing in rustic comfort in the evenings.
Lazy Sky Boutique Retreat
Credit: @Lazy Sky
On 10 private acres in Yucca Valley, Annie and Tony are Airbnb superhosts who offer five unique desert accommodations. On their property, they rent out two tipis, two safari-style tents, and one yurt.
Guests enjoy the minimalist style and clean lines in each unit adorned with southwest décor. Although it may seem primitive, there is electricity in each room and a Yeti cooler to keep drinks and snacks cool.
A common bathhouse and kitchen area is centrally located for all of the units to share – and the kitchen is fully stocked so guests can cook for themselves if they wish.
Each unit has a private sitting area with a fire pit, providing a space for you to enjoy the beautiful sunsets and starry skies.
This retreat is an ideal place to get away from the stress of city life and breathe in the fresh air. When the temperature drops at night, the rooms are supplied with heaters and blankets for guests to snuggle up under the desert sky.
Palm Canyon Hotel and RV Resort
Credit: @Cheryl Hsu
Located in the dark sky community of Borrego Springs, this resort has an eclectic mix of accommodations to choose from. Here, you can choose from a hotel room with a wild west theme or rent out a vintage Airstream trailer for the night. The trailers are all set up for you so you can enjoy camping without all the hassles.
The resort also features sparkling resort-style pools and relaxing hot tubs, a fitness center, laundry facility, and a saloon featuring the Big Horn Bar and Grill, an onsite restaurant serving up quick bites, small meals, cold drinks, and hot espressos. Live bands are regularly scheduled to entertain visitors, as well, from country tunes to classic rock.
Less than a mile away, the Anzo-Borrego Desert Park is a great place to explore the beauty of the desert. Go for a morning hike or stop in the Visitor Center to experience desert wildlife firsthand. In the springtime, the desert plants and wildflowers are in full bloom, infusing beautiful colors across the landscape.
As a certified Dark Sky Community, visitors can enjoy stargazing without light pollution cluttering up the sky and can see celestial wonders for miles.
With all of the amenities offered here (WIfi, fitness center, espresso bar, laundry facility, and much more) one can comfortably stay for an extended vacation at the Palm Canyon Hotel and RV Resort.
The Lautner Compound
Credit: @Maurício Novelli
If luxury camping rentals are your way to unwind and relax, then the Lautner is your destination. These four stylishly designed vacation homes were the creation of Hollywood-renowned architect John Lautner. Even though Lautner was commissioned to build this 70 years ago, the restorative touches still reflect his iconic style.
The grounds of The Lautner also include a park which serves as an open-air venue for weddings and other events. It has been featured in Architectural Digest, Conde Nast Traveler and Sunset magazines.
The units are meticulously decorated with a mid-century modern ambiance. Guests are spoiled with first-class amenities and accommodations, and Palm Springs is just a quick 20 minute drive.
If your time in the California desert commemorates a wedding or special occasion, consider spoiling yourself with a stay you won't ever forget at The Lautner Compound in Desert Hot Springs.
Kate's Lazy Desert
Credit: @?Love Photography ?Love Food
On the other end of the spectrum, for pure funky vibe, enjoy a stay in one of six vintage airstreams at Kate's Lazy Desert. This Airstream motel was born out of a dream of B-52 singer Kate Pierson and her partner Monica Coleman.
The property is located in Landers, CA, which is truly the high desert. This location is convenient for exploring Joshua Tree National Park by day and enjoying dark, starry skies at night.
Each of the Airstream units has a colorful theme with a name to match, which are Hot Lava, Hairstream, and Tinkerbell. Each unit comes with temperature controls and is stocked for basic cooking. Capacity is for two adults only, but four-legged friends are also welcome.
Choose which kitschy Airstream matches your personality and stay in Kate's Lazy Desert while you enjoy your desert glamping adventure.
Tagged in: