These Food Festivals are Worth a Trip to the World of Greece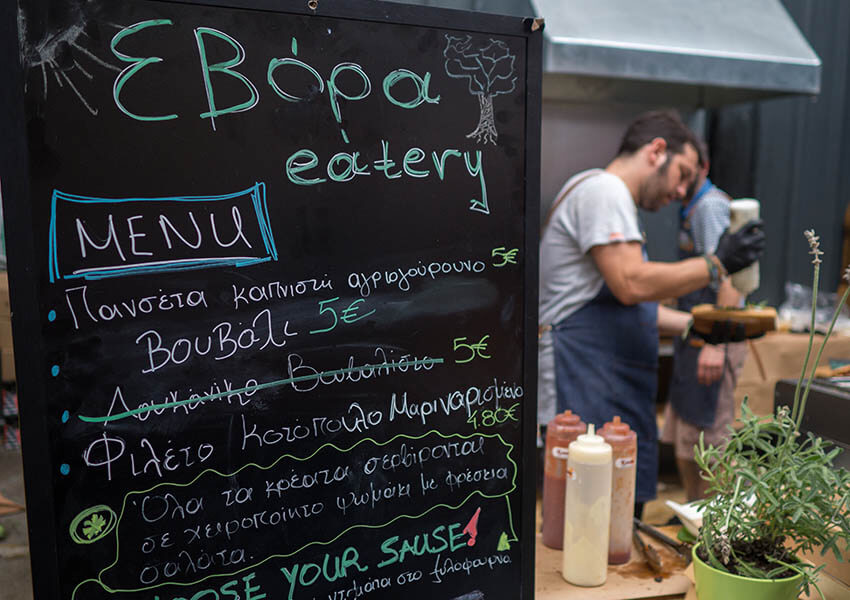 F.N.Sharp
One of the reasons we love to travel is to see historic or beautiful sites, learn about another culture, and participate in fun activities — but one of the most enjoyable things about traveling is sampling local cuisine. You can prowl over websites, guide books and reviews to find the best restaurants when you're traveling to another country — but nothing comes close to immersing yourself into another culture's cuisine more than attending a food festival! Food festivals introduce us to the foods, spices, flavors and preparation methods the locals celebrate — and there is no better place to learn about Greek cooking than a Greek food festival! Regardless of which part of Greece you're traveling in, you'll find a tantalizing food festival.
Greek Food Festivals: 10 Reasons to Visit Greece
From mushrooms to artichokes to feta cheese to sardines, we've found 10 Greek food festivals you're sure to enjoy.
Vegetable and Nut Festivals
Greeks love to celebrate, and many of the food festivals celebrate products — including vegetables, nuts, cheese, olive oils and wines — that have received a Protected Designation of Origin from the European Union. You've got to love a country that celebrates its vegetables! Here are the top Greek food festivals featuring vegetables and nuts:
The Artichoke Festival — May
Credit: @Claire Aucella
You'll need a boat or a plane to attend this festival on Tinos Island in the Cyclades to celebrate this staple of Greek cuisine. Local women divide up 10,000 artichokes and create an endless variety of preparations and dishes such as fried, pickled, stuffed, au gratin, omelets, soufflés and moussaka. Join the locals in folk dancing to live music!
The Mushroom Festival — August
Credit: @FungiHellas
Head to northern Greece's Macedonian village of Grevenà, AKA the "mushroom capital of Greece," for its annual Mushroom Festival. More than 1,300 mushroom species grow near this picturesque village surrounded by extraordinary mountains, alpine valleys, lush forests, rushing rivers and gentle streams. You can participate in mushroom exploration tours, attend educational seminars and, of course — savor delicacies such as mushroom jams, pickles, liqueurs, truffles, pastas, candies and more while you listen to live music!
The Eggplant Festival — August
Credit: @Premier Fruits
Leonidion on Greece's southeastern shore is home to a unique eggplant species called tsakoniki, which is slightly sweeter than traditional eggplants. The European Economic Community has named Leonidion the "Tsakoniki Eggplant Capital of Europe." Enjoy tsakonikis prepared in a variety of traditional ways including moussaka, fried eggplant and eggplant casserole as you immerse yourself in the festival's exciting cultural activities!
Aegina Fistiki Fest AKA the Pistachio Festival — September
Credit: @Villa Antigone
You'll find this festival on the island of Aegina in the Saronic Gulf not far from Athens. The festival celebrates a local pistachio (fistiki) that has a unique taste due to the island's warm, dry climate and proximity to the sea. The festival includes gastronomy events, workshops, live music, theatrical events and creative activities.
The Chestnut Festival — Fall
Credit: @kontreras♎️
Chestnuts grow all over Greece and many communities hold chestnut festivals, but for a real treat, head to the Greek island of Crete in the fall for its Chestnut Festival! Held in the scenic village Elos, you'll find music, folk dancing, eating and drinking and chestnut delicacies. Be sure to try a local alcoholic drink made from honey and wine-making byproducts called tsikoudia or raki! You might even stumble upon a tsikoudia festival as they tend to happen around Crete during the fall too.
Cheese, Seafood & Other Greek Food Festivals
You'll find no shortage of other reasons for Greeks to celebrate their food, culture and heritage, so if you're not into vegetables, check out these options!
Athens Street Food Festival — May
Credit: @Yummy Spies
A newcomer to the Greek food festival scene, the Athens Street Food Festival began in 2016. Greece is known for its family-owned tavernas and long, leisurely meals, but street food has always been a staple for Greek workers needing a quick meal. This festival jumps on the popular street food bandwagon that other European and American cities have already embraced. While you can sample cuisine from every corner of the globe, you'll find Greek street food favorites such as souvlaki, gyros, bougatsa and koulouri.
The Sardine Festival — August
Credit: @Mark Drabich
The town of Skala Kaloni on Lesvos Island (AKA Lesbos or Mitilini) in the Aegean Sea is famous for serving the best sardines in Europe! Try them grilled, fried or pastes, which are fresh sardines caught in the morning, salted on the boat and served that same evening. Listen to live music, watch traditional dancers and sample a variety of free sardines — and free ouzo, a local Greek anise-flavored liqueur.
The Snail Festival — August
Credit: @James W
While the French are known for their butter-drenched escargot dish, Greeks love snails too! Head back to Crete, Greece's largest island, for the annual Snail Festival held in the small village of Vlaheronitisa. Locals eat snails regularly, but if you attend the festival, you'll be able to try them fried, sautéed, oven-baked with artichokes, potatoes and zucchinis and other delicious preparations. And, as with any Greek food festival, expect dancing, music and celebrating into the wee morning hours with the local drink raki, AKA tsikoudia!
The Feta Cheese Festival — September
Credit: @Greeking.me
No food is more Greek than feta cheese! Elassona in the Thessaly region is one of Greece's most important feta-cheese-producing regions — and the three-day Feta Cheese Festival showcases this delightful crumbly cheese. In addition to sampling innovative dishes featuring feta, you'll find concerts, a street fair, children's games and the signature event — local women prepare hundreds of coiled cheese pies and serve them to festival-goers!
Greek Honey and Bee Products Festival — December
Credit: @Vasilissa Exceptional Products
Attend this three-day festival in Athens where more than 70 honey producers from across Greece and its islands, along with chefs and bee experts, gather to celebrate. Taste honey-inspired dishes, cocktails and desserts prepared on the spot. You can also learn about bee-keeping and the multiple health benefits of honey.
A Final Note on Greek Food Festivals
In addition to Greek food festivals, you can find wine and beer festivals around Greece! Some of the best include the Corfu Beer Festival held on the island of Corfu in September. The Robola Wine Festival on the beautiful Greek island Kefalonia celebrates the white wines produced on the island. Wines of Peloponnese is a fall festival featuring 30 wines from the region. One of the largest Greek wine exhibitions for wine-making professionals and consumers is the Oinorama, held in March.
Most of Greece's food festivals tend to be in the fall, which are often the harvest months. Many Greek islands and villages hold small, local festivals celebrating holidays too, so you're likely to happen upon one if you're visiting any time of the year. And if you can't make it to Greece, then you can always head to Florida and visit the Greek sister city of Tarpon Springs and its historical Sponge Docks!