It's All Greek With These Delicious Food and Wine Tours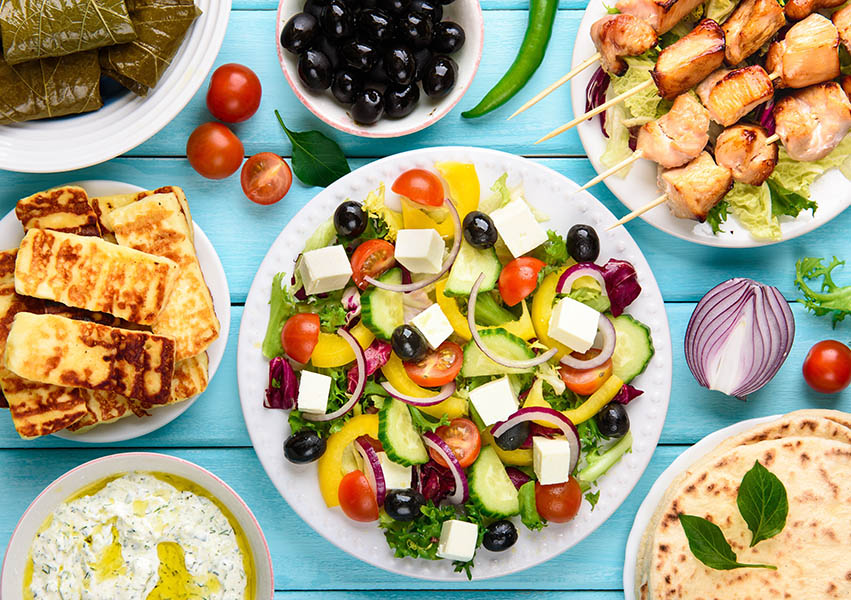 F.N.Sharp
From restaurants steeped in Athens history to tavernas perched on the rims of dramatic calderas, eating and drinking through Greece is a pleasure for all senses. To truly experience the art of Greek cuisine, your best bet is planning a trip to one of Greece's stunning islands to get in on a culinary tour. There are dozens of food and wine tours available, from half-day experiences to full- or multi-day immersive adventures and some that allow you to not only taste and savor Greek food and wine, but also watch how it's made and even do a little hands-on cooking, too.
The Best Food and Wine Tours of the Greek Islands
From island to island, Greek cuisine is full of bright and fresh ingredients, from in-season fruits and veggies to freshly caught seafood. To get a real taste for the flavors of Greece, here are just a few food and wine tours to look out for when planning your next culinary adventure through the Greek islands.
Corfu Island Food and Wine Tours
Credit: @Isla Cuisine, Corfu
Home to some of the best beaches in Greece, stunning Corfu is the second largest of the Ionian Islands. With both Greek and Venetian influences, Corfu's cuisine is an international fusion of cooking methods from France and spices from the east, with a little bit of British influence, as well. Much like the Greek cuisine of the mainland, Corfu cuisine is dominated by olives, olive oil, cheeses, and fresh fruits, veggies and seafood. You'll find plenty of ways to experience the flavors of Corfu, from walking tours to private cooking classes.
Corfu Walking Tours
Corfu Walking Tours offer wonderful food and wine tasting tours that allow you a sip or two of authentically Greek drinks, from wine to Ouzo, and fresh samplings of olive oil and other delightful Greek food. All of this can be combined with the opportunity to explore Corfu's most historic sites, and you can choose from several different tours all lead by English-speaking guides, as well as fun cooking classes in a private home on the island.
Traveling Spoon
Traveling Spoon, fairly new to the Greek food tour market, offers "private authentic food experiences" including market tours, cooking classes, and homemade meals. What gives this tour a different spin is that many of these experiences take place in local homes, allowing guests to truly immerse themselves in the culture of Corfu. Delightful!
The Governor Olive Mill Private Tour
Enjoy an intimate small group tour at the Governor Olive Mill, which will include an olive oil workshop, a tour through the groves, and tasting of the oil as well as other local delicacies. This tour offers convenient pick-up and drop-off and accepts a max of only 15 participants.
Crete Island Food and Wine Tours
Credit: @Kriti Restaurant
The largest of the Greek islands, Crete was home to the earliest known civilization in Europe – the Minoans – and is home to the spectacular Palace of Knossos, as well as a natural landscape that will take your breath away! While typical Greek dishes aren't hard to come by in Crete, the island also has its own food traditions, from specialty cheeses to fried snails. In fact, snails have such an integral part in Cretan cuisine, they even have a special food festival to celebrate the tradition every August! To get a true taste of Cretan cuisine, be on the lookout for these food tours:
Cooking and Traditions of Crete
More of a full-island experience than just a Greek food or wine tour, the Cooking and Traditions of Crete tour comes with six nights of apartment accommodations in the mountainous village of Jermiadon. Hosts Yannis and Eleni have four amazing cooking classes planned for participants, as well as opportunities to taste local specialties via a number of additional meals included in the price. There's also time for sightseeing and even a visit to the beach. Of all the Greek island tours on Crete, this is one of the best for foodies!
The Hidden Artisans of Crete
Walk in the fields and olive groves of the region, explore the mountainous countryside, visit a pottery workshop, and learn how to prepare delectable Greek desserts with The Hidden Artisans of Crete. With this tour, the focus is on skills and crafts long forgotten, followed by a dessert picnic paired with homemade beverages.
Crete Wine and Olive Tour
One of many Greek Island tours available on Crete, this full-day tour lets you explore the landscape and villages of the island, as well as two family wineries so you can learn about the production and sample several local wines. There's also an olive oil factory tour included in the day's activities. The group size is kept to a minimum for plenty of personal service, so you won't get lost in the crowd and the guides are friendly and enthusiastic.
Kefalonia Island Food and Wine Tours
Credit: @Gastronomy Stories
The largest of the Ionian Islands, Kefalonia is home to several ancient archaeological sites and has a rich biodiversity, offering many endemic and rare species of animals and birds. Much of the island is also designated as a National Park, and olive oil production is a major player in the island's economy.
Private Wine and Picnic Lunch Tour
Venture into the Kefalonia countryside on this half-day Greek island tour and private outing that will introduce you to the viticulture of this volcanic island, as well as its gastronomic history. Weather permitting, this chauffeured tour also includes a private picnic in a scenic location.
Kefalonia Wine Tour
Kefalonia Wine Tours, designed for small groups of no more than 6 individuals, help guests learn everything they ever wanted to know about Kefalonian wines and how they are made. Expert English-speaking guides take you from winery to vineyard to teach you the proper way to taste the island's favorite wines.
Mykonos Island Food and Wine Tours
Credit: @twinninaround
Nicknamed "The Island of the Winds" and known for its iconic windmills, Mykonos is a rocky island that boasts 300 days of sunshine each year. No wonder why it's so popular with tourists, including those interested in food tours!
Luxury Yacht Tour with Chef
This 8-day excursion takes lucky guests through the Cyclades – Kytnos, Syros, Mykonos, and Serifos – where they'll experience bright blue seas, charming villages, glamorous nightlife, and landscapes that are truly breathtaking. Each day brings a new adventure, and the onboard chef will provide travelers with the best in Greek food and wine on this island tour, which also includes meals at notable restaurants on each island.
Wine Tasting with Ancient Greek Wines
Greece has been known for its amazing wines since early civilizations. This intimate tour delves into the world of Greek wine and the story behind each one represented in Greek mythology. The tour includes three bottles of wine and finger foods in a "secret bohemian beach" location.
Rhodes Island Food and Wine Tours
Credit: @Vera Duchovskaja
Just off the Anatolian Coast of Turkey, the Greek island of Rhodes was once most well-known for the Colossus of Rhodes, a gigantic statue that was classified as one of the Seven Wonders of the Ancient World. Today, the island remains one of the most popular tourist areas in Greece and is included in most Greek Island tours.
Rhodes Local Experiences Tour
Tours by Locals takes guests to the less-crowded side of the island to taste a variety of local products including wine, honey, and olive oil, with stops in several different villages to let you taste the differences between each. Lunch is included, as are stops at two superb castles, and you even get some goodies to take home with you!
Wine Tasting Tour
With this wine tasting tour, you'll head to picturesque Embona Village for a stop at two wineries that produce wines made from local grapes. On the way, you'll experience the beautiful countryside and other scenic villages, and will have plenty of time to check out a local taverna or two.
Private Greek Food and Wine Tasting Experience
This 3-hour small group private tour, led by an English-speaking sommelier, takes guests to a renowned Rhodes restaurant to taste at least 5 unique Greek wine varieties. Participants will also have the opportunity to nibble on local Greek items and dishes that pair well with these Greek wines.
Santorini Island Food and Wine Tours
Credit: @Eat & Walk Santorini Food Tour
Magical Santorini is the Greek island you so often sees in photographs; the one with the sparkling white, blue-domed houses and bright blue sea. It's chock full of wonderful restaurants, charming tavernas, and much more, making it an ideal place for food and wine tours.
Santorini Gourmet Private Tour with Cooking Class and Lunch
This 4-hour experience combines a food tour with a private cooking lesson – the perfect pair for an avid foodie! Visit two Santorini wineries and learn about the unique, indigenous grape varieties grown there, then head to a local farm for more about local products including the island's famous tomato variety. After that, you'll use your new-found knowledge to craft a homemade Greek meal.
Private Wine-tasting Tour of Santorini
Reasonably priced, this private wine tour takes guests to several of the island's wine producers, including its first industrial winery and an ancient vineyard, a local distillery where ouzo and other spirits are made, and a family-owned farm that produces olive oil and cheese. Participants learn about the history of wine production in Santorini and will enjoy plenty of tasting.
Santorini Food and Wine Tours
Safowi Tours provides tours that focus on Santorini food and wine. A TripAdvisor favorite, Safowi has developed a variety of small, personalized events and tours that commence from most villages on the island, including Oia, Imerovigli, Firostefani and Fira. Offering both private and semi-private tours, most of what they do allows guests to eat and drink their way through local varietals and homegrown specialties. Others include hands-on cooking classes, lavish dinners, and even a theatrical production!
Zakynthos Island Food & Wine Tours
Credit: @Zante Park Resort & Spa
Owned by the Venetians from the 14th through 18th centuries, Zakynthos is the third-largest of the Ionian Islands and is a huge hit with tourists from Northern Europe. Visitors flock to its beaches, and its club scene is popular with millennials. When it comes to food, Zakynthos is a melting pot of international cuisines, but you'll find plenty of classic Greek dishes while eating your way through the island.
Zakynthos VIP Tour
The Zante Delight Town Excursion combines the opportunity to explore the charming and historic capital of Zakynthos with a chance to taste the island's superb wine on a visit to the Solomos Wine Estate. This evening tour commences with a traditional Greek meal, complete with dancers and maybe a little plate throwing. Opa!
Full Day Island Tour by Minibus
This 7-hour trip provides guests with a wonderful overview of the island of Zakynthos. After a hotel pick-up, travelers will head to the Navagio Viewing Point to see the island's shipwreck, then on to Xigia Beach for some swimming time. The afternoon includes a visit to Anafonitria Monastery, an opportunity for shopping and taste-testing at a local market, and – finally – a stop at a local winery.
The Best Wineries of the Greek Islands
Credit: @Douloufakis winery
If you're a fan of wine and your trip to Greece gives you time to explore the islands in depth, then you should make it a point to visit some of these amazing wineries. A few are open to the public during the summer months only, so it's a good idea to check first before making plans to stop by.
Crete
Santorini
Sikinos
Paros
With so many food and wine tours across so many different islands, you're bound to find the perfect tour for eating and drinking your way through Greece! Now if you want to fill your Instagram feed with amazing images of Greece, then here are the best places to visit!