Helitrax: The Ski Experience of a Lifetime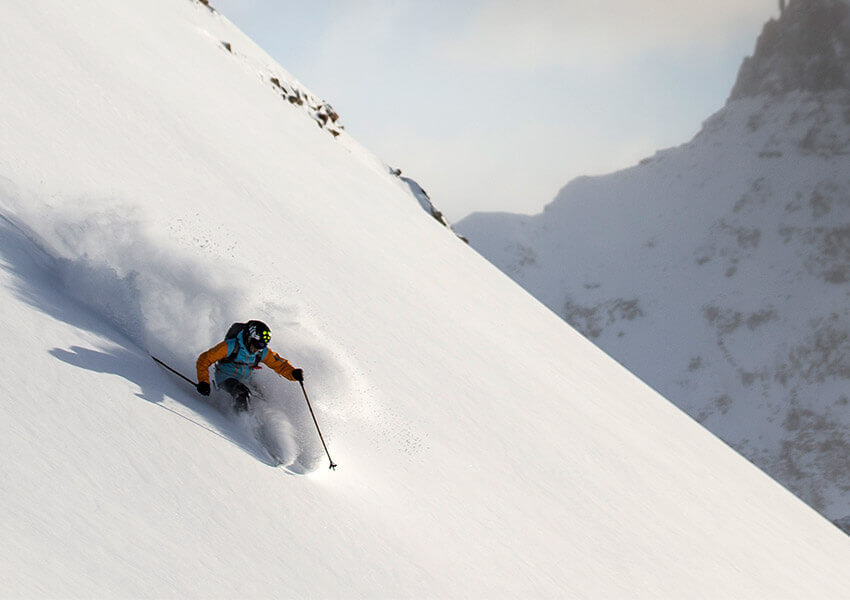 F.N.Sharp
Imagine a place where you can ski limitless powder above the tree line, with an expanse of stunning alpine peaks engulfing you in every direction.
In the San Juan Mountains of Colorado, this powder dream can become a reality. In fact, it is just one helicopter ride away when you book a heli ski trip with Telluride Helitrax.
Helitrax is THE helicopter skiing company to fly with in the San Juan Mountains. As soon as snow begins coming down in buckets along the Rocky Mountains, Helitrax' high season begins, zipping customers up peaks in private, weather-proof helicopters. On the way down, skiers and snowboarders get to experience untouched, deliciously powdery snow.
Sure beats a lift ticket.
We were fortunate enough to catch up with Telluride Helitrax's Marketing and PR Director, Heidi Lauterbach, to ask a few questions and learn more about Telluride Helitrax and heli skiing in the Rocky Mountains.
How Did Helitrax Begin?
Helitrax started in 1982 when four friends, Mark Friedman, Mark Frankmann, David Bush, and Brian "Speed" Miller, got their season passes pulled after ducking under ropes at a resort. Without their passes to allow them access to the mountain's runs, they were forced to explore all that the backcountry has to offer.
With the discovery of more pristine locations, the group started utilizing a helicopter to drop them off on the peaks they previously snuck into under ropes or had to hike miles to reach. when Telluride Helitrax was founded 35 years ago, the business goals revolved around chasing powder, having fun, and getting together with friends.
Now, as the premier helicopter ski guide service in Telluride, those same values hold true as Helitrax provides individualized experiences for small groups of people who are also passionate about getting after some of the best skiing in North America.
Why Heli Ski
vs

Resort Ski
Credit: @Telluride Helitrax
In case the feature image on this post doesn't already having you rounding up a group of friends to plan a heli trip, here are 4 reasons why a helicopter ski experience puts resort skiing to shame:
Helitrax caps out the number of guests they take out per day – 16 to be exact. With over 200 square miles of slopes, you might catch a glimpse of another skier in the distance as you fly overhead towards your next run. The average ski resort mountain in Telluride has an average of six to eight thousand guests PER DAY.
Riding a helicopter is way cooler than standing in line for – and riding – a chair lift.
You are literally dropped off on the top of a mountain with no one but your group and guide around. Before taking off to shred up the purest powder you've ever seen, you get to take in the breathtaking views of the San Juan Mountains.
Backcountry snow in the Rockies is unlike anywhere else. The light and airy powder snow gives riders the ability to "ride up" on the snow, which gives more of a riding "in the snow" feeling verses sliding down a bumpy run that thousands of other skiers and snowboarders have carved up.
What is the Terrain Like?
Credit: @Telluride Helitrax
With their special permits and 200+ miles of helicopter accessible terrain, Helitrax will have you dropping into bowls, making S-turns in high alpine basins, and even skiing down couloirs if you are up for the challenge.
Since it's incredibly hard to access many of the areas Telluride Helitrax flies, the terrain is always untouched with fresh, snowy goodness. If you've never skied on real powder before, get ready for your life as a skier to completely change.
When surrounded by the young and majestic San Juan mountain range, you really can't help but soak in the dramatic appeal of it all. Picture yourself as the star in a Warren Miller ski movie: the options for skiing are limitless, and you get to rip through all of the snow in sight. Everything the light touches is yours – as long as you can ski it!
In order to be physically equipped for a heli trip, you should be able to ski down a non-groomed black diamond like a pro. Every pitch that Helitrax skis is equivalent to a blue or black run at a resort, so skiers and riders should be at the intermediate to advanced level. If you aren't there yet, start training now so you can be a part of this experience!
What's it Cost?
Telluride Helitrax prides themselves on providing a personalized heli ski experience for the groups they're guiding, so the cost can truly depend on what you want to do.
Would you like to have a gourmet picnic on top of a mountain peak in between runs? They can do it.
Do you want to fly directly in and out of Dunton Hot Springs or another local ski resort? They can do that too!
Do you want to create a custom heli tour where you get to go where you want and ski what you want? They can do it!
A standard day trip with Helitrax is $1,345 per person. If you're interested in doing a multi-day trip, the cost goes down to $1,300 per person, per day for two to five-day packages. All Telluride Helitrax trips come with one guide for every four people, the latest powder skis, ski poles, an avalanche transceiver, and an avalanche airbag – plus food to fuel your body between runs.
You can expect a safety orientation, avalanche protocol briefings, about six runs per hour, and a delicious aprés-ski where you can recap the epic day with your buddies.
Credit: @Telluride Helitrax
Why Choose Telluride Helitrax?
The professional staff at Telluride Helitrax live, sleep, eat, drink, and breathe backcountry skiing. The lineup of mountain guides has hundreds of combined years of ski experience, and includes former ski patrol members, IFMGA-certified mountain guides, Mount Everest climbers, and backcountry avalanche forecasters. World-class helicopter pilots operate Eurocopter AS350 B3e, a chopper known for its high altitude performance and poor weather abilities.
To further bolster their reputation as the premier helicopter ski operator in the Rocky Mountains, Helitrax has been trusted by global brands, including Mount Gay Rum, Subaru, American Express, Mont Blanc Watches, and Vogue, to provide film support and logistics for commercial and editorial shoots.
In a world where lift lines have become the new skier's norm, an experienced season pass holder can still find solace in a real adventure with Telluride Helitrax, where fresh powder is abundant and no ropes need be ducked. Forget about waking up frantically at five in the morning on a powder day, only to get one good run in on the mountain before the crowds pile in to take all of your precious snow! Go big and go for Helitrax – you won't regret the endless face shots for a second!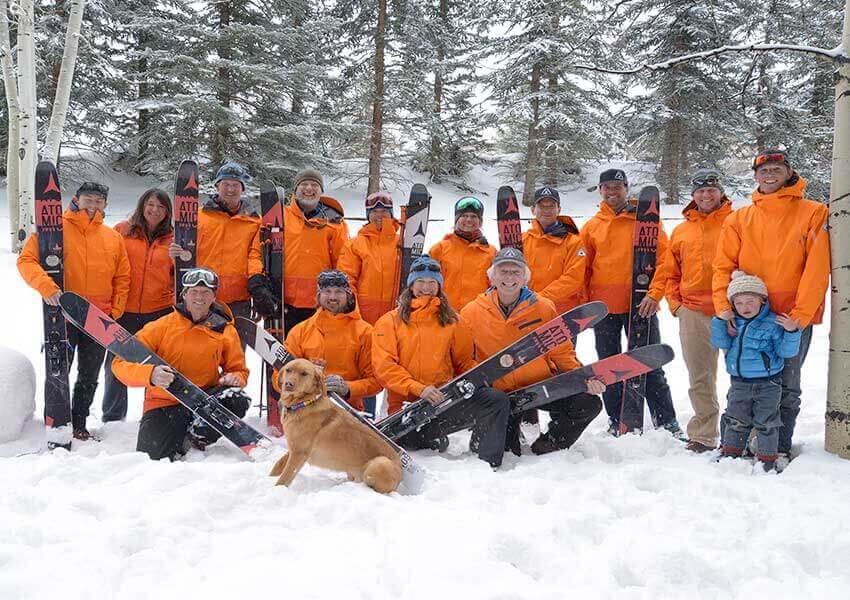 Credit: Telluride Helitrax/Brett Schreckengost
Tagged in: