The holidays are right around the corner, and that means many families all over the country are getting ready to stuff turkeys, trim trees, and generally act passive-aggressively toward one another. Members of these families have two choices:
Learn a few pranayama breathing techniques to help cope with the holiday stress.
Drink copious amounts of booze.
Any sane and rational human being is going to go with the second option, and so we've compiled a list of deliciously boozy, holiday pie-inspired cocktail recipes to make family time bearable.
10 Pie-Inspired Cocktails for Surviving the Holidays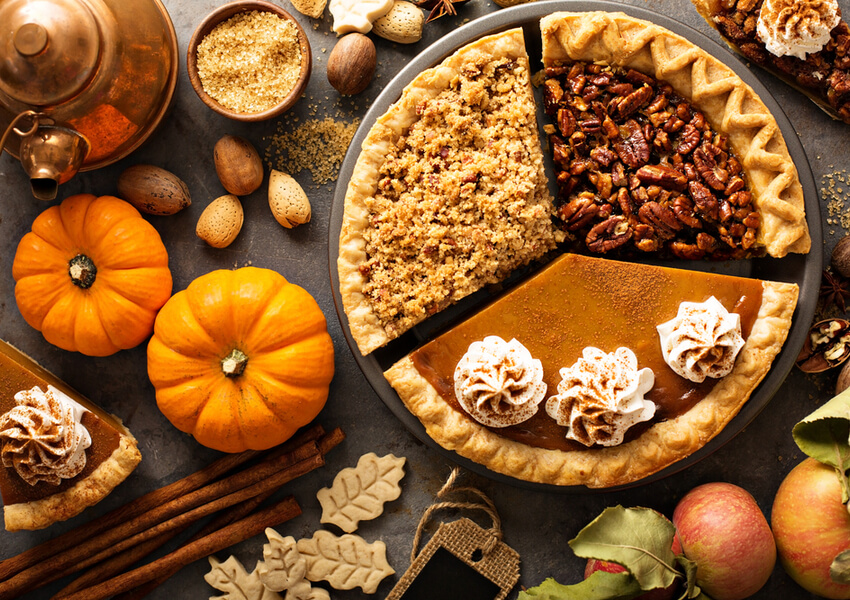 The only thing better than eating pie is drinking it. This holiday season, if you and your loved ones find yourselves bickering about politics or who has to sit next to creepy Uncle Jimmy, get the party started with a pie-drinking contest! Here are 10 pie-inspired holiday cocktail recipes for surviving those holiday family get-togethers:
The Apple Pie Cocktail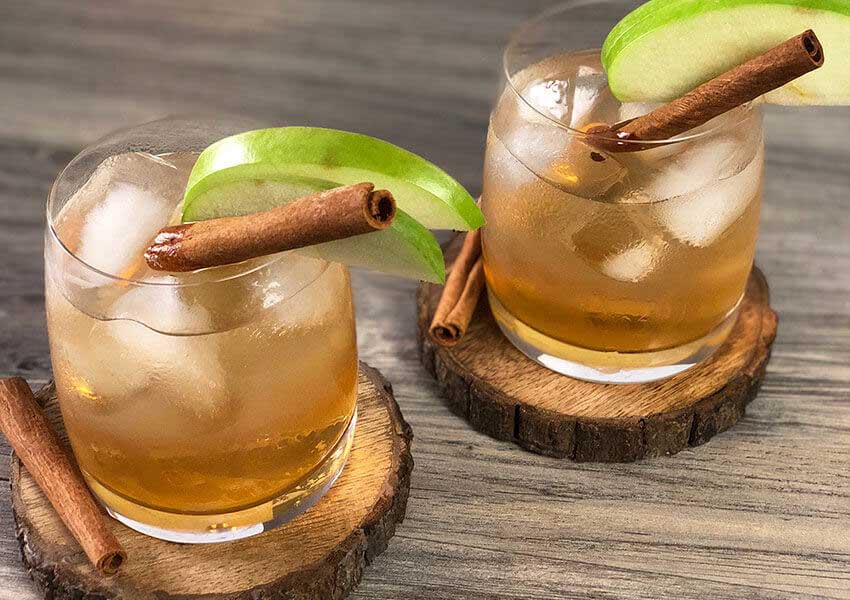 You've probably had apple pie a la mode, but do you know what pairs even better with apples than ice cream? Booze. This seasonal apple pie cocktail recipe is not too sweet and not too tart. And, if you find it's not quite strong enough to get through a conversation with your cousin's kids who always smell like Cheetos, then feel free to add a splash (or two) of your favorite bourbon.
The Chocolate Cream Pie Cocktail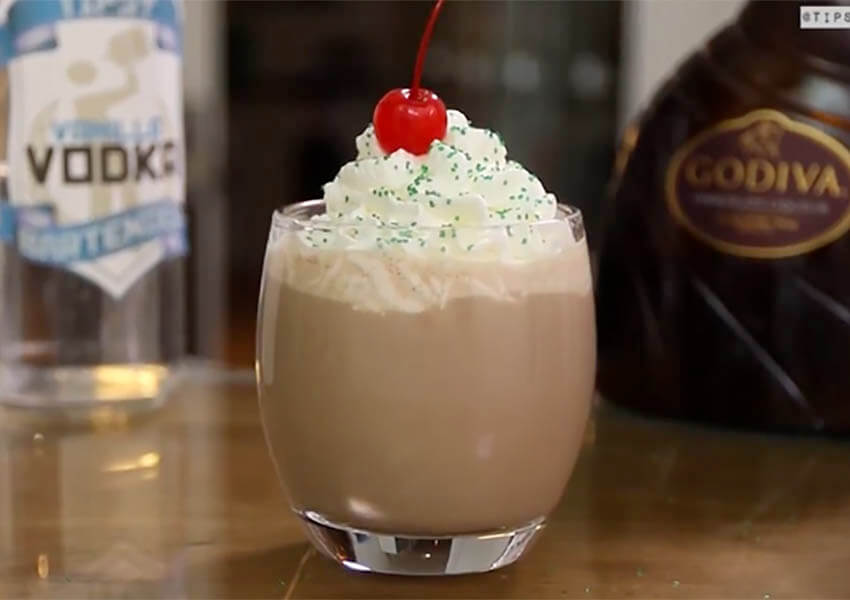 Cool science fact: chocolate contains a compound called phenylethylamine that promotes feelings of euphoria and acts as an antidepressant by combining with dopamine in your brain. This holiday season, be sure to take your feel-good medicine in the form of this delicious cocktail that has plenty of chocolate liqueur and chocolate syrup.
The Candy Cane Pie Cocktail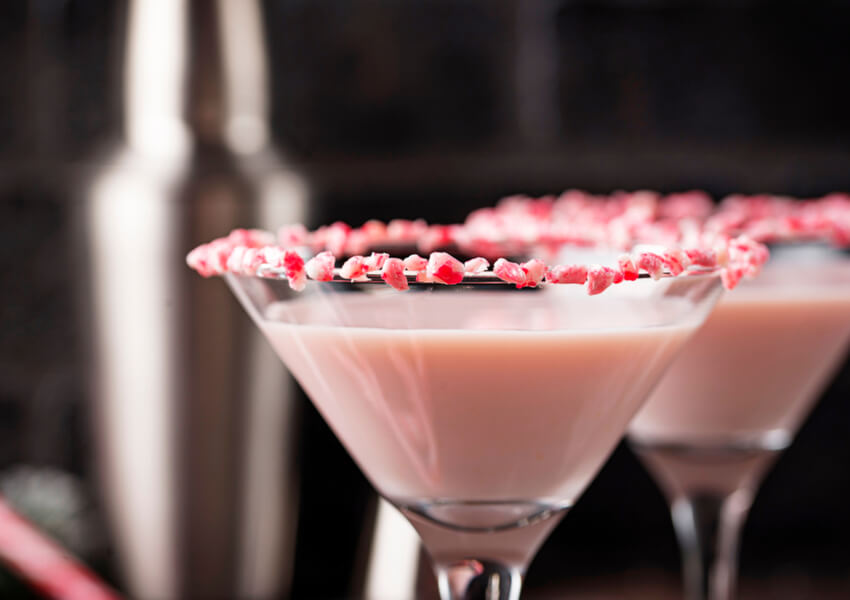 Growing up, no one in my family very much liked candy canes. In fact, my mother purchased a bag of candy canes one year and we just used them year after year for decorations. After about 6 years I decided to try eating one and I don't recommend it. I do, however, recommend this candy cane pie cocktail that packs a mighty refreshing punch thanks to the liberal shot of peppermint schnapps.
The Cherry Pie Cocktail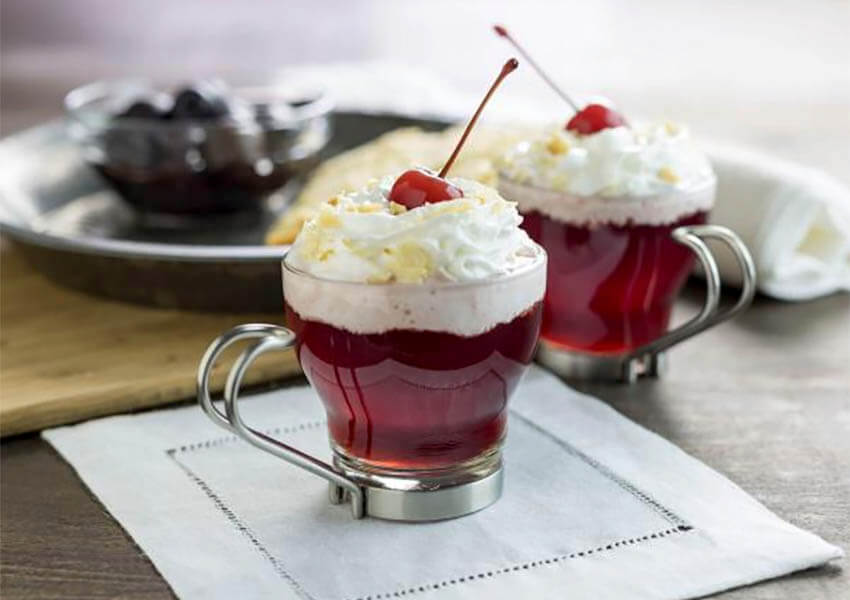 If you want a holiday cocktail that tastes like it just came out of the oven, this one's for you. Not only will you enjoy heated cherry juice (that's mixed with amaretto and vanilla vodka, mmm), but atop the whipped cream is sprinkled baked pie crust. If there's one thing that can get you through a harrowing afternoon with family, it's a vodka-pie crust combo.
The Pumpkin Pie Cocktail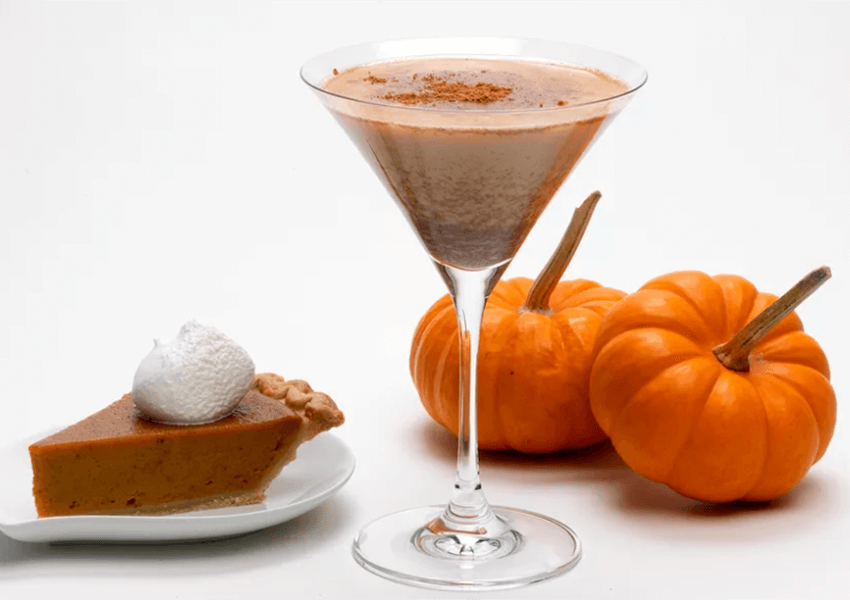 No holiday cocktail recipes list would be complete without a pumpkin pie martini – and there is so much to love about this cocktail. To start, the RumChata makes it incredibly creamy and delicious. And, you have the option of using a pumpkin liqueur or actual pumpkin pie filling. But best of all, if you drink three of these in a row, your aunt who keeps asking why you're not married yet becomes almost enjoyable.
The Coconut Cream Pie Cocktail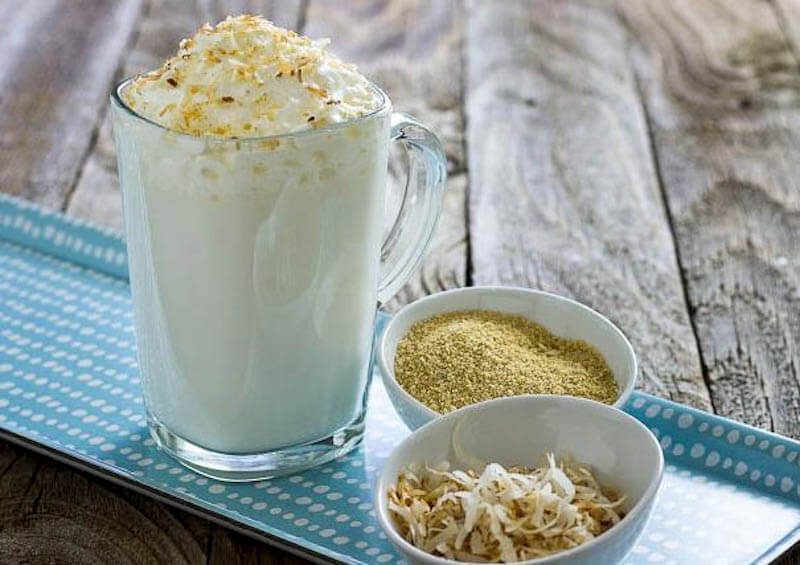 Coconut cream is the Rodney Dangerfield of pies: it just never gets the respect it deserves. Well, when you serve it in a glass like this coconut cream pie cocktail, it becomes an absolute star. Who doesn't enjoy the thought of becoming slightly tipsy on a cocktail that tastes exactly like a coconut cream pie? My mother-in-law. But she doesn't like much. And since I'm the one who will be tossing back these cocktails, I really won't care what she thinks.
The Eggnog Pie Cocktail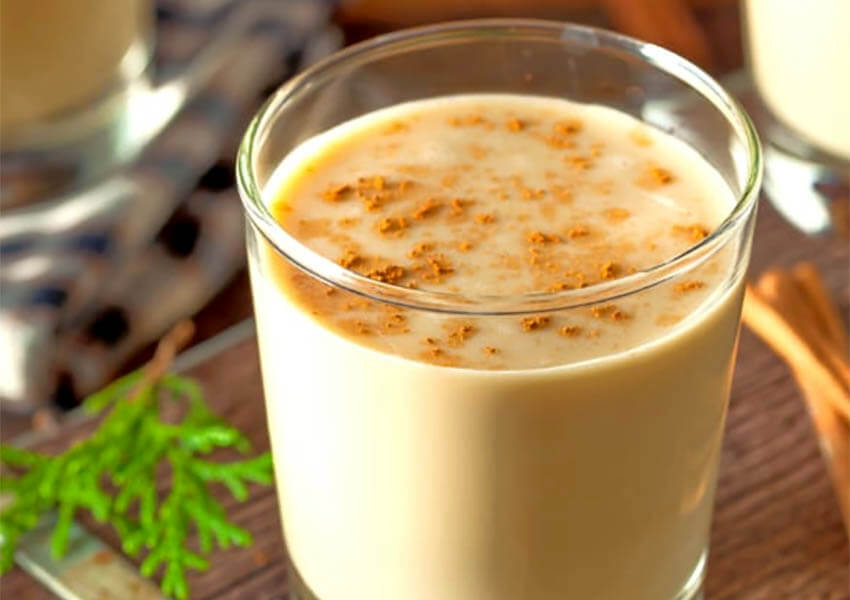 Eggnog. Some people love it. Some people hate it. The ones who hate it have probably never experienced the alcoholic version before. Let me say this right now, adding a copious amount of brandy and rum to eggnog can make you fall in love with your family all over again, so feel the love with this eggnog pie cocktail.
The Pecan Pie Cocktail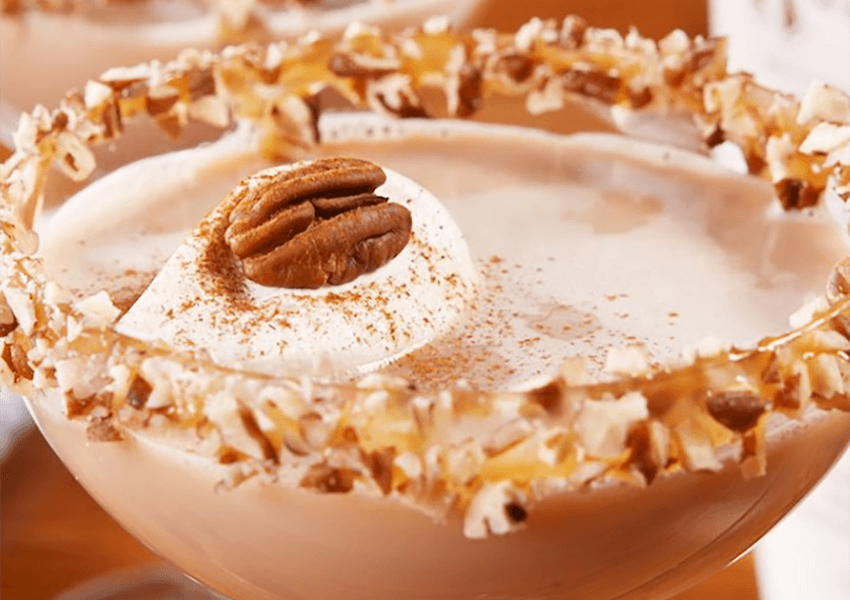 I have always been a pecan pie fan. That texture and sweetness… there's nothing like it. But if there were a gun to my head and I had to choose between the real deal or this pie-inspired cocktail – without question I would choose the cocktail. Why? It is STRONG! So strong that last Christmas I found my brother-in-law's incessant belching almost charming after only 2 ½ of these things.
The Sweet Potato Pie Cocktail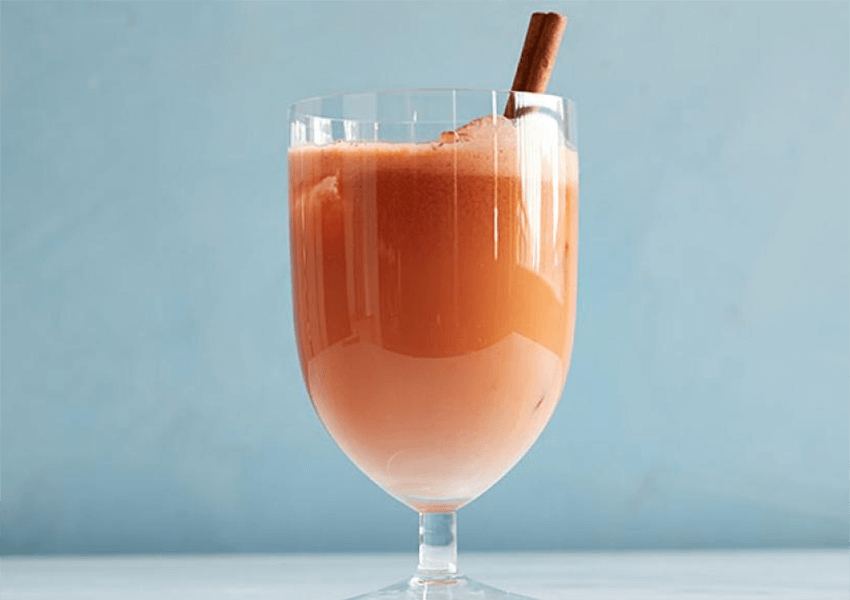 If you've never juiced a sweet potato, you're in for a real treat. Sweet potato juice mixes with pear and cinnamon and just the right amount of tequila to create this warming cocktail that makes your loved ones much more fun to be around (tequila wouldn't be doing its job if it didn't).
The Gingerbread Cocktail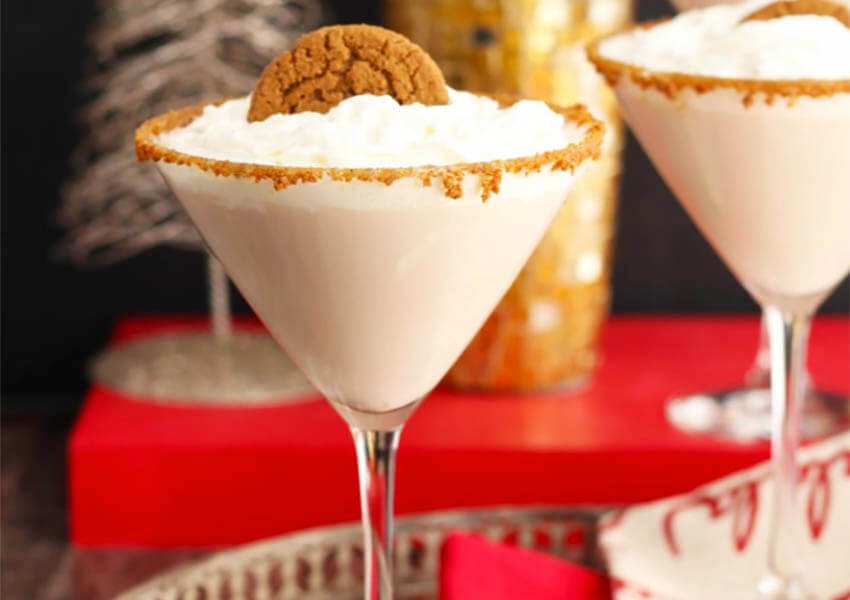 Okay, it's not quite pie, but what's a holiday cocktail recipe roundup without gingerbread? And what's not to love about a cocktail that calls for dipping the rim of a martini glass into honey and then coating it with crushed ginger cookies? Oh, and did I mention the vanilla vodka, Baileys and Hot Damn! Schnapps? Let the kiddies eat gingerbread houses – these gingerbread cocktails are for us adults who need a little holiday cheer – or shall we say cheers?
More Holiday Cocktail Recipes
In case you haven't noticed, we really love pie (and booze). But if you're not a fan of pie, we have a couple more sippable desserts to give you the buzz you need.
Boozy Mexican Hot Chocolate

What's better than hot chocolate on a cold night? Hot chocolate with some booze, of course! This Mexican hot chocolate recipe adds a little bit of whiskey to make you feel extra warm and fuzzy inside. Get the recipe from F.N. Sharp.
White Christmas Punch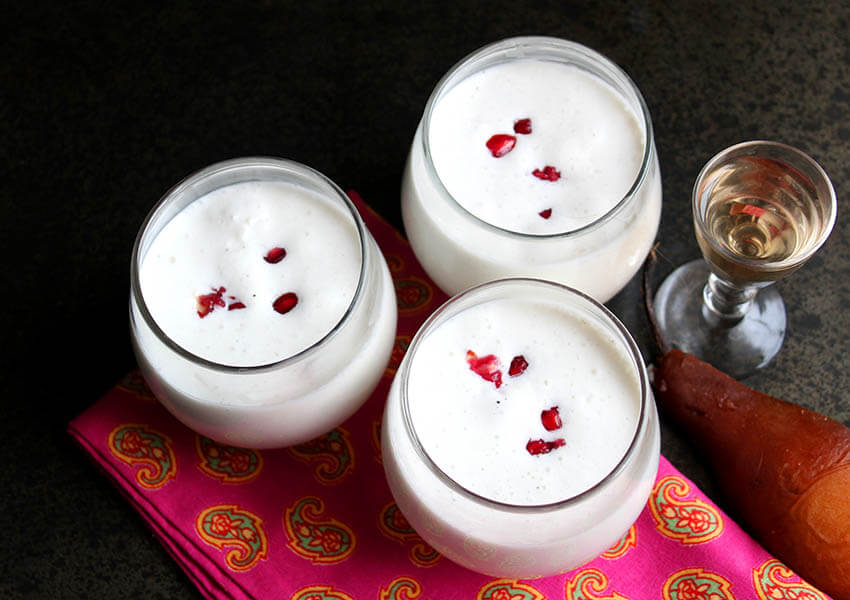 🎶 I'm dreaming…of a white…Christmas…punch with a ton of booze 🎶
Let's be honest, punch isn't really punch if it's not spiked, amiright? And this punch isn't spiked with your average cheap liquor that leads to bonding with your toilet the next morning. Instead, it adds a little bit of sophistication with some prosecco and homemade pear liqueur (without the partridge, of course). Get the recipe from F.N. Sharp.
Not all of us have been blessed with functional families. Fortunately, these holiday cocktail recipes put the FUN in dysfunctional holiday get-togethers. Cheers!
P.S. If you need more recipe ideas for keeping your mouth super busy, here are some holiday appetizers and here are some holiday desserts!