How to Après-Ski in the Rockies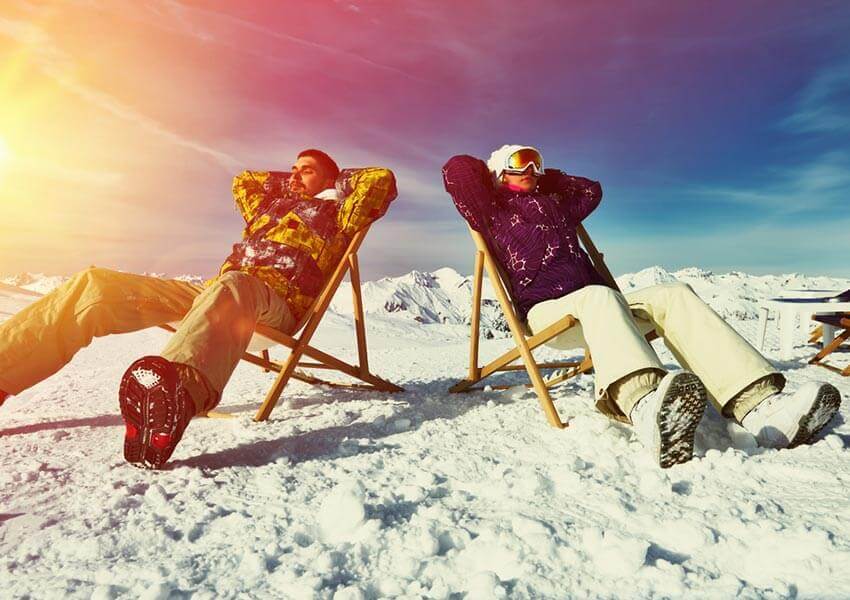 F.N.Sharp
For many skiers and snowboarders visiting the Rockies, the anticipation to hit the slopes is only rivaled by the excitement to experience the après-ski lifestyle that makes these mountain towns a truly unique experience.
The term après-ski literally translates to – you guessed it – "after skiing." Over time, it's meaning has grown to encompass the social activities that follow a day spent on the mountain. You'll find the social scene beginning to buzz around 3pm as people begin to leave the slopes, and it will often run until dinner.
Don't call it a happy hour though! Since visitors and locals want to be up early to be the first on the mountain, they change up the party hours to the daylight hours…talk about efficient! Here's some of the best ways to experience après-ski to make your time in the Rocky Mountains a memorable one.
Experience Ajax Tavern in Aspen
Credit: @The Little Nell
We've spoken a bit about The Little Nell, Aspen's top luxury hotel, in other articles this month already, but The Little Nell steals the show when it comes to après-ski festivities.
Located directly at the base of Little Nell on Aspen Mountain, this sprawling outdoor patio is THE place to be seen and rub elbows with the world's elite. Despite being attached to a luxury resort, the scene at Ajax Tavern is super casual, so feel free to stash your skis in a locker and show up in your ski boots to pop a bottle of champagne and celebrate a great day on the mountain.
And definitely order the truffle fries!
Order Up a Flatliner in Telluride
Credit: @New Sheridan Hotel
Dubbed the "official drink of Telluride" by locals, the Flatliner is a close relative to an espresso martini. It's made up of equal parts vanilla vodka, Kahlua, Baileys, and chilled espresso – and it is just as commonly ordered up early in the morning before jumping on the lift as it is during the prime hours of après-ski.
The New Sheridan Hotel is arguably the best place to enjoy a Flatliner. Find a spot at the 100+ year old bar and order up a round for your whole group.
Soak in a Hot Spring, Après-ski style
Credit: @Iron Mountain Hot Springs
A one-of-a-kind experience, Iron Mountain Hot Springs in Glenwood Springs, Colorado, is home to 16 different soaking pools heated between 99 and 108 degrees by pure geothermal spring water, along with a vibrant après-ski scene.
The attached Sopris Café serves up beer, wine, and cocktails throughout the day. Enjoy the healing benefits of soaking in the natural spring water as you overlook the Colorado River and surrounding mountainside.
Take in the Evening Hours in Elegance at Hotel Jerome
Credit: @Hotel Jerome, Aspen
Hotel Jerome has been the social hub of Aspen since it opened in the late 1800's during the silver boom. Stroll the lobby and grab a seat around the fireplace and take in the history of the historic hotel. When you're ready to kick back and have a few drinks, head downstairs to Bad Harriet. Designed to evoke the feel of Old-Hollywood, Bad Harriet is actually named after the hotel's original owner's wife, and features an expansive selection of spirits and cocktails, along with a small a la carte menu.
For a truly unique cocktail, order up the bar's namesake drink: the Bad Harriet. This unique cocktail features craft whiskey, passion fruit, roasted pineapple, blood orange, and Angostura bitters. Pair it up with an order of tempura elotes and enjoy!
Bring the Party to Your Chalet
Credit: @Rocky Mountain Raclette
Larger vacation homes and chalets designed to fit larger groups are incredibly common in the Rockies, often featuring a full kitchen and dining area fit for a party. If you're staying in the Vail/Beaver Creek area, treat yourself and your guests to a one-of-a-kind dining experience and hire Rocky Mountain Raclette to bring the party right to your chalet's front door.
A professional chef will bring stone-top raclette grills and a variety of fresh meats, seafoods, and vegetables to grill up to your liking. The grills include specialty cheese melting paddles, where swiss raclette cheese is melted down before being served on a bed of bread and potatoes throughout the meal. A gourmet Raclette meal filled with local Rocky Mountain ingredients will leave you asking, "Fondue, who?!"
For after dinner cocktails, mix up a large batch of Hot Toddy or Hot Buttered Rum on the stove, or give one of our decadent hot chocolate recipes a try!
Après-ski with the Whole Family
Credit: @Jaime FitzSimons
For what a beer or glass of wine is to an adult, arcade games are to a child. If your kids have come along for the trip to Breckenridge, a visit to Downstairs at Eric's is a must!
This family-friendly bar and restaurant serves your standard bar fare, along with an impressive pizza menu – but the real "wow" factor is the beer list with more than 80 different beers sure to please the palates of beer aficionados.
While the adults are sampling different brews, the kids will love the selection of both modern and vintage arcade games. Let the kids blow off some extra energy playing ski ball, racing games, and other kid-favorite games while the adults catch up on the latest sporting events over a great local beer.
However you partake in après-ski, always remember its purpose is to connect with friends after a great day on the mountain. Take the time to let go for a bit and take in the great food, beautiful sights, delicious drinks, and the warm and welcoming people who call the Rocky Mountains their home.
Tagged in: