We've all been on the receiving end of good and maybe not-so-good hosting, either as a party guest or a houseguest. Maybe it was that time you were avoiding meat and discreetly inquired ahead of time about vegetarian options, only to arrive to find a full-blown barbecue feast where even the beans contained bacon. Or you were staying with your clean-freak in-laws who whisk away plates and glasses when you've barely finished and whip out the portable vacuum while you're still sitting at the table.
With the holiday season upon us, chances are you may be gearing up to entertain and feed people in your home, either for a single evening or for multiple days of houseguests. Knowing how to make people feel welcome and relaxed in your home — without making yourself stressed and frazzled – is an art form, but one you can master.
How to Be a Good Host(ess): 10 Helpful Tips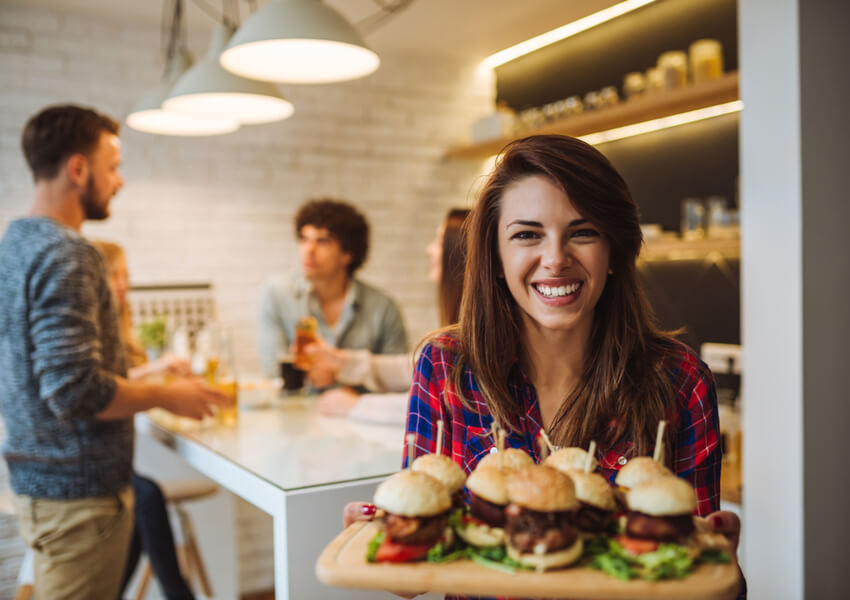 If you're stressing over planning that big holiday dinner, then sit back, relax and pour yourself a glass of wine while you check out these 10 tips for how to be an exceptional host or hostess!
#1) Visualize and Make a Plan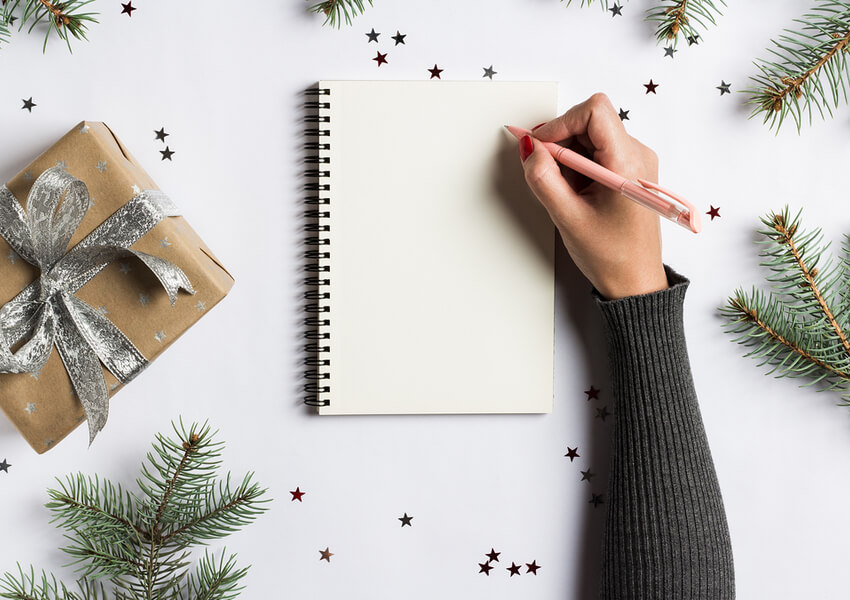 Well before your event, think about what type of event you want to host and who you'd like to attend. Do you want an intimate sit-down dinner party for eight? Or a larger, more casual buffet dinner for 25? Will many of the guests already know each other, or will you be making introductions? How large is your space — will you need to rent or borrow extra tables and chairs? What about dishes and silverware? If serving meat, will you have the right steak knives? Will it be too cold to use outdoor living space?
For houseguests, where will they sleep — do you need to buy an air mattress or extra towels? Will there be children attending, and if so, will you need to put fragile or potentially harmful things out of reach? Where will people park? Ask yourself these questions and write out a plan well ahead of time. If you need to rent or borrow furniture, then make arrangements in advance – especially during busy holiday periods when demands are high.
#2) Ask Your Guests about Their Preferences Ahead of Time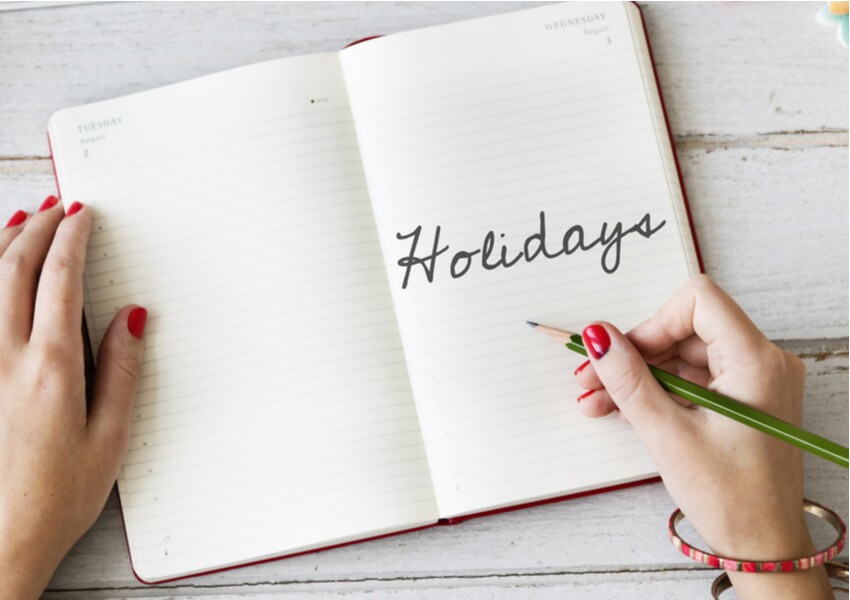 So many of us have dietary preferences, either out of necessity such as a food allergy or by choice such as eating vegan or following a low-carb diet. Don't hesitate to ask guests about their food preferences before they arrive so you can plan accordingly. Just because your brother's new girlfriend is a vegan doesn't mean you have to serve an all-vegan menu — but your brother and possibly future sister-in-law will feel welcome in your home if you serve at least a few things she can eat. And if presented, accept their offer if they want to bring a dish they know they can eat.
If you're entertaining houseguests, you can make them feel comfortable by knowing ahead of time a little about their lifestyle preferences, too. For example, do they like to sleep in or are they up before the sun for a five-mile run? Will they want to be left alone to come and go as needed, or will they expect you to help arrange activities?
#3) Prep Ingredients and Make Dishes Ahead of Time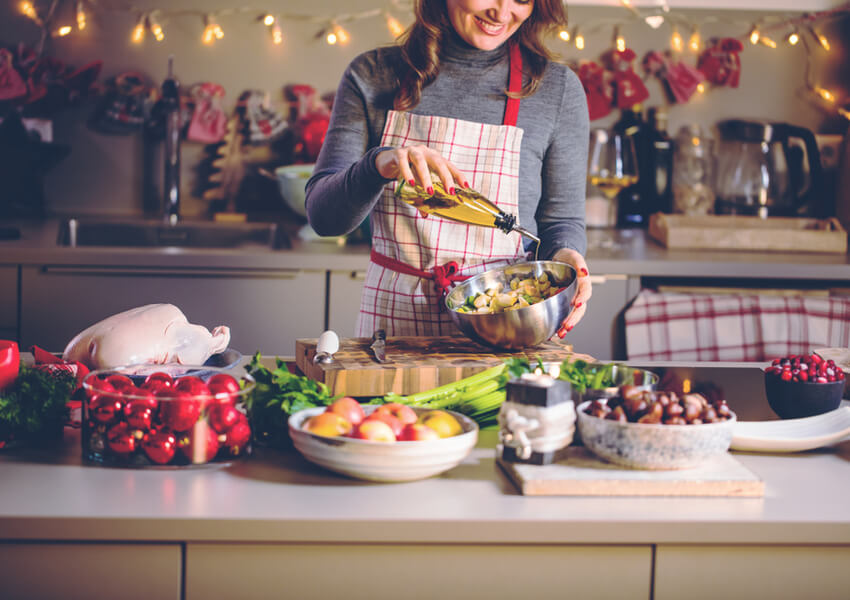 Guests want to enjoy your company — and nothing makes people feel more uncomfortable than a host who is so busy scrambling around the kitchen they can't spare a moment to talk. Make a few dishes such as this Bechamel Vegetable Lasagna ahead of time so you can just pop them in the oven. Chop and prep ingredients in advance so you only need to toss them together right before serving – just make sure you're not working with a dull knife – it takes longer and can be more dangerous! Consider a visually appealing and tasty dish you can assemble ahead of time like these Greek Lemon Chicken Kabobs with Talatouri Sauce.
For houseguests, make a few breakfast casseroles and quiches you can heat and serve. If you're pressed for time, swing by a gourmet supermarket and pick up some premade dishes you can keep in the freezer, ready to be heated and served. Buy dessert at a bakery.
#4) Stick with Tried-and-True Recipes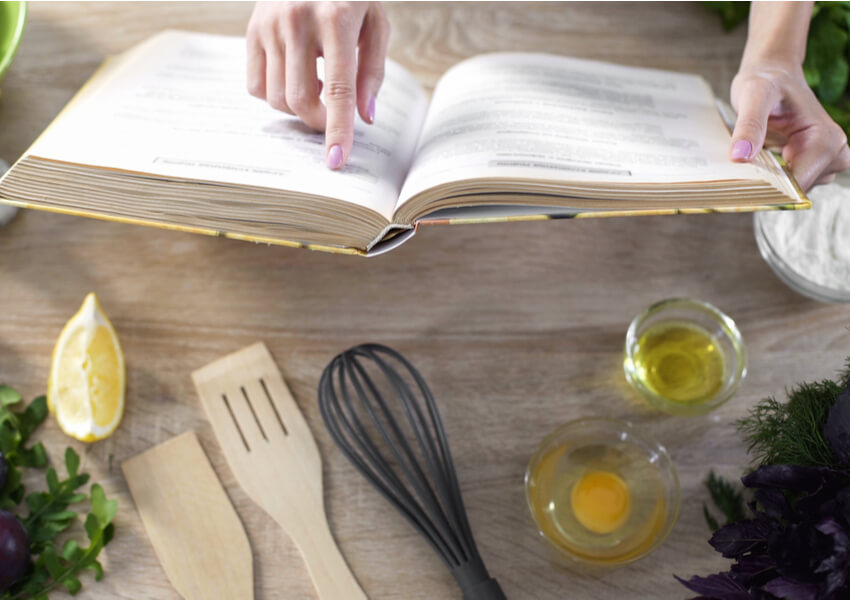 How many times have you read a recipe that sounded so good, you just had to try it — and then discovered it took twice as long as it was supposed to, or it was too salty or just didn't wow you? Nothing can be more stressful than a failed recipe when you're trying to feed (and impress) guests. Try out a new recipe ahead of time, even if you make a smaller portion as a trial run. This Paprika-Spiced Velouté Vermouth Chicken serves two, so you can try it out first. Then increase the ingredients to match your number of guests.
#5) Ask for and Accept Help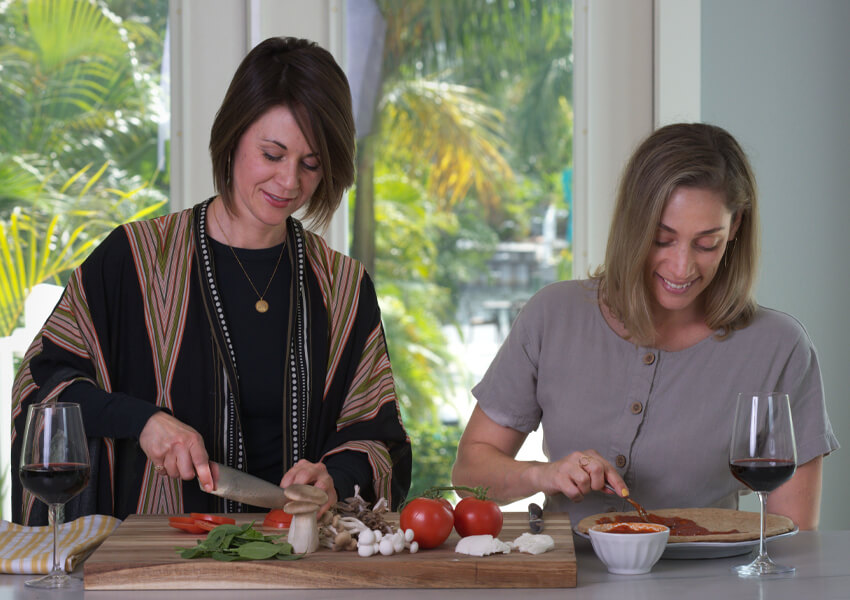 When guests ask if they can help, let them! Ahead of time, think of things others could do to make things easier for you. You might not trust your aunt to assemble a masterpiece charcuterie board, but she could help prep some ingredients or fill water glasses. You can ask a guest to open the wine, make drinks or pass appetizer platters around. Ask someone to restock the beer cooler or chip bowl. Let a guest wash some dishes or clear plates — but unless it's a close family member or friend, best to do the after-party clean up yourself.
It may also be a good idea to ask a close friend to come over a little early and greet people at the door, take coats and make introductions if it's that kind of a party. If one of your guests is an excellent baker, ask them if they'd like to bring the dessert. If houseguests want to help load and unload your dishwasher, let them — even if they don't do it the way you would, or they put things away in the wrong place.
#6) Lure Guests Out of Your Kitchen If Necessary
OK, this may seem to contradict point #5, but we all know people tend to congregate in the very space where we're trying to multitask — the heartbeat of any home is usually the kitchen. While it's nice to have company while you're putting finishing touches on a meal, having to maneuver around people can be frustrating or even dangerous when we're walking around with hot pans or (F.N. Sharp) knives – speaking of which, here are some tips for practicing kitchen knife safety.
The best way is to move out of the kitchen yourself — head into the living room or patio to mingle with guests and they will follow you. This is why tip #3 is so crucial — dishes you can make ahead of time and just quickly assemble or simmer happily away in a slow cooker, like this Coq au Vin recipe, allow you to get out of the kitchen. Another tactic is to put appetizers and drinks in another room, like a bowl of this seriously delicious White Christmas Punch featuring homemade pear liqueur, prosecco, and ice cream. This goes to tip #1 in your planning phase — figure out where and what you can serve to encourage guests to mingle somewhere other than the kitchen.
#7) Make Your Space Feel Warm and Inviting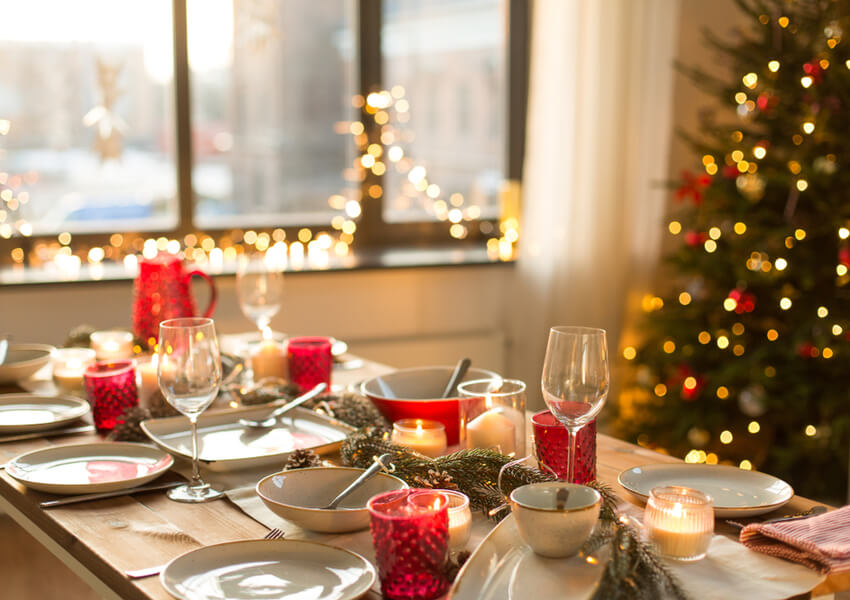 When you're dining in a cozy restaurant, would you expect bright lights, jarring music and stark tables? No, you'd expect low lighting (but not so dark you can't read the menu), mood music and little touches like fresh flowers. Dim the lights a little and play music appropriate to the mood — if it's a lively party, you'll want lively music and so on. If your home lacks dimmable lights, turn off bright ones and place candles around (or LED ones if you're concerned about fire safety). You can also string white twinkle lights along mantles or in other creative ways to increase the lighting and create an inviting ambiance.
For houseguests, go beyond just clean towels. Put fresh flowers in the guestroom and extra touches such as bottles of water, fluffy robes and slippers. If you know your houseguests like to read magazines or do crosswords or sudoku puzzles, leave a few in their room.
#8) Set Expectations and Gently Enforce "House Rules"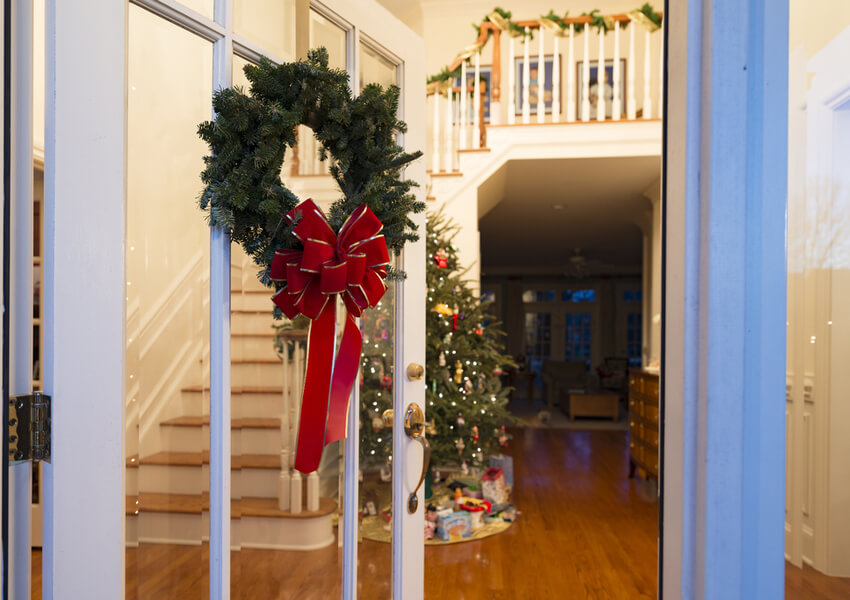 This might seem to contradict #7, but you nor your guest will feel comfortable if someone is breaking a house rule. If you have a "no shoes inside the house" rule, let your guests know ahead of time so they can plan accordingly. Someone wearing high-heeled shoes might feel pretty uncomfortable if now their pants or dress drags on the ground, or they desperately need a pedicure.
One way to allow guests to leave their shoes on is to have a basket of disposable shoe covers near the door. You can also ask yourself, "Is it really so important that people remove their shoes in your home for one night?" Many etiquette experts will say it's OK to ask close friends and family to remove shoes, but if many of your guests won't know each other, you're likely to make people feel uncomfortable.
Smoking is a different story — you don't have to allow guests to smoke in your home. The best way to handle this one is to place a few ashtrays outside and tell your smokers where they are — this tells them that you expect them to smoke outside, and you were thoughtful enough to provide them with a space where it's "OK."
#9) What to Do About Young Guests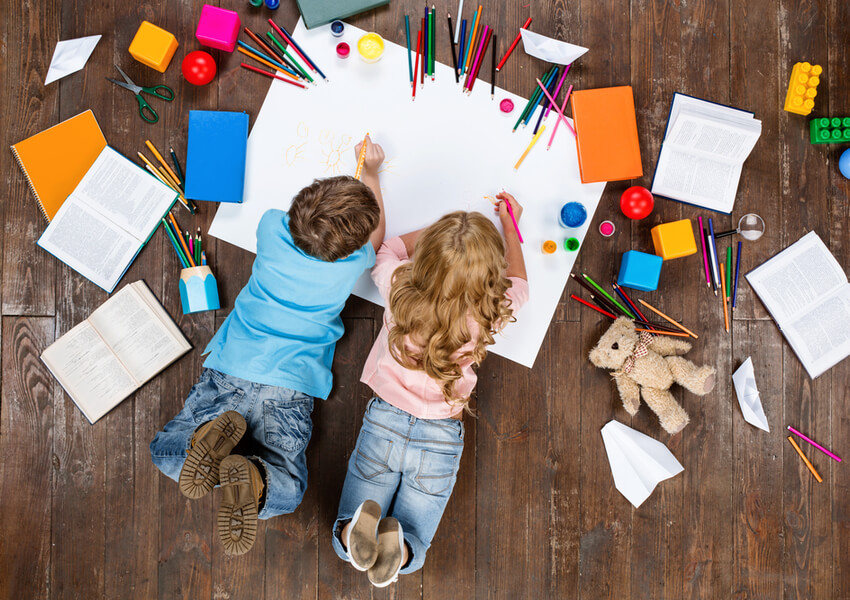 If children are among your party or houseguests, it's a good idea to have some food and activities just for them. Instead of expecting kids to admire your Whipped Goat Cheese, Pomegranate and Honey Tartlets, have some fun, kid-friendly snacks such as Goldfish crackers, wrapped cheese sticks, sliced apples, mini frozen pizzas or these easy indoor s'mores.
If you don't have young children in your home, having a few activities such as crayons and paper or age-appropriate games on hand can help keep young ones occupied. If you have a place where kids can watch favorite shows and movies, get it ready ahead of time (e.g., log into Netflix, have some comfy pillows to lie on, etc.).
Consider hiring a babysitter who can keep kiddos safe and occupied while the adults relax and celebrate. Teens might want access to your Wi-Fi so they can keep up with their social media or stream content on their phones, so be sure to have that info handy, as well. Check with parents ahead of time and ask what you can do to ensure everyone has a good time.
#10) Remember to Have Fun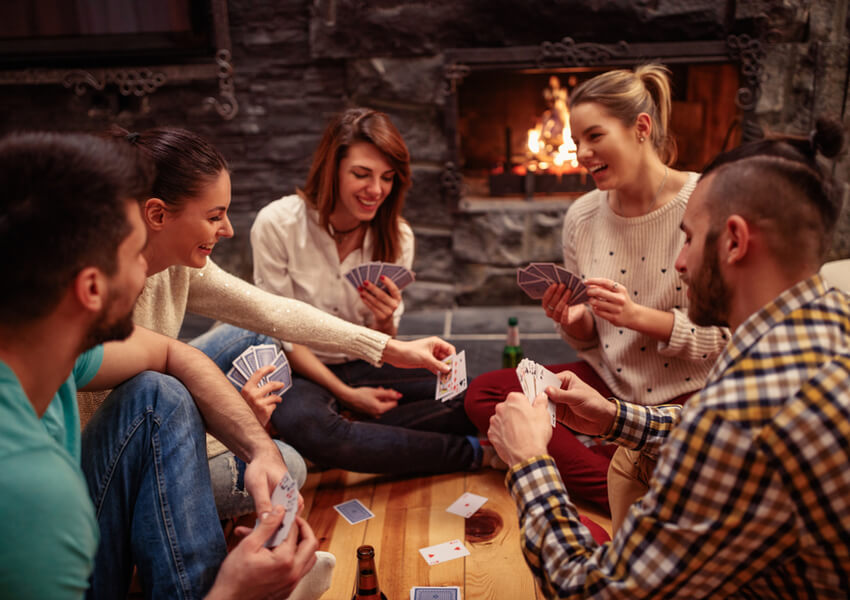 This seems like a no-brainer, but you should be able to enjoy your party and houseguests, too! Make sure you get to eat your delicious food, sip wine and converse with your guests. You're far more likely to enjoy your party if you follow the tips about planning and making dishes ahead of time.
And don't rush around grabbing dirty dishes and frantically washing them while guests are still mingling, either. Also, don't feel like you must be the cruise director and arrange exciting itineraries for houseguests. If something goes awry, try not to take it seriously and laugh it off, instead. Your guests will relax too — and you can turn a party fail into an amusing anecdote for the next time.
However, you also have the right to let guests know when the party's over. You should always have an end time on your invitation, but if only strangers or those who refilled their wine glass a few times too many are the only guests left, you can gently encourage them to go. Remember what we said earlier about dimming the lights to create a welcoming atmosphere? Well, the opposite is true too — increase the lighting and turn off the music. Ask them how they're getting home and offer to arrange for a ride from another guest, a cab or a ride-share like Uber. And now it's OK to start in on the heavy cleanup. If all else fails, you can simply say you've enjoyed their company and you're glad they came, but now you really need to focus on cleaning up.
Now go forth and enjoy hosting your perfect holiday party!