How to Pack for Your Next Ski Vacation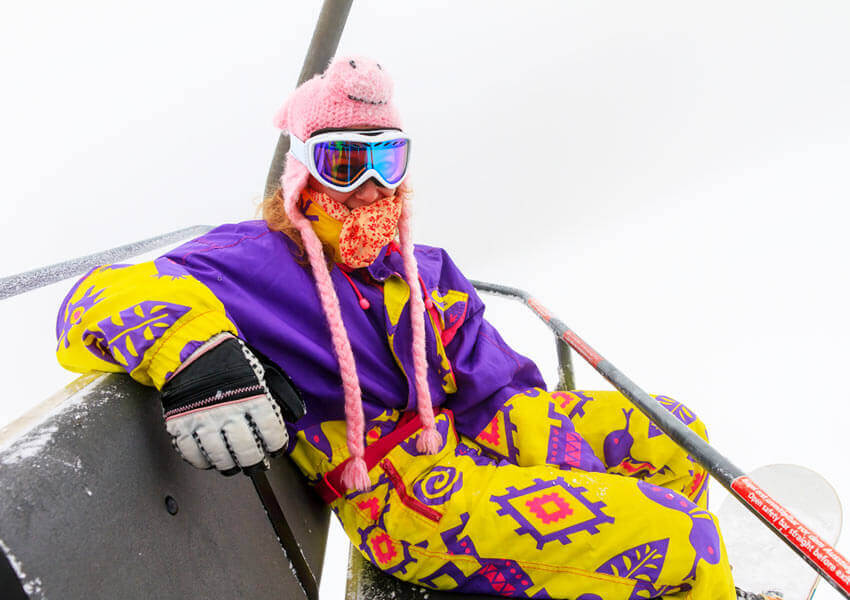 F.N.Sharp
You've booked your flights, lodging, and lift tickets, taken the skis in for a tune up at the local shop, and have been anxiously researching the snow reports for your upcoming ski vacation to the Rockies. As the excitement builds, so does the stress: How in the world am I supposed to pack for the perfect powder getaway?
Where You're Going Dictates What to Bring
Credit: @Telluride Ski Resort
The first thing to consider is your destination. Springtime in Squaw is typically much warmer than January in Jackson Hole, and both trips will require proper planning to ensure an optimal experience.
When traveling somewhere colder, such as Breckenridge in December, base layers are essential. Though cotton long sleeves will cover your arms, they won't wick moisture or retain essential body heat needed to sustain the occasional gale force gusts atop the Rocky Mountains. Toss out the old flannel long johns and update to some performance base layers by Smartwool to stay warm and save your much-needed body energy.
Packing Your Ski Gear for Air Travel
Credit: @Clothing Obsession
Now that you're prepared for Mother Nature, let's make sure you can carry everything you need.
A rolling ski bag is the easiest and safest way to transport all of your gear. The Dakine Fall Line Ski Roller Bag is the perfect solution for easy travel with all your equipment, enabling one-hand navigation through busy airports. Though you can fit two pairs of skis, it's recommended to have one of these bags per skier, which leaves enough space to store skis, boots, poles, jackets, snow pants, gloves, helmets and goggles for each person.
Utilize the outer pocket to store a copy of your itinerary and contact information to alleviate any confusion should the bag somehow be misplaced.
Travel Hack: Fill in any gaps in your gear with socks, underwear, and rolled up base layers. If you plan on using the gym, pool, or hot tub at your lodge, the rolling bag is a great place to store your running shoes, gym clothes, and bathing suits, as well. This not only ensures a smoother ride for your gear, but also an all-in-one secured and sturdy pack for airline and automobile transport.
Packing for Off-Mountain Activities
Credit: @Dan Campbell
With your ski gear isolated in its own rolling bag, your suitcase is freed up to hold everything you'll need to experience the local nightlife and other off-mountain activities during your ski vacation in the Rockies.
An important aspect of your ski trip is the culture "off the hill". Will you be wearing a tee shirt and a flannel at the local watering hole, or perhaps indulging in a more refined culinary experience? Though most travelers prefer the latter, we recommend a healthy mixture of both to grasp the culture of whichever ski town you visit. The garments you bring should be dictated based on your destination, which can vary greatly from mountain to mountain.
It's highly recommended to do some research well in advance to properly prepare and reserve off-mountain activities offered in the area you'll be visiting. If your ski vacation lands on heavier travel times (holidays, school vacations, spring break, etc.) booking reservations at local restaurants is highly encouraged. After a long day on the hill, the last thing anyone with a grumbling stomach wants is to wait in line.
Always Pack a Backup Bag
Credit: @Osprey Packs
When traveling by air, we do inherently leave our baggage up to chance. If you're only on vacation for five days, a lost bag containing all of your ski gear is an absolute nightmare.
The professional ski tourist should always bring an emergency carry-on bag. Something like the Osprey Transporter 40 works perfectly, with backpack straps for easy airline navigation and storage. Make sure to pack a day or two worth of clothes, some ski socks and a hat.
Additionally, writing down your ski boot and ski size can make an otherwise hectic last-minute stop into a rental shop a much easier experience. Although baggage handling is out of every traveler's hands, preparing a solid backup plan will separate you from the other unlucky powder chasers during the storm of the season.
Last Minute Items to Pack
Credit: @Jackson Hole Mountain Resort
Last, but certainly not least, make sure you bring something comfortable. You're going to be skiing bright and early, and will likely spend a couple nights out a little past your bedtime.
Though the skiing and nightlife will undoubtedly be amazing, don't forget to spend a little "you" time. Bring some pajamas and a nice pair of slippers.  Toss some yoga clothes in your bag to take in a sunrise yoga class at your resort. And definitely make sure to set aside a few minutes in the hot tub to relax your burning quadriceps and rehydrate with a couple glasses of water while your feet decompress after a long day carving down that beautiful white canvas.
Now that you're packed and ready to go, use this extra time to research incoming weather patterns. If the forecast is projecting wet, heavy snow, then packing an extra pair of gloves never hurts. And, if your ski vacation calls for bluebird skies all week, this would be the perfect time to get some darker tinted goggles.
No matter where you go, always bring high quality sunscreen. You don't want to look like a lobster against that pure white snow when sharing your vacation photos!
Tagged in: