Eat Your Way Through Italy's Lake Como With These Food Tours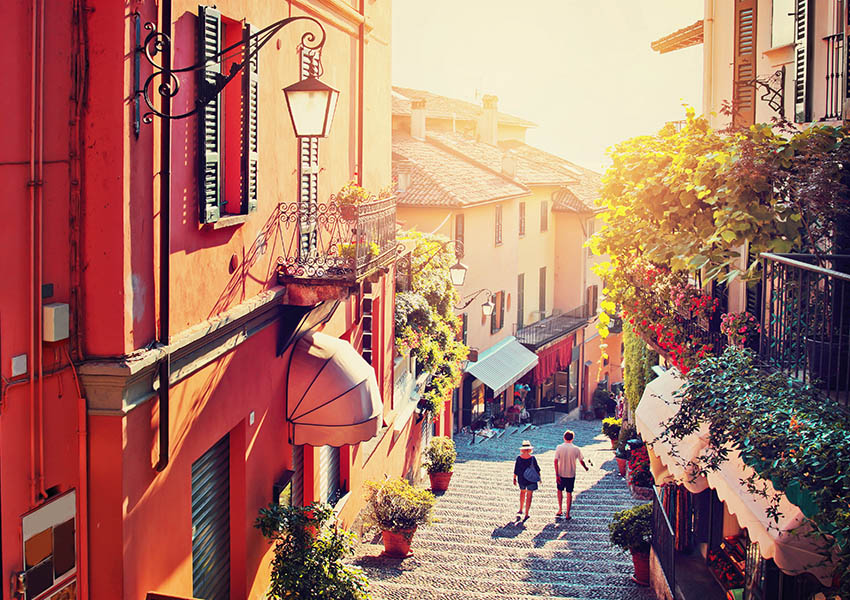 F.N.Sharp
Lake Como is famously glamorous, but it's the timeless type of glamour. It's aging stone villas, wooden boats zipping across the lake, and the Alps shining in the distance. Living life on Lake Como – even for a weekend – is a study in beauty, both manmade and natural. As much of this beauty comes from vineyards, olive groves and ripe red tomatoes, to be a good student you'll have to taste it.
The lake is 30 miles long from top to bottom and surrounded by dozens of towns. To experience the best cuisine on the lake, it helps to have an expert on hand. Here are a few Lake Como food tours that won't steer you wrong.
Como Walking Food Tour
Credit: @Laura & Elena
The region's capital is Como, a charming city with a flair for culture and cuisine. On this walking food tour, you'll hit the cobblestones with an expert guide. While seeing the city's sights, you'll stop to sample the specialties, including freshly-baked focaccia, fresh lake fish, high quality extra virgin olive oils and balsamic vinegar, local Italian wine and cheeses, Italian cured meats like bresaola, prosciutto, and salame. To finish the tour, you'll have lake-fresh fish and local wine at one of Como's most popular restaurants.
Pizza Making Classes
Credit: @Chrissie Douglas
There's eating pizza in Italy, and there's experiencing pizza in Italy. Immerse yourself in the art of creating (and tasting) truly authentic Italian pizza with this pizza making class so you can bring a slice of Italy home with you. Whether you join a class with a professional baker in Como or a family-run restaurant in the suburbs, you'll learn the secrets of the perfect pie. At the end, you'll get to taste your masterpiece alongside a glass of wine or two.
Lecco Walking Food Tour
Credit: @Laura & Elena
Set on the southeastern tip of the lake, Lecco sees fewer tourists than Como. As such, a food tour in Lecco reveals a more local side of the lake. On a walking food tour of Lecco, a guide will take you to the locals' favorite places. You'll taste delicious meats like prosciutto, mortadella, and bresaola with fresh focaccia, local goat cheese and delicious Taleggio cheese, and everyone's Italian favorite – meatballs!. To finish the tour, you'll sit down to lunch or dinner at a beloved Lecco restaurant.
Lecco Bike & Eat Tour
Credit: @Laura & Elena
To see even more of Lecco, you'll need some wheels. This four-hour Italy food tour takes you through Lecco and its surroundings for a well-rounded take on local cuisine. With the help of an insider guide, you'll hop on a bike to pedal along the river Adda and the Garllate and Olginate lakes. With views of the Resegone and Monte Barro mountains, the scenery is nothing short of stunning. On the way, you'll stop at local farmhouses and artisan producers to taste their homemade meats, cheeses, and wines.
Valtellina Food & Wine Tasting Tour
Credit: @Laura & Elena
The Valtellina valley, home to Italy's largest terraced vineyards, starts at the top of Lake Como and runs eastward towards Switzerland. This full-day food and wine tasting tour takes you through the valley to taste the local cuisine and wines from the prized Nebbiolo grapes. Starting from Varenna, you'll head into the valley to explore local eateries, taste wine from two historic wineries, and sample cheeses in a charming 19th century bottega. The tour also includes a leisurely lunch at a Michelin-starred restaurant.
Cheese & Ham Lovers' Full Day Tour
Credit: @Laura & Elena
Cheese and ham lovers: it's clear you've come to the right place. This full-day tour will take you along the shores of Lake Como to taste the best local meats and cheeses and explore the pastures of the renowned dairy region, Valsassina Valley. You'll visit top artisanal producers like Marco d'Oggiono for high quality prosciutti, and Carozzi Cheese Company for delicious cheeses. At the end, settle into a late lunch overlooking the lake.
Private Cooking Lessons with Chef Luigi Gandola
Credit: @Ristorante Salice Blu
Those looking for a serious education can sign up for a cooking class with acclaimed chef Luigi Gandola. Chef Gandola honed his craft in the kitchens of Villa d'Este, one of the most iconic Lake Como hotels. The chef himself will meet you in Bellagio, one of the lake's most charming towns, and bring you back to his family's restaurant. There, you'll learn the secret to perfect handmade pasta, gnocchi, risotto, tagliatelle, and dessert. After the class, settle in on the terrace to enjoy the lunch you learned to prepare. And for an added bonus, you'll leave the tour with a bottle of homemade olive oil, along with other goodies, to share your experience.
Truffle and Mushroom Hunting with Chef Luigi Gandola
Credit: @Luigi Gandola
If you're in Lake Como from December to March, you have an even more decadent food tour option. Chef Luigi Gandola also offers truffle and mushroom hunting tours on his family's private land on a mountain at the top of Bellagio. Set out with the chef and his dog in search of the so-called "black gold" while taking in the stunning views of the lake. After the hunt, you'll head back to his restaurant, Salice Blu, where you'll learn how to clean and preserve the truffles and mushrooms. Finally, the chef will prepare a zucchini and mushroom salad, truffle risotto, homemade taglioni, and a decadent dessert – all complimented with a glass of local Italian wine for you to enjoy on the terrace before sending you on your way with a participation diploma, an apron, and a recipe book.
Lake Como Picnic
Credit: @Martina Morini
You can't just look at the lake – you have to get on it. On this leisurely ride from Como to Bellagio by the private Venetian taxi-boat known as "Queen", you'll see the lakeside villas and gardens as they're meant to be seen. Along the way, you'll be treated to an elegant picnic of specialties alongside plenty of local wine.
Villa Balbianello and Flavors of Lake Como Walking and Boating Tour
Credit: @Alina Sorana
This full-day culinary tour takes you through the highlights of Lake Como (with plenty of time for snacking along the way). Start in Varenna, where your guide will lead you through the winding streets until you reach a historic mill and stop to taste some delicious cheeses, meats, olive oils and wine. From there, you'll enjoy a guided walking tour of Varenna and enjoy lunch at a lakefront restaurant before boarding a water taxi to Villa del Balbianello, which you may recognize from Hollywood movies like Casino Royale and Star Wars. Finally, you'll end your culinary adventure in Bellagio with a tour of Villa Melzi gardens and a lakeside stroll.
Whichever Lake Como food tour catches your eye, know you can't go wrong – this enchanting region is full of delightful flavors alongside breathtaking scenery, just a couple (among many) reasons why Lake Como never goes out of style.