Take in a Piece of Old Hollywood History at Melvyn's Restaurant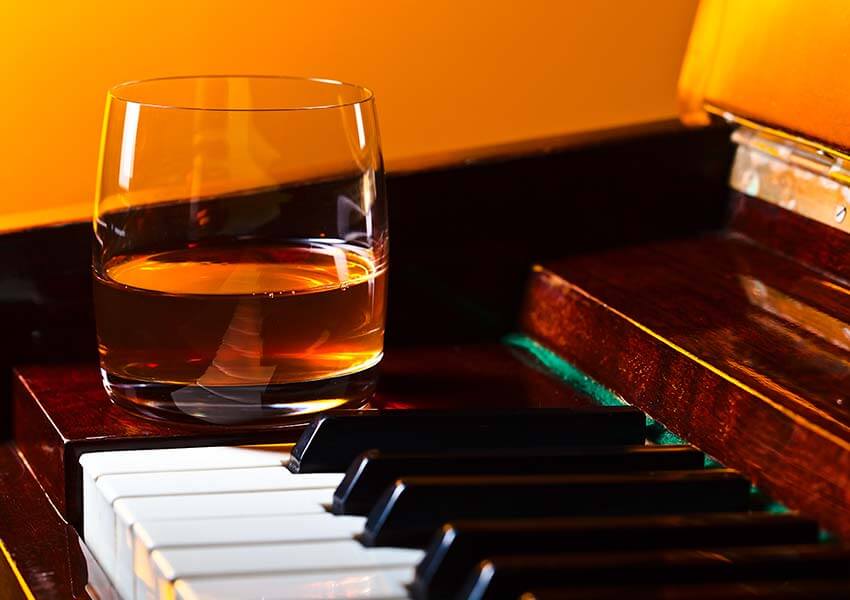 F.N.Sharp
In Palm Springs, there remains a small bastion of old Hollywood ambiance known as Melvyn's Ingleside Inn Restaurant & Lounge.
Melvyn's fit so perfectly into the ideal of other Hollywood haunts (a little home-away-from-Chasen's, if you will) that it's hard to believe the restaurant only dates back to 1975. That's when Melvyn Haber bought a distressed property called the Ingleside Inn.
Credit: @Ingleside Inn & Melvyn's
In its first heyday that started around the 1930s, the Ingleside Inn had been the playground of Hollywood stars like John Wayne, Greta Garbo, Spencer Tracy, Katharine Hepburn, Ava Gardner and, of course, Frank Sinatra. This was the glamour that Haber was trying to restore. And he did: In 1976, Sinatra cemented the success of Haber's newly renovated Ingleside Inn by holding a pre-wedding party at Melvyn's with his bride-to-be, Barbara.
Old Hollywood, as represented by Sinatra (you can never mention Frank Sinatra too often in Palm Springs), Liberace, Bob Hope, Lucille Ball and others was soon joined by younger Hollywood luminaries like Liza Minnelli, John Travolta and Arnold Schwarzenegger. Melvyn's also became a whistle-stop for presidents on their way to a nearby golf course: Richard Nixon, Gerald R. Ford, Ronald Reagan, George H.W. Bush, George W. Bush and Bill Clinton.
Like any restaurant, Melvyn's has its steady customers. These include scene-makers who flock to the Lounge, where Melvyn's nightly piano bar and Sunday night jam sessions get crowded, happy and boisterous.
Credit: @Ingleside Inn & Melvyn's
Like its clientele, a fair number of Melvyn's waitstaff are on the other side of 50. Melvyn's staff is known for remarkable longevity. Some have been here since the restaurant's opening – like Bobby Bolduc (pictured above), who has been igniting Steak Diane, Cherries Jubilee and other culinary classics tableside for more than 40 years. Like Melvyn's other menu items, Steak Diane is a luxury comfort food that dates from the 1950s; recently, Cobb Salad and chicken pot pie have joined the menu.
Following Haber's passing in 2016, the future of the property and its staff was briefly in doubt. Fortunately, new investors and management stepped in and the property was purchased for $7.9 million. The PlumpJack Group, a NorCal lifestyle and hospitality brand that was started by Gavin Newsom (now Governor Newsom) refreshed the 30-unit property's Spanish Colonial Revival design, restored some original accents and neatened up the Wall of Fame that features photographs of the famous guests and historic moments. Then, in February 2019, the management of the property was assumed by the nearby 67-room Avalon Palm Springs, which will be marketing the properties jointly.
While these latest management changes are opening up a new chapter for Melvyn's Ingleside Inn, a casual visitor to the property would think that nothing's been touched at all. The landscaping, which includes some truly massive Washington date palms, is quaintly overgrown, giving the bijoux pool a peekaboo appeal. Everywhere are clean lines and a sense of timelessness.
Credit: @Ingleside Inn & Melvyn's
Back in the day, the location of the Ingleside Inn might have been considered the edge of town. Even now, its entrance at the corner of Ramon Road and Belardo and its unobstructed views of the San Jacinto Mountains make it seem out-of-the-way. But appearances are deceiving. Those staying at the property are within walking distance of the new Palm Springs Downtown District that is anchored by Kimpton's Rowan Hotel, as well as the Palm Springs Museum's two campuses. And they will be just a block away from Palm Canyon Road. The City's main thoroughfare not only features shops, nightspots and eateries, it boasts the Palm Springs Walk of Stars. Like the Hollywood Walk of Fame, the one in Palm Springs has celebrities dating back to the Silent Era – and is being added to all the time.
But for that real Hollywood vibe, order Steak Diane at Melvyn's and have it cooked table-side by Bobby Bouduc. (Bouduc will be 84 this year and was recently featured on an episode of  Man vs. Food.) Then head to the Lounge and raise a glass, like so many have done before – with a happy result.
For more fine dining and places to stay, check out our Palm Springs culinary bucket list and our top picks for hotels/resorts and glamping!
Tagged in: