The Most Instagrammable Spots of Palm Springs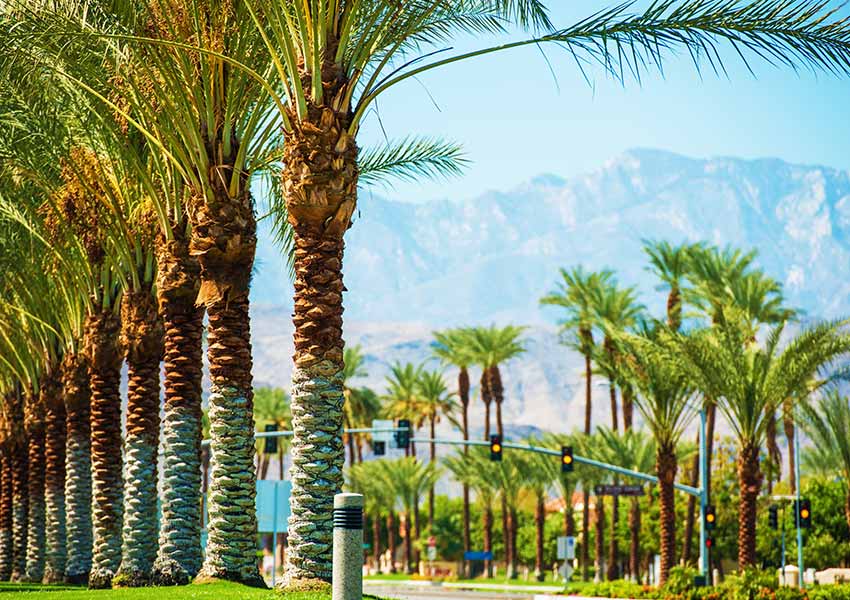 F.N.Sharp
It could be argued that Palm Springs is one of the most photogenic cities in the world. With bluebird skies almost year-round, mountains as a backdrop in every direction, and some of the most sought-after residential architecture around, it's easy to see why a visit to Palm Springs could produce Instagram-worthy imagery to last for weeks!
If part of your travel itinerary includes setting aside some time to "do it for the Gram!", then be sure to visit these 7 popular Instagrammable locations in Palm Springs and the Coachella Valley.
Desert X
Credit: @Desert X
A truly one of a kind art installment, Desert X is a compilation of 19 different works of art that are scattered throughout Palm Springs and the greater Coachella Valley. The variety of interactive pieces and thought-provoking art creates a sort of "art scavenger hunt" for visitors. For a look at one of Desert X's most popular installations, visit Revolutions, pictured above.
Desert X runs until April 21st, so be sure to visit their website before visiting to ensure the pieces you'd like to see are still available.
Palm Springs Tramway
Credit: @Atomic Ranch Palm Springs
Beat the heat in the Valley and catch a ride to the top of Mount San Jacinto on the Palm Springs Tramway. Once you reach the top, you'll find you've been transported to an alpine wonderland, a vast difference from the desert floor over 8,000 feet below. In the winter months, there will likely be snow on the ground, and even in the summertime, temperatures are usually 30 degrees cooler at the top of the tramway, making it the perfect spot for a Palm Springs picnic.
The Colorful Midcentury Saguaro Hotel
Credit: @The Saguaro Hotels
There's color around every corner at the Saguaro Hotel, named by Departures Magazine as home to some of the most colorful hotel suites in the world. Whether your Instagram-moment happens down by the pool surrounded by dozens of vibrant yellow umbrellas, or in one of the public spaces around the resort, a visit to the Saguaro Hotel will surely be one that is #nofilternecessary.
Joshua Tree National Park
Credit: @TAYLER + ANIKA ✈ TRAVEL
A visit through the Coachella Valley would be incomplete without a stop off at Joshua Tree. There are few things more "California" than a selfie with the iconic Joshua Trees in the background. To step up your insta-cred, spend a night "glamping" near Joshua Tree, and take in this unique environment while not missing out on any creature comforts!
Salvation Mountain
Credit: @?Veronica?
About an hour and a half southeast of Palm Springs, past the Salton Sea, you'll come across the dusty little town called Slab City. Just on the end of town, rising from the flat desert landscape in all its multicolored goodness, is Salvation Mountain. This man-made mountain is a folk art installment that is literally covered in messages of love and acceptance.
Frank Sinatra's Piano Pool
Credit: @goop.
There are few things cooler than getting to stroll around Ol' Blue Eyes' Palm Springs estate. Images of Old Hollywood royalty flash before your eyes around each corner of the Twin Palm Estate. The centerpiece of the home is the pool shaped like a piano. In true Sinatra-style, the awning adjacent to the pool has openings in it, so when the sun hits a certain point in the sky, the shadows cast upon the pool to appear as piano keys. Now THAT'S Hollywood.
THE Pink Door
Credit: @Matt Crump • Austin, TX
Front doors of the hundreds of midcentury modern homes of Palm Springs have become such a tourism hotbed that an entire industry of curated tours has sprung out of it. Whether you prefer an air-conditioned van or bus, or would prefer to take to exploring the streets on bike, you could spend all day exploring the winding roads of homes featuring unique doors colored in hot pink, bright yellow, neon green, and more.
Tagged in: