10 Must Try Cocktails While Bar-Hopping Through Palm Springs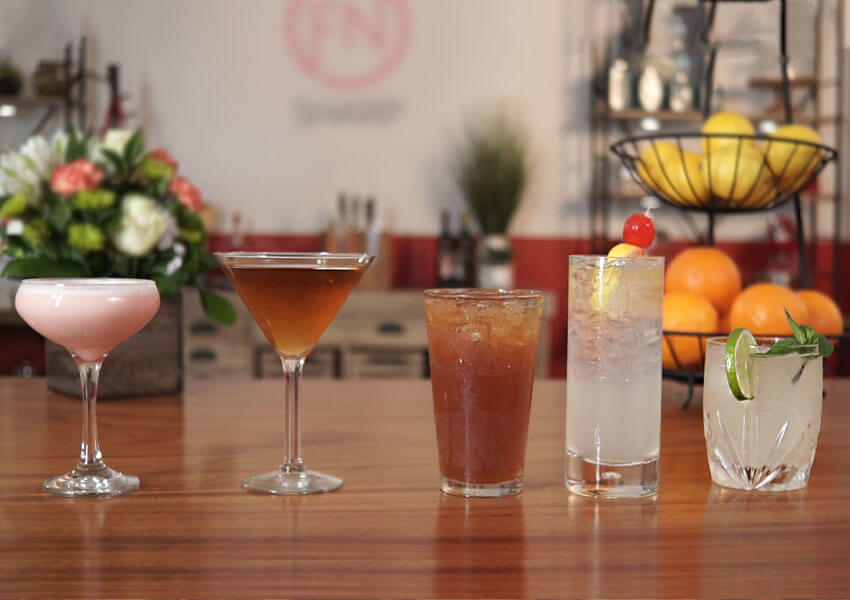 F.N.Sharp
One of the best parts of vacationing in Palm Springs is hitting up the bars. Known as Southern California's "Desert Playground", Palm Springs is a party town full of tiki bars, speakeasy lounges, nightclubs, and more!
From day drinking at a poolside tiki bar to sipping on a delicious cocktail under the stars, here are 10 irresistible cocktails to look for while bar-hopping in Palm Springs.
The Palm Springs Punch
Credit: @Elisa Ashmore
Known as the "Official Cocktail of Palm Springs", this fruity cocktail from The Reef combines spiced rum, Triple Sec, Crème de Noyaux – an almond-flavored crème liqueur – and pineapple juice.
You'll find other variations featuring different ingredients, including this one from The Food Network, which uses Jim Beam bourbon in place of the spiced rum and combines it with ginger ale, pineapple juice, and fruit cocktail.
The Desert Haze
Credit: @Cocktail Collective
From Lulu California Bistro's cocktail menu comes the Desert Haze, Inspired by the oranges, reds, and yellows of a beautiful desert sunset, this sweet and sour cocktail combines  Patron Silver Tequila, sweet & sour mix, fresh lime juice, and a splash of pineapple juice with a float of Chambord.
The Tipsy Cactus
Credit: @PALM SPRINGS STYLE
From the El Jefe menu at The Saguaro Palm Springs, the Tipsy Cactus combines Jalapeño-Infused Blanco Tequila, mezcal, fresh watermelon and lime juices, and celery salt, all topped, Topped with a Mexican lager for a sweet and spicy kick.
The Cabana Colada
Credit: @Desert Denizens of Tiki
Whether you like getting caught in the rain or not, if you like pina coladas then you'll love this Palm Springs cocktail. From The Pink Cabana menu at Sands Hotel & Spa, the Cabana Colada combines gin, coconut cream, fresh lime juice, and coconut soda.
The Ionic Order
Credit: @Draughtsman
No need to choose between tequila and mezcal with this cocktail from Draughtsman's drink menu! The Ionic Order combines tequila, mezcal, lime juice, pink peppercorn hibiscus syrup, and yellow chartreuse, then tops it off with an IPA foam for an aesthetically pleasing cocktail.
The Indigo-jito
Credit: @Cocktail Collective
Cold, crisp, and super refreshing, the mojito is the perfect summertime cocktail for cooling off on a warm Palm Springs day. This variation from the menu of Eight4Nine Restaurant & Lounge combines Bacardi white rum, lime, mint, blueberries, Bitter Truth Violet Liqueur, and a splash of club soda.
The Tequila Sunrise Mimosa
Credit: @CJ Peterson
In Palm Springs, mimosas and brunch go together like peanut butter and jelly. You'll find a ton of brunch spots serving up a variety of bottomless mimosas, from the Tequila Sunrise Mimosa featuring tequila, orange juice, grenadine, and champagne, to the Blood Orange Mimosa featuring blood orange juice, Grand Marnier, and champagne or sparkling wine.
Caliente Margarita
Credit: @Ashley
This award-winning cocktail from Pinzimini's cocktail menu at The Westin Mission Hills Golf Resort & Spa combines Tanteo jalapeño-infused tequila, Grand Marnier, sweet and sour mix, fresh grapefruit juice and sliced jalapeños to create a spicy margarita that will wake up your taste buds and leave them wanting more.
The Painkiller
Credit: @COCKTAILS AND MORE…
Although this rich and fruity tropical cocktail is known to be a specialty of the British Virgin Islands, the Painkiller also graces the menus of Palm Springs bars and restaurants – including this one from Tonga Hut's classic cocktail menu, which combines combines Pusser's Rum, coconut cream, orange juice, and pineapple juice with a sprinkle of nutmeg.
The Mountaineer
Credit: @Cocktail Collective
Take a sip of the fresh mountain air with this refreshing cocktail. From the Workshop Kitchen & Bar's cocktail list, the Mountaineer blends Dolin Genepy des Alpes Liqueur, Angostura + Peychaud's bitters, fresh pineapple juice, fresh lime juice and Leopold Bros Three Pins Alpine Herbal Liqueur
If you can't make it to Palm Springs to try one (if not all) of the delicious cocktails on this list – or if you're in need of a cocktail ASAP, then head over to the F.N. Sharp Kitchen to whip up this spicy Bloody Maria cocktail and pair it up with this breakfast recipe so you can imagine yourself enjoying the perfect Palm Springs brunch!
Tagged in: