Bechamel Vegetable Lasagna
Recipe and photos by Launie Kettler
If there's anything more decadent than pasta layered with well-seasoned broccoli rabe, zucchini, and onions, and then enveloped in a creamy bechamel sauce – well we can't think of what that would be.
So rich. So velvety. It's like a warm hug on the palate.
Feel free to mix up the ingredients with whatever fun things are calling you from the crisper.
Do you have summer squash? Throw that in. Do you have arugula? Sauté up a pan of it and throw it in the mix! Do you have a touch of a sweet tooth? Some carrots would be lovely layered in there. Thinly sliced Brussels sprouts would be a cool addition and a bit of a savory surprise.
Let your imagination – and the creamy bechamel – be your guide for the ultimate lasagna.
Now round up your ingredients, grab that chef's knife, and let's dig in!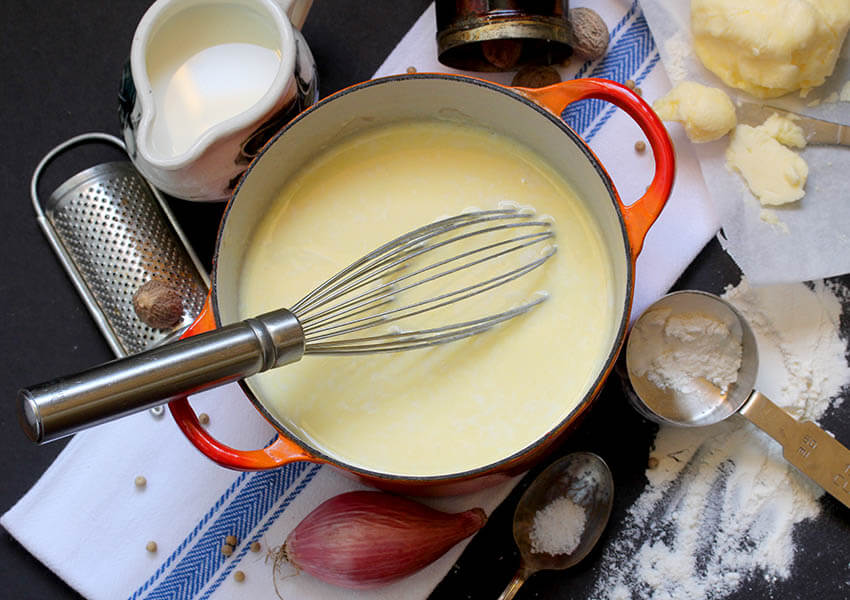 21

ingredients

12

servings
Hooray!
You have all the ingredients, let's start cooking!
Ingredients
0

/

21

ingredients
F.N.Sharp

No ratings yet
Good job!
Enjoy your meal, hope you had fun with us!
Directions
0

/

0

steps made
For the bechamel sauce, in a medium Dutch oven over medium heat, melt ¼ cup unsalted butter.

Add ¼ cup unbleached white flour and whisk for 1 minute.

Pour in 3 ½ cups milk and whisk until mixture has thickened. Season with ½ teaspoon kosher salt and ½ teaspoon ground white pepper. Reserve.

For the ricotta, combine 15 ounces whole milk ricotta, 1 beaten egg, 2 teaspoons dried oregano and ½ cup grated parmesan in a medium bowl. Reserve.

For the lasagna, cook 12 lasagna noodles in a large pot of salted water for 9 minutes.

Drain lasagna noodles and run under cold water to stop them from cooking. Place the cooked noodles on a large baking sheet fitted with parchment. Reserve.

Bring a large pot of salted water to a boil over medium-high heat. Add the broccoli rabe and cook for 3 minutes.

Place ice cubes in a large bowl of cold water and, using a slotted spoon, place the broccoli rabe in the cold water to stop cooking. Drain on paper towels, and roughly chop. Toss with 2 tablespoons olive oil, ½ teaspoon kosher salt, ½ teaspoon freshly ground black pepper, ½ teaspoon red pepper flakes and reserve.

Just before assembling, turn the bechamel sauce back to medium heat. When the sauce is hot, whisk in ½ cup shredded parmesan 2 tablespoons diced shallots. Remove from heat when the parmesan is fully melted.

Preheat oven to 400 degrees.

In a 9×13 pan, pour ½ cup of the bechamel. Top with three cooked noodles, followed by 1/3 of the zucchini, onion, and broccoli rabe. Top with ¼ of the mozzarella, and drizzle with a couple of tablespoons of bechamel.

Repeat the process two more times, and top with three pieces of lasagna. Coat with remaining bechamel, and mozzarella.

Bake uncovered for 30 minutes, or until the cheese is browned. Let rest for 15 minutes before cutting and enjoy!
About the Author
Launie Kettler is a food writer and photographer who lives in a suburb of Burlington, VT. She cooks big food in a small kitchen, and her husband and cats are tolerant of the fact that she plays the same Wilco and Son Volt albums over and over while pontificating about the beauty of cumin. Launie is the co-author of The Everything Mediterranean Slow Cooker Cookbook and her recipes have been featured in Where Women Cook, Fresh Magazine, and on Salon. You can follow her adventures on Instagram @teenytinykitchenvt and on her blog at TeenyTinyKitchen.com.