Bourbon and Coffee Prime Rib Recipe
Recipe and photos by Launie Kettler
Chef Anne Burrell's famous catchphrase is "brown food is good food." And we wouldn't dispute her on that in the slightest. However, we love to top our deliciously roasted brown food with herbs and spices.
Because brown and green are the power colors of 2019. Okay, maybe we made that up but they do look stunningly beautiful together!
And this prime rib roast is the epitome of delicious brown food. It's coated in a mixture of coffee, brown sugar, and bourbon for the perfect crust.
Oh, my.
Oh, yes.
It's savory with a wee dram of sweetness and a kick of heat. And believe it or not – it's simple as pie to put together (maybe even easier).
Just make sure you set an alarm. We're going to be roasting this bad boy on pretty high heat, so you want to be on tippity-top of the time.
Now that the hard part is over, (setting the alarm), let's talk about the joys of a three-pound roast.
It will comfortably feed four people. It cooks quickly for a weeknight celebratory meal. And it looks stunning on the table.
Let's all cheer for small roasts! And get those sharp and hopefully straight-edged steak knives ready because this roast deserves to be cleanly sliced rather than ripped apart.
If you've never attempted a prime rib recipe before, then be sure to check out our tips for how to cook the perfect prime rib – and how to carve it!
Now round up those ingredients and get that chef's knife or scalloped edge bread knife ready for slicing into that perfectly cooked prime rib.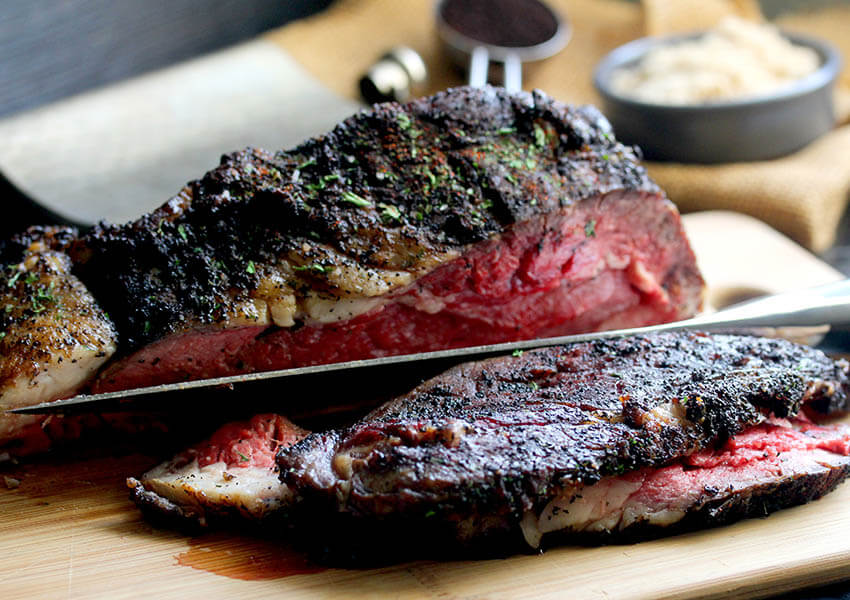 Hooray!
You have all the ingredients, let's start cooking!
Ingredients
0

/

7

ingredients
F.N.Sharp

No ratings yet
Good job!
Enjoy your meal, hope you had fun with us!
Directions
0

/

0

steps made
In a small bowl, combine the sugar, bourbon, coffee, chili powder, salt and smoked paprika. Stir well, and taste to adjust seasonings if you'd like it even spicier.

Pat the roast dry and place in a large roasting pan fitted with parchment. Coat the roast in the rub and place uncovered in the refrigerator overnight (more on meat seasoning and dry rubs

here

).

One hour before cooking, remove the roast from the refrigerator.

Preheat oven to 475 degrees.

Pat the roast dry and place fat-side up in a large pan fitted with a cooking rack.

Bake for 10 minutes, then reduce heat to 325 degrees.

Bake for an additional 30-35 minutes, or until the roast registers 130 degrees for medium rare. Remove from the oven and tent with foil.

Let the roast rest for 20 minutes.

Enjoy!
About the Author
Launie Kettler is a food writer and photographer who lives in a suburb of Burlington, VT. She cooks big food in a small kitchen, and her husband and cats are tolerant of the fact that she plays the same Wilco and Son Volt albums over and over while pontificating about the beauty of cumin. Launie is the co-author of The Everything Mediterranean Slow Cooker Cookbook and her recipes have been featured in Where Women Cook, Fresh Magazine, and on Salon. You can follow her adventures on Instagram @teenytinykitchenvt and on her blog at TeenyTinyKitchen.com.