Caramelized Onion Dip Recipe
Recipe and photos by Launie Kettler
We all love onion dip. It's what brings us together as "people who live together on planet Earth." Just think about it...
Crunchy onions.
A creamy texture.
It's savory.
It's versatile.
It's also perfect on chips, crudité, bread, crackers, breadsticks – and let's face facts – it's also just delicious licked off your finger.
Hey, it's the truth and we're not judgy about it. We believe in love and kindness, not judgement about leaning over a bowl of amazing deliciousness and sneaking a taste.
But we thought, "Hey, what if we made our favorite dip with layers of extra flavor and added slow cooked caramelized onions, plus a kiss of booze?"
Well, that sounded pretty alright to us.
But, we cannot tell a lie.
Caramelized onions can't be rushed. You can't throw onions in a pan and head off to the beach with a volleyball and the soundtrack to Top Gun to dance around listening to "Playing with the Boys."
Your onions need love. They need attention. The need gentle nudging around the pan. And they also enjoy being talked to (although that may just be us.) We say things like, "Ooooh! You're looking good!"
Again, that may just be us.
But caramelized onions do need love. And the good news is that we have a recipe on how to get them sweet and golden brown.
You just need to use a timer.
Because these do take a bit of time, we find that it's good to make a big batch and freeze them. Then you can just throw them in a hot pan with pasta, or in a pan with wine-braised chicken, or onto a pork roast. They thaw quickly and retain their impeccable texture like a champ.
And once you have the perfect onions – you can make the perfect dip.
So, round up your ingredients, grab the best knife for thinly slicing through one of the most versatile of all fall vegetables and get to thinly slicing those onions!
You'll be happy you did.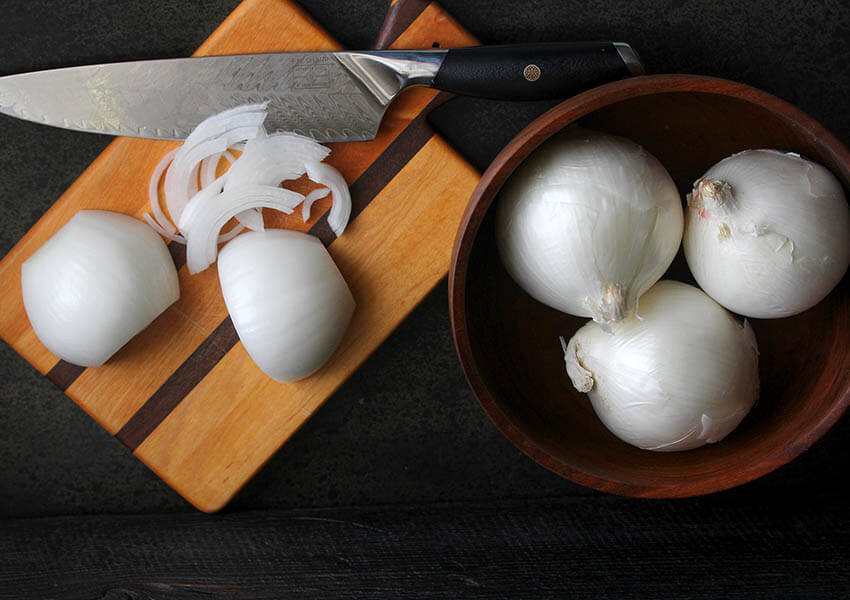 13

ingredients

12

servings
Hooray!
You have all the ingredients, let's start cooking!
Ingredients
0

/

13

ingredients
F.N.Sharp

No ratings yet
Good job!
Enjoy your meal, hope you had fun with us!
Directions
0

/

0

steps made
Heat the oil and butter in a large cast-iron pan over medium heat (more on how to use cast iron

here

).

When the butter has melted, add the onions and shallots and season with salt and pepper. Stir well.

Set an alarm for 7 minutes, stirring halfway through.

Set an alarm for 3 minutes and stir again.

Set an alarm for 5 minutes and stir again.

Set an alarm for 5 minutes and stir again. (Your Fitbit will thank you for this recipe, by the way.)

At this point, they should have some color on them, and maybe some dark brown pieces. Turn the heat down to just above medium-low, set an alarm for 5 minutes, and stir.

You'll end up doing this 3-4 more times until they're perfectly browned, sweet and reduced significantly. At this point add the wine or vermouth and let the onions drink up the liquid. Reserve. (More on cooking with wine

here

).

Combine the sour cream, cream cheese, Worcestershire sauce, hot sauce and onion powder in a large bowl.

Once the onions have cooled slightly, chop them into small pieces.

Stir ¾ of the onions into the dip, and garnish with remaining onions and chives.

Serve and enjoy!
About the Author
Launie Kettler is a food writer and photographer who lives in a suburb of Burlington, VT. She cooks big food in a small kitchen, and her husband and cats are tolerant of the fact that she plays the same Wilco and Son Volt albums over and over while pontificating about the beauty of cumin. Launie is the co-author of The Everything Mediterranean Slow Cooker Cookbook and her recipes have been featured in Where Women Cook, Fresh Magazine, and on Salon. You can follow her adventures on Instagram @teenytinykitchenvt and on her blog at TeenyTinyKitchen.com.