Chicken and Veggie Potstickers with Spicy Sesame Dipping Sauce
Recipe and photos by Launie Kettler
We're a knife company – which means we love the tactile feel of a good blade in our hands when we create mounds of perfectly shredded food.
Pure. Bliss.
But, we also enjoy not burning our hands while we make dough. No one wants to hear, "Ouch!" coming out of the test kitchen. So, when we make a dough using boiling hot water, we turn to the food processor.
Look, Ma! No tender fingers here!
And we do want boiling water in our potsticker dough because it helps to make the dough pliable. Note: This dough is so soft you may want to curl up with it and binge-watch a British drama.
But, don't give into the temptation! You're going to turn this dough into amazing potstickers, and then you're going to dip them into a spicy sauce that's loaded with sesame oil and mirin.
Hello, dipping perfection!
Bonus: You can freeze the dough for different fillings.
Double Bonus: When you get these assembled you can freeze them in a single layer on a cookie sheet then toss them in a bag for an easy weeknight dinner.
Consider it a present to yourself – from yourself.
Now round up those ingredients, grab that chef's knife (and maybe that boning knife, too – you'll see why), and let's get to potsticking and dipping!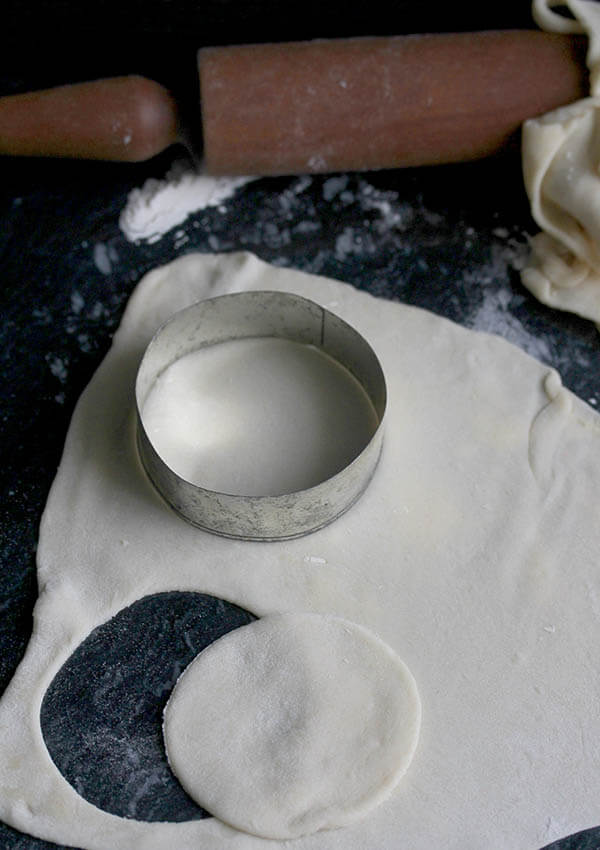 17

ingredients

6

servings
Hooray!
You have all the ingredients, let's start cooking!
Ingredients
0

/

17

ingredients
F.N.Sharp

No ratings yet
Good job!
Enjoy your meal, hope you had fun with us!
Directions
0

/

0

steps made
For the dough, add 2 ½ cups all-purpose flour and 1 teaspoon kosher salt together in a food processer fitted with a dough blade.

Pulse a few times to combine.

Drizzle the water through the food processor tube with the motor running until the dough hula hoops around the bowl.

Lightly flour a work surface and gently knead for 2 minutes until it forms a smooth ball.

Cover with plastic wrap for 1 hour.

Cut the dough into 4 pieces.

Roll each piece out as thinly as possible and use a 3 ½-inch cookie, a biscuit cutter, or a boning knife (if you have a steady hand) to cut out rounds.

Place them on a piece of parchment, and cover with plastic wrap while making the filling.

For the potstickers, in a large skillet heat 1 tablespoon oil over medium heat until it shimmers.

Stir in the carrot and cook for 3-5 minutes, or until softened.

Add the 2 tablespoons of the grated ginger, scallion whites, and ½ teaspoon kosher salt.

Sauté for 2-3 minutes, or until fragrant.

Add in the cabbage and garlic and stir until the cabbage is lightly wilted and the garlic is softened, about 2 minutes.

Let the vegetable mixture cool for 10 minutes.

Place the ground chicken into a large bowl and add in the vegetable mixture. Pour in 2 tablespoons of tamari or soy sauce and 2 teaspoons of sesame oil and stir the mixture well.

To assemble and cook, fit a large, rimmed baking sheet with parchment. Reserve.

Fill a small bowl with water. One at a time, brush half of the dumpling wrapper with water.

Place a tablespoon of the chicken mixture into the center of the wrapper. Pleat the edges of the wrapper closed. Place the dumpling on the prepared baking sheet.

Repeat until all the filling has been used.

Pour remaining peanut oil into a large skillet with a lid. Heat over medium heat until oil shimmers.

Add 12-15 potstickers into the pan. Brown them for 3 minutes, without moving them.

Pour in ¼ cup of water. The oil is going to splatter when it comes in contact with the water, so be prepared to quickly cover the pan.

Cook the potstickers for 7-8 minutes.

Uncover the pan and let the potstickers finish absorbing the water.

Repeat the process until all the potstickers are cooked.

For the dipping sauce, whisk together 1/3 cup tamari or soy sauce, ¼ cup mirin, 2 teaspoons freshly grated ginger, 1 teaspoon sesame oil, 1 teaspoon hot sesame oil, 1 teaspoon red pepper flakes, and 1 teaspoon white or black sesame seeds

Garnish the potstickers with scallion greens and sesame seeds.

Serve and enjoy!
About the Author
Launie Kettler is a food writer and photographer who lives in a suburb of Burlington, VT. She cooks big food in a small kitchen, and her husband and cats are tolerant of the fact that she plays the same Wilco and Son Volt albums over and over while pontificating about the beauty of cumin. Launie is the co-author of The Everything Mediterranean Slow Cooker Cookbook and her recipes have been featured in Where Women Cook, Fresh Magazine, and on Salon. You can follow her adventures on Instagram @teenytinykitchenvt and on her blog at TeenyTinyKitchen.com.