Double Spiced Heirloom Tomato Salsa with Roasted Corn and Cucumbers
Recipe and photos by Launie Kettler
When it comes to gorgeous heirloom tomatoes, they are loaded with flavors and sweetness – and juice. So, they require a sharp knife (and a delicate hand).
We've got the first part covered. The second is up to you.
Also – as a coincidence of Mother Nature – when heirloom tomatoes are in season in the north, we also get amazing hot peppers, cucumbers, and corn. The farmers market is a veritable riot of color with reds, greens, yellows – not to mention sweetness and spice.
Which makes us think of salsa.
This is the perfect farmers market salsa because you can grab everything in the early afternoon and get it prepped and in the fridge while you're getting ready for a seasonal potluck party. It's the perfect dish to take to the lake with friends for a couple of beers.
Salsa. Beer. Friends. Skipping rocks.
Is there anything better?
This salsa is loaded with citrus flavor, along with two types of heat from both fresh jalapenos and pickled jalapeno brine, which ensures the spice is in every bite.
Oh, yeah.
Now round up your ingredients, grab that chef's knife, and let's salsa!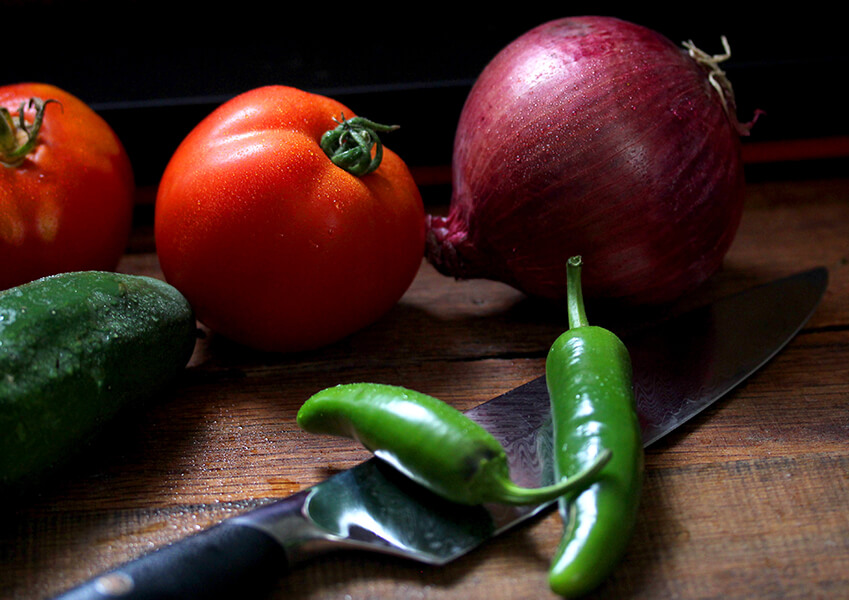 13

ingredients

4

servings
Hooray!
You have all the ingredients, let's start cooking!
Ingredients
0

/

13

ingredients
F.N.Sharp

No ratings yet
Good job!
Enjoy your meal, hope you had fun with us!
Directions
0

/

0

steps made
Preheat oven to 375 degrees.

Fit a sheet pan with parchment paper.

In a medium bowl, toss the corn with the olive oil, chili powder, cumin, salt, and pepper. Spread the corn out in a single layer on the pan and bake for 5 minutes. Stir and bake for an additional 3-5 minutes more, or until lightly browned and softened.

Let the corn cool completely.

In a medium bowl, combine the corn, tomatoes, onion, jalapenos, cucumber, lime juice, and pickled jalapeno brine.

Refrigerate for at least 1 hour to let the flavors meld.

Salsa with your friends!
About the Author
Launie Kettler is a food writer and photographer who lives in a suburb of Burlington, VT. She cooks big food in a small kitchen, and her husband and cats are tolerant of the fact that she plays the same Wilco and Son Volt albums over and over while pontificating about the beauty of cumin. Launie is the co-author of The Everything Mediterranean Slow Cooker Cookbook and her recipes have been featured in Where Women Cook, Fresh Magazine, and on Salon. You can follow her adventures on Instagram @teenytinykitchenvt and on her blog at TeenyTinyKitchen.com.