T-Bone Steak with an Herb Cutting Board Sauce and Potato Wedges with Espagnole Sauce
Recipe and photos by Launie Kettler
Phew. That's a mouthful!
A delicious mouthful.
The steak (one of the best cuts) is tender and juicy, and the herb sauce is bright and flavorful. The potatoes are crispy on the outside and creamy on the inside. And the Espagnole sauce (one of the 5 mother sauces every cook should know) is savory and loaded with layer upon layer of tasty love.
If you're looking for something filling – and eminently memorable – to get on your plate tonight, this is just the thing.
You want this meal. Nay, you need this meal.
Now round up your ingredients, grab your chef's knife, and let's get to cooking!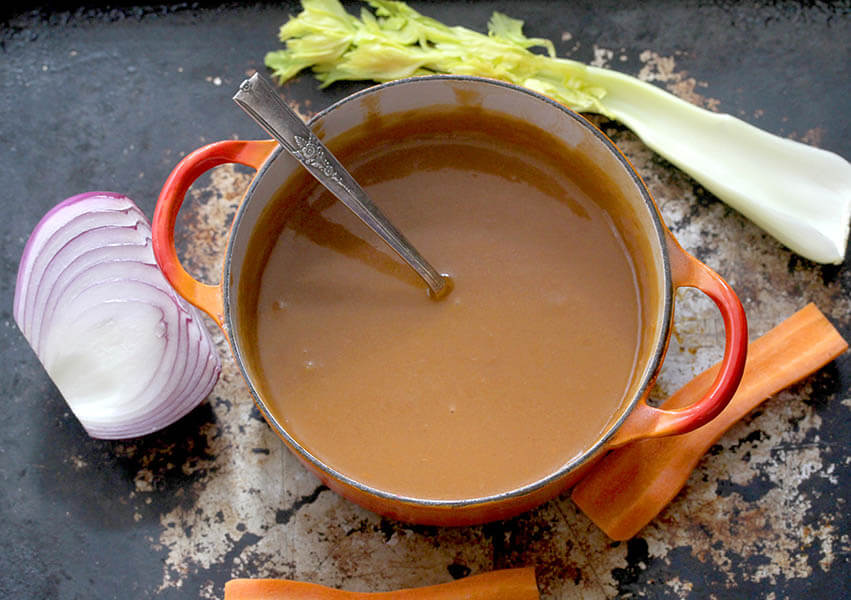 20

ingredients

2

servings
Hooray!
You have all the ingredients, let's start cooking!
Ingredients
0

/

20

ingredients
F.N.Sharp

No ratings yet
Good job!
Enjoy your meal, hope you had fun with us!
Directions
0

/

0

steps made
For the Espagnole sauce, in a medium Dutch oven melt ¼ cup butter over medium heat. Add the carrot and onion and sauté for 5 minutes, or until softened.

Stir in the garlic, and sauté for 1 minute.

Add in the flour and stir frequently for 8-9 minutes. When the flour is light brown, add the broth, tomato purée, celery, and bay leaf.

Bring to a light boil, and then reduce heat to medium-low.

Simmer for 45 minutes, giving it a good stir every 10 minutes.

When the sauce has reduced by half, remove from the heat.

Pour the sauce through a colander into a bowl. Discard the solids.

For the herbed potatoes, preheat oven to 400 degrees.

Fit a rimmed cookie sheet with parchment.

In a medium bowl, toss potatoes with 1 ½ tablespoons olive oil, ½ teaspoon , 1 teaspoon dried parsley and 1 teaspoon lemon pepper

Spread in a single layer.

Bake the potatoes for 10 minutes, flip, and bake for 5-7 minutes more or until crispy and cooked through.

For the T-bone, remove from fridge about thirty minutes before cooking.

Preheat a large cast iron skillet for 3 minutes over medium heat.

When hot, melt 1 tablespoon unsalted butter and 2 teaspoons olive oil. When the butter is melted, season the steak on both sides with salt and pepper.

Place the steak in the pan, and sear for 7 minutes. Flip, and cook for an additional 5 minutes, or until it registers 125 degrees.

In a large cutting board with a well, gently toss together the parsley, thyme, flaky salt, and remaining olive oil.

Let the steak rest on the herb mixture for 10 minutes, and top with pan juices.

To serve, drizzle the potatoes with Espagnole sauce, cut the steak away from the bone and across the grain, divide potatoes and steak between two plates, and enjoy!
About the Author
Launie Kettler is a food writer and photographer who lives in a suburb of Burlington, VT. She cooks big food in a small kitchen, and her husband and cats are tolerant of the fact that she plays the same Wilco and Son Volt albums over and over while pontificating about the beauty of cumin. Launie is the co-author of The Everything Mediterranean Slow Cooker Cookbook and her recipes have been featured in Where Women Cook, Fresh Magazine, and on Salon. You can follow her adventures on Instagram @teenytinykitchenvt and on her blog at TeenyTinyKitchen.com.