Greek Rice Pudding, AKA Rizogalo
Recipe and photos by Launie Kettler
Creamy rice pudding that's been combined with a hint of lemon is truly decadent. And when it's topped with gorgeous pistachios, that just makes everything even better.
So, much better.
With a touch of cinnamon, vanilla, and lemon, this recipe adds a Greek spin to rice pudding, which is known as rizogalo in Greece and is named for the two main ingredients: rice (rizi) and milk (gala).
Get ready to savor this perfectly sweet rice pudding and envision yourself on one of the amazing islands of Greece – here are some breathtaking images of the best places to visit, if that helps – enjoying one of their many fun food festivals (there's even one for pistachios). Just imagine the sea breeze blowing through your air, basking in the rays of the sun, and nibbling on little nutty bundles of color.
This Greek-inspired rice pudding recipe encourages that daydream. How fun is that?
If you want to daydream a little longer, add this recipe for Homemade Tzatziki Sauce and Pita Chips as an appetizer, this recipe for Greek Lemon Chicken Kabobs as your main course, and this Greek Strawberry Melon Mojito as your before or after dinner cocktail!
Now gather up your ingredients and get ready to experience the amazing flavors of Greece!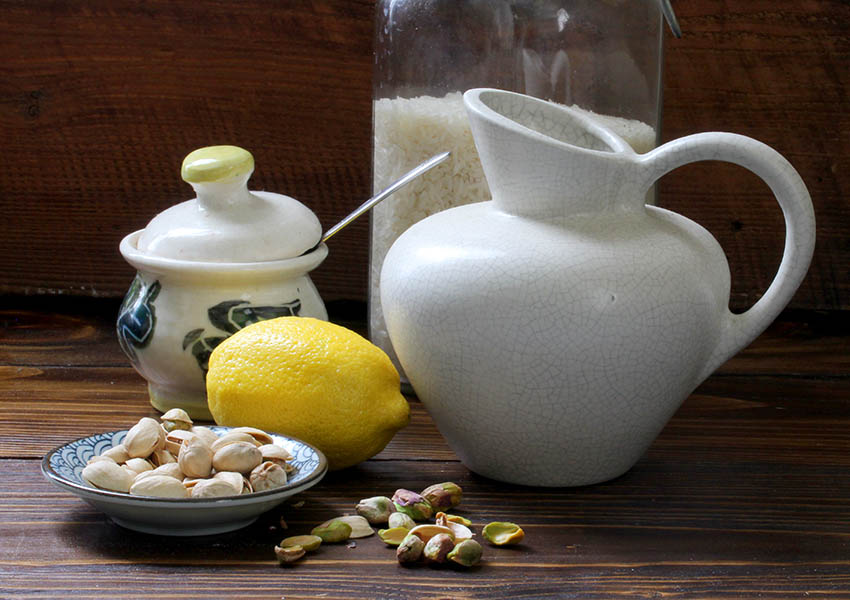 10

ingredients

6

servings
Hooray!
You have all the ingredients, let's start cooking!
Ingredients
0

/

10

ingredients
F.N.Sharp

No ratings yet
Good job!
Enjoy your meal, hope you had fun with us!
Directions
0

/

0

steps made
Bring 7 cups of the milk, rice, sugar, butter, lemon peel, and cinnamon to a light boil over medium heat.

Reduce heat to medium-low, and stir occasionally for 50 to 60 minutes, or until rice is cooked through. (If the mixture is getting too thick, add remaining milk ¼ cup at a time to loosen it back up to a pudding like consistency.)

Beat eggs in a small bowl and add a cup of the rice pudding into the eggs to temper them and keep them from curdling. Stir well to combine.

Pour egg mixture and vanilla into the rice pudding, and stir constantly until thickened. Remove from heat.

Top with pistachios, and garnish with lemon peel and cinnamon if desired.
About the Author
Launie Kettler is a food writer and photographer who lives in a suburb of Burlington, VT. She cooks big food in a small kitchen, and her husband and cats are tolerant of the fact that she plays the same Wilco and Son Volt albums over and over while pontificating about the beauty of cumin. Launie is the co-author of The Everything Mediterranean Slow Cooker Cookbook and her recipes have been featured in Where Women Cook, Fresh Magazine, and on Salon. You can follow her adventures on Instagram @teenytinykitchenvt and on her blog at TeenyTinyKitchen.com.