Homemade Tzatziki Sauce With Herbed Pita Chips
Recipe and photos by Launie Kettler
We're not going to lie. This tzatziki is utterly addictive. Sincerely addictive.
Summery cucumber, lightly spicy radishes, and fresh dill along with sunny and citrusy lemon juice create a dip you'll want on the table for a snack or appetizer several nights a week. Both cucumbers and radishes work double time in this recipe, because they show up in grated and diced form. Double your vegetables, double your fun!
Oh, and did we mention there are herby pita chips for dippers?
Oh yes, and oh my.
Now round up these essential Greek cooking tools and your ingredients and let's get to cooking!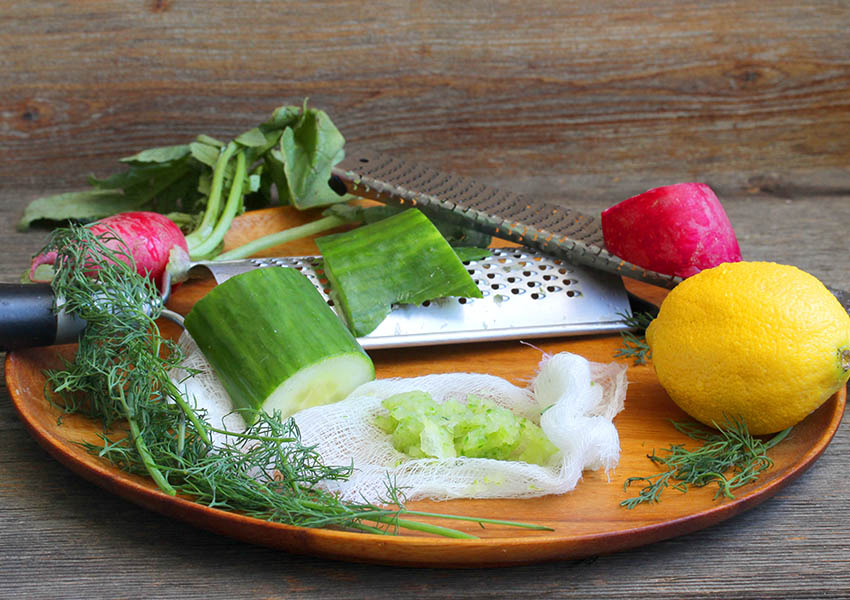 13

ingredients

4

servings
Hooray!
You have all the ingredients, let's start cooking!
Ingredients
0

/

13

ingredients
F.N.Sharp

No ratings yet
Good job!
Enjoy your meal, hope you had fun with us!
Directions
0

/

0

steps made
Place the grated cucumber in cheese cloth and wring out all the moisture.

Stir together the grated cucumber, diced cucumber, dill, grated radish, diced radishes, lemon juice, and1 teaspoon kosher salt

Add the yogurt and stir well to combine.

Refrigerate for at least 1 hour to let the flavors meld.

For the pita chips, preheat oven to 350 degrees.

Fit 2 large, rimmed sheet pans with parchment paper.

Cut each pita into 8 wedges. Divide pita wedges between the 2 prepared sheet pans.

In a small bowl, whisk together the oil, dried dill, dried parsley, and ½ teaspoon kosher salt

Brush the tops of the pita wedges with the herbed oil.

Bake for 5 minutes, or until golden brown. Season with flaked sea salt while still hot.

Serve the pita chips with the tzatziki and enjoy!
About the Author
Launie Kettler is a food writer and photographer who lives in a suburb of Burlington, VT. She cooks big food in a small kitchen, and her husband and cats are tolerant of the fact that she plays the same Wilco and Son Volt albums over and over while pontificating about the beauty of cumin. Launie is the co-author of The Everything Mediterranean Slow Cooker Cookbook and her recipes have been featured in Where Women Cook, Fresh Magazine, and on Salon. You can follow her adventures on Instagram @teenytinykitchenvt and on her blog at TeenyTinyKitchen.com.