Smoky and Spicy Instant Pot Turkey Chili
Recipe and photos by Launie Kettler
One of the best things about chili is how multi-layered the experience is. One second you're inhaling the smoky fragrance and the next you're biting into a steaming spoonful of savory goodness.
But, wait? Is it only savory goodness? There's a bite with a sweet diced tomato, and the next holds a bite of creamy black beans. Then you get a hit of smoky chipotle, followed by the freshness of a bite of bell pepper.
And when you throw meat, cheese, sour cream, and cilantro into the experience – well – you've got yourself a fabulous weeknight meal.
Wait, a "weeknight meal?" you might be asking yourself. "Doesn't chili take hours to cook?"
Well, Mon Cher, we have a way for you to get the ingredients into an Instant Pot and then dinner on the table in less than 30 minutes.
Granted, there's some chopping involved – but with our favorite chef's knife – that's not even a chore. It's a pleasure. Dock your favorite device, crank some music, pour a glass of beer, and enjoy the ride.
You've got dinner well in hand. Now grab that Instant Pot, round up your ingredients and let's dig in!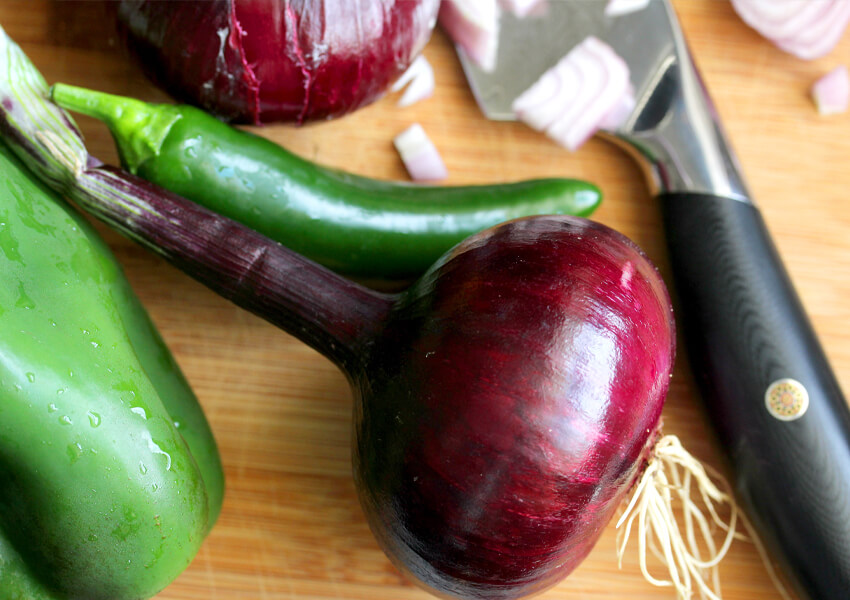 26

ingredients

5

servings
Hooray!
You have all the ingredients, let's start cooking!
Ingredients
0

/

26

ingredients
F.N.Sharp

No ratings yet
Good job!
Enjoy your meal, hope you had fun with us!
Directions
0

/

0

steps made
Turn the Instant Pot to "sauté."

When the machine is at temp, pour in the olive oil.

When the olive oil is shimmering, add the turkey and season it with salt and pepper. Break up with a slotted spoon and cook until no longer pink.

Stir in the onion, bell pepper, shallot, and jalapeno. Sauté for 3 minutes, or until softened.

Add the garlic, chili powder, cumin, Hungarian paprika, Worcestershire sauce, and hot smoked paprika. Stir for 1 minute.

Add the chipotles and tomato paste and stir for 1 minute.

Pour in the diced tomatoes, beans, and chicken broth, and scrape up any browned bits from the bottom.

Turn the machine off, and place the lid on, making sure that the valve is set to "sealing."

Set the Instant Pot to "manual" for 12 minutes.

When the alarm sounds, do a quick release.

Turn the machine off, remove the lid, and turn it back to "sauté" mode.

Stir in the frozen corn, and cook for 3 minutes, or until cooked through.

Serve with cheese, sour cream, lime wedges, cilantro, finely diced onion, and sliced jalapenos.
About the Author
Launie Kettler is a food writer and photographer who lives in a suburb of Burlington, VT. She cooks big food in a small kitchen, and her husband and cats are tolerant of the fact that she plays the same Wilco and Son Volt albums over and over while pontificating about the beauty of cumin. Launie is the co-author of The Everything Mediterranean Slow Cooker Cookbook and her recipes have been featured in Where Women Cook, Fresh Magazine, and on Salon. You can follow her adventures on Instagram @teenytinykitchenvt and on her blog at TeenyTinyKitchen.com.