Lemon Garlic Shrimp Pasta
Recipe and photos by Launie Kettler
The colors. The flavors. The pure joy of pasta, shrimp, lemon, and shallots with a kick of heat fixes all the world's ills and makes us feel like we're luxuriating in a wealth of good ingredients.
Or, as Forrest Gump said, "Now, Mama said there's only so much fortune a man needs, and the rest is just showing off."
It's a little bit of an embarrassment of riches on the plate.
And the best part is it takes less than 20 minutes to pull together. Yes, you read that right.
All of the wonderful bright, shrimpy goodness will be on your plate in less time than it takes to find a good movie on cable to watch with dinner.
However, we recommend watching Forrest Gump – you know – just as a little ode to Bubba. The man loved shrimp.
And if you're up for a challenge, here's a list of 21 easy shrimp recipes to go along with Bubba's many ways to eat shrimp.
Now round up your ingredients and let's dig in!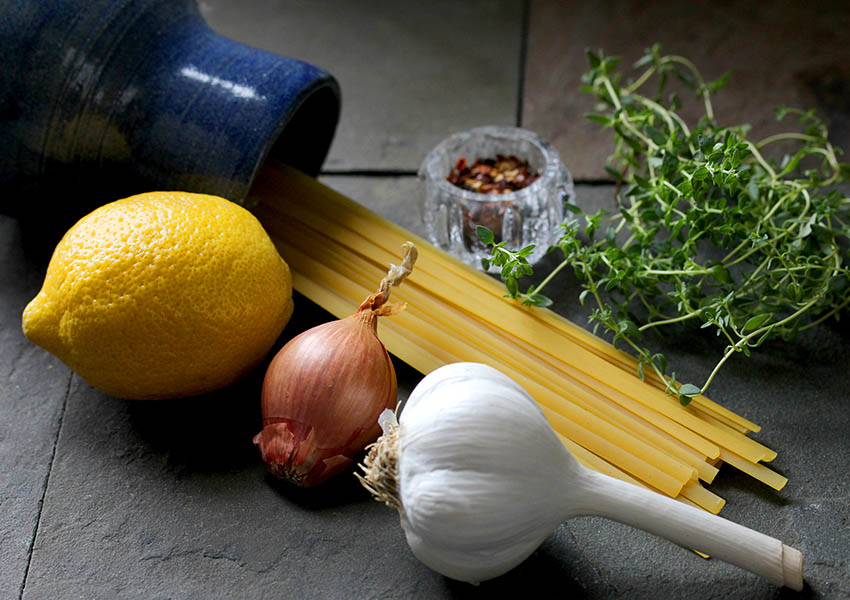 13

ingredients

6

servings
Hooray!
You have all the ingredients, let's start cooking!
Ingredients
0

/

13

ingredients
Jessica Gray

No ratings yet
Good job!
Enjoy your meal, hope you had fun with us!
Directions
0

/

0

steps made
Bring a large pot of salted water to a boil.

Add the fettuccine and cook for 12 minutes. Drain, toss with 1 tablespoon of butter, and reserve.

In a large frying pan, heat the olive oil over medium heat. When it shimmers, add the shrimp and cook for 2 minutes.

Season with salt, pepper, and red pepper flakes.

Add the garlic and shallot to the pan. Sauté for 1 to 2 minutes or until softened.

Stir in the remaining butter, lemon juice, thyme, and lemon zest.

Stir for 1 minute.

Serve with pasta, and garnish with lemon wedges.
About the Author
Launie Kettler is a food writer and photographer who lives in a suburb of Burlington, VT. She cooks big food in a small kitchen, and her husband and cats are tolerant of the fact that she plays the same Wilco and Son Volt albums over and over while pontificating about the beauty of cumin. Launie is the co-author of The Everything Mediterranean Slow Cooker Cookbook and her recipes have been featured in Where Women Cook, Fresh Magazine, and on Salon. You can follow her adventures on Instagram @teenytinykitchenvt and on her blog at TeenyTinyKitchen.com.