Paleo Chicken Sauce Tomat With Artichokes and Roasted Red Pepper Sauté
Recipe and photos by Launie Kettler
If you're following the paleo lifestyle and find yourself craving some Italian fare, then look no further than this deliciously healthy paleo chicken recipe with homemade sauce tomat – just one of the five mother sauces every cook should know.
Just think tender boneless chicken breasts, artichoke hearts, and roasted red peppers sautéed and smothered in homemade tomato sauce full of Italian herbs and spices.
Now imagine how perfect that would be over some zucchini noodles or riced cauliflower – so comforting, yet so healthy.
And if you just can't imagine an Italian meal without cheese, then pick up some nutritional yeast. Not only does it make a good substitute for parmesan cheese, it's also packed with vitamins, minerals, antioxidants, and even protein!
Now round up your ingredients, grab that chef's knife for some slicing and dicing, and let's get to cooking!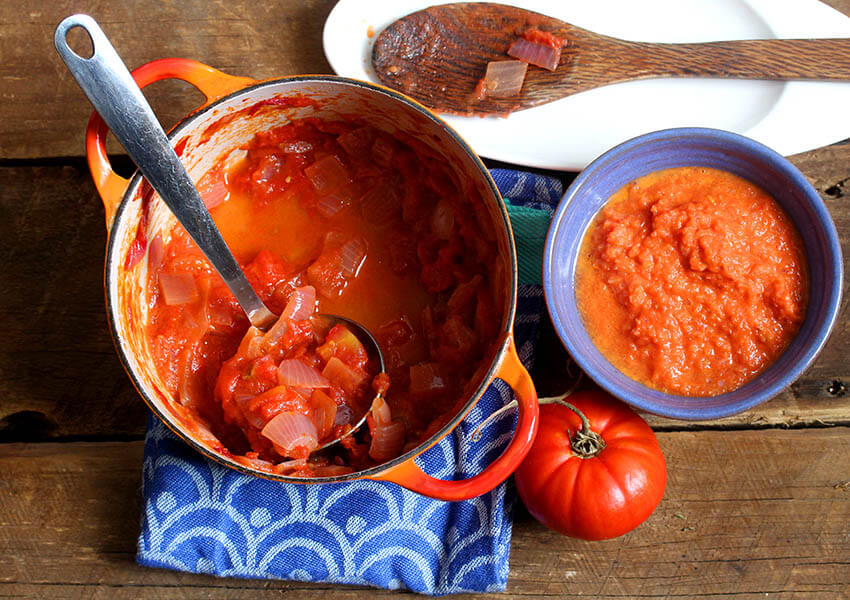 21

ingredients

2

servings
Hooray!
You have all the ingredients, let's start cooking!
Ingredients
0

/

21

ingredients
F.N.Sharp

No ratings yet
Good job!
Enjoy your meal, hope you had fun with us!
Directions
0

/

0

steps made
For the sauce tomat, preheat oven to 300 degrees.

In a medium Dutch oven over medium heat, sauté the salt pork until it's fat renders, about 3-5 minutes.

Add the onion, carrot and celery, seasoning with salt, and s

auté for 3 minutes, or until just softened.

Add the garlic and

sauté for 1 minute.

Add the tomatoes and stock and bring to a boil.

Remove from heat, partially cover, and bake for 1

½

hours.

Let cool for a few minutes, then process until smooth using an immersion blender (Note: Before processing, save 1

½ cups for this recipe

).

For the Italian herb paleo chicken, melt the butter in a large cast iron skillet over medium heat.

When the butter is melted, add the oregano, basil, lemon pepper and salt. Stir for 1 minutes.

Add the sliced chicken and cook for 3-5 minutes on one side until golden brown, then flip and cook for an additional 3 minutes.

Add the sauce tomat, artichokes, red peppers and broth. Cook for 5 minutes, or until hot. Add basil, oregano, arugula, and serve.

Happy eating!
About the Author
Launie Kettler is a food writer and photographer who lives in a suburb of Burlington, VT. She cooks big food in a small kitchen, and her husband and cats are tolerant of the fact that she plays the same Wilco and Son Volt albums over and over while pontificating about the beauty of cumin. Launie is the co-author of The Everything Mediterranean Slow Cooker Cookbook and her recipes have been featured in Where Women Cook, Fresh Magazine, and on Salon. You can follow her adventures on Instagram @teenytinykitchenvt and on her blog at TeenyTinyKitchen.com.