Creamy Saffron Risotto
Recipe and photos by Launie Kettler
Is there anything better than creamy, savory risotto that's kissed with a hint of sweetness from shallots? If there is, we can't think of what it is.
Known in Italy as Risotto alla Milanese, saffron risotto is one of the favorite foods of Northern Italian cuisine and can be found on the menus of the top restaurants of the Lombardy region's stunning Lake Como.
With this saffron and shallot risotto recipe, each grain is coated in a buttery olive oil mixture until it becomes translucent. This opens the lovely white grains up to soak in all that amazing saffron, wine, and other flavors that make this dish simply irresistible.
So go ahead and indulge yourself. Treat yourself.
Round up your ingredients and enjoy our saffron risotto as a main course or a side dish with this recipe for Pork alla Milanese.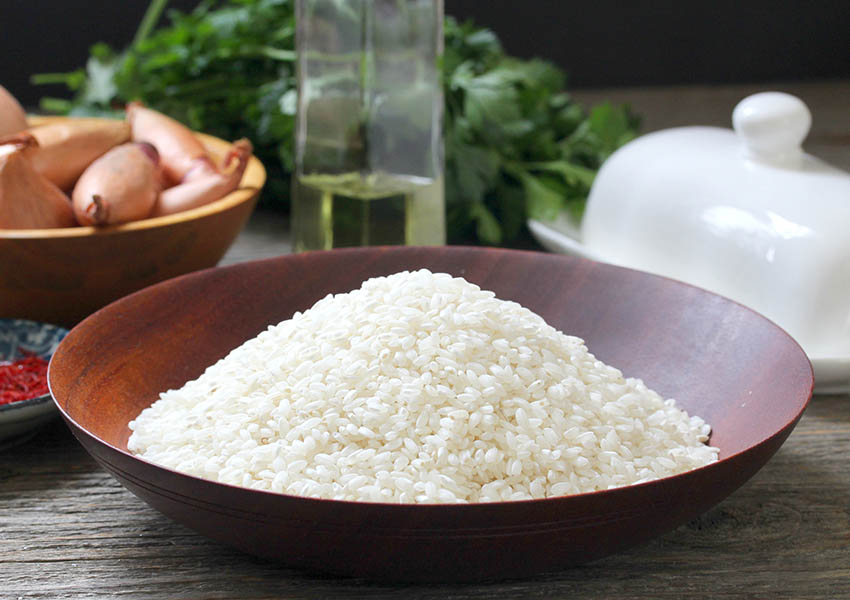 12

ingredients

4

servings
Hooray!
You have all the ingredients, let's start cooking!
Ingredients
0

/

12

ingredients
F.N.Sharp

No ratings yet
Good job!
Enjoy your meal, hope you had fun with us!
Directions
0

/

0

steps made
In a medium saucepan bring the chicken stock to a gentle simmer over medium heat. Reduce heat to medium-low.

Heat olive oil over medium heat in a medium Dutch oven. Add shallot, and season with salt and pepper. Sauté until softened, about 3 minutes.

Add the rice to the pan and stir for 2 minutes, or until translucent.

Pour in the wine and stir well. Bring to a light simmer.

Add the saffron and stir until most of the wine is absorbed, about 3-5 minutes.

Stir in two ladles of the heated chicken broth and stir well until mostly absorbed.

Add more stock by the ladleful, stirring well until mostly absorbed. Repeat until the stock is gone.

When the risotto is al dente and still somewhat loose, turn the heat off.

Gently stir in the butter and grated parmesan.

Garnish with shaved parmesan and parsley and enjoy!
About the Author
Launie Kettler is a food writer and photographer who lives in a suburb of Burlington, VT. She cooks big food in a small kitchen, and her husband and cats are tolerant of the fact that she plays the same Wilco and Son Volt albums over and over while pontificating about the beauty of cumin. Launie is the co-author of The Everything Mediterranean Slow Cooker Cookbook and her recipes have been featured in Where Women Cook, Fresh Magazine, and on Salon. You can follow her adventures on Instagram @teenytinykitchenvt and on her blog at TeenyTinyKitchen.com.