Sausage, Spinach, and Quinoa Stuffed Delicata Squash with Parmesan Crisps
Recipe and photos by Launie Kettler
Fall is upon us.
Allow me to repeat, fall is upon us!
While I'll miss the bright berries and delicate greens of summer, I'm thrilled to embrace fall vegetables like subtly sweet squash, hearty greens, and, of course, the citrus of fall.
And to me this dish celebrates the best of the burgeoning autumn season. The squash is gorgeous, the spinach is flavorful, and the sausage gives everything a kick of heat which is perfect for the cooler nights to come.
Oh, and there's quinoa – which just ups the flavor ante. It greedily and happily absorbs the flavors that surround it and rounds out the savory notes perfectly.
Another reason I love delicata squash is I don't feel like I'm taking my life into my own hands when I cut it in half like other varieties. (I'm eyeballing you, butternut squash. *points fingers to eyes, and then points to butternut*)
But, of course, the joy of having a good chef's knife is that this nervousness is greatly, greatly abated. However, delicata is still my favorite squash to work with because it's so easy, breezy, and fast to cook.
I love to serve this dish to friends, because: A) Everyone digs it; and, B) You can just omit the sausage to make it a full-on vegetarian meal.
Plus, did we mention there's crispy parmesan? Oh, yes.
Yes, there is.
So, let's get into the kitchen, grab those ingredients, and start prepping!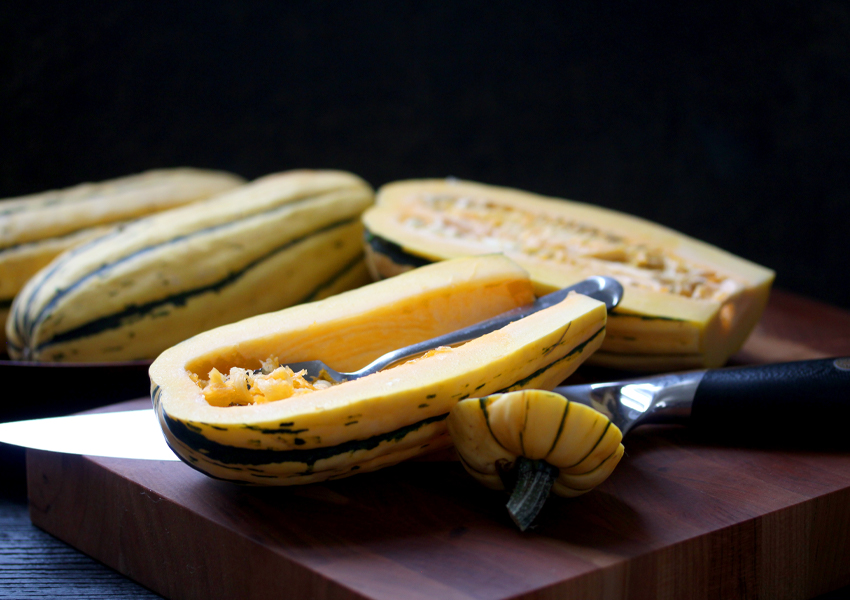 16

ingredients

2

servings
Hooray!
You have all the ingredients, let's start cooking!
Ingredients
0

/

16

ingredients
F.N.Sharp

No ratings yet
Good job!
Enjoy your meal, hope you had fun with us!
Directions
0

/

0

steps made
Preheat oven to 350 degrees.

Fit a rimmed sheet pan with parchment paper.

Place squash cut-side up on prepared pan and divide 1 tablespoon of olive oil between the halves.

Sprinkle with half of the salt and pepper.

Bake for 30-35 minutes or until fork tender.

Fit a small baking sheet with parchment paper. Divide parmesan into 4 rounds on the pan and bake for 5 minutes, or until golden brown. Reserve.

Bring the quinoa, broth, onion powder, garlic powder, and bay leaf to a boil in a medium saucepan over medium heat. Cover, and reduce heat to low. Simmer for 15 minutes, remove from heat, and let steam for 15 minutes. Fluff with a fork and reserve.

In a large skillet over medium heat, sauté the spinach, shallot, and precooked sausage with remaining olive oil. Season with oregano, basil, chili flakes, and remaining salt and pepper. Sauté until spinach is wilted and sausage is hot.

Stir 1 ½ cups quinoa into the pan, and warm through.

Divide mixture between squash halves, top with parmesan crisps, and enjoy!
About the Author
Launie Kettler is a food writer and photographer who lives in a suburb of Burlington, VT. She cooks big food in a small kitchen, and her husband and cats are tolerant of the fact that she plays the same Wilco and Son Volt albums over and over while pontificating about the beauty of cumin. Launie is the co-author of The Everything Mediterranean Slow Cooker Cookbook and her recipes have been featured in Where Women Cook, Fresh Magazine, and on Salon. You can follow her adventures on Instagram @teenytinykitchenvt and on her blog at TeenyTinyKitchen.com.