Maple Chili Roasted Sweet Potato and Quinoa Bowl with Apples and Kale
Recipe and photos by Launie Kettler
We love a good sweet potato.
Especially when it's practically candied from maple syrup and has a touch of extra savory flavor from chili powder.
And we love a good apple, especially when it's tossed with butter and warming spices.
Ditto for kale, especially if you add a splash of apple cider vinegar.
And let's not forget a well-seasoned batch of quinoa to round out the meal. So, when the autumn wind is howling at the window, throw a few delicious ingredients into a bowl and settle in under a blanket on the couch.
You deserve it.
But first, round up those ingredients, grab that chef's knife, round up your ingredients, and let's dig in!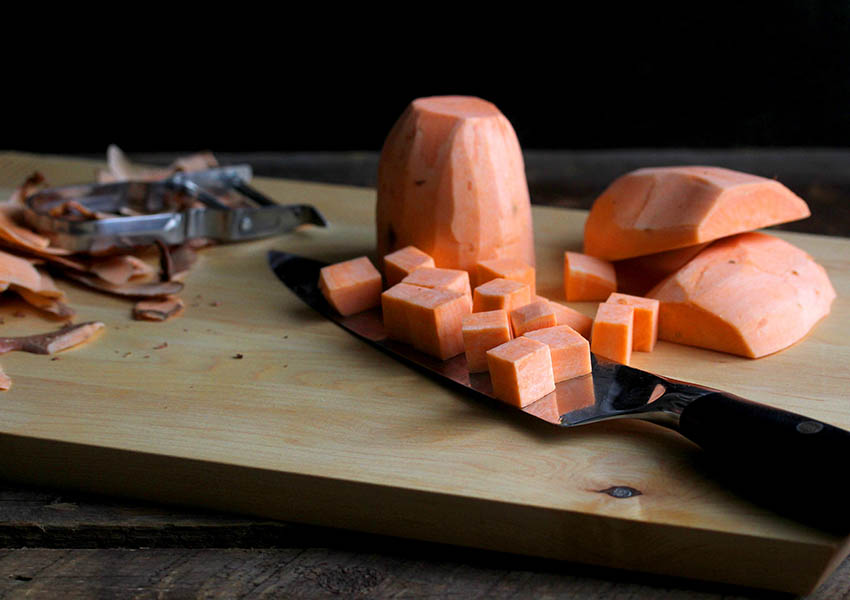 19

ingredients

2

servings
Hooray!
You have all the ingredients, let's start cooking!
Ingredients
0

/

19

ingredients
F.N.Sharp

No ratings yet
Good job!
Enjoy your meal, hope you had fun with us!
Directions
0

/

0

steps made
In a medium saucepan with a heavy bottom, bring the 1 cup quinoa, 1 cup chicken or vegetable broth, 1 cup water, ½ teaspoon kosher salt, ½ teaspoon onion powder, and ½ teaspoon garlic powder to a boil over medium-high heat.

Cover, reduce heat to low, and simmer for 15 minutes.

Remove from heat and let steam for 15 minutes. Fluff with a fork and reserve.

In the meantime, preheat oven to 350 degrees and start prepping the potatoes.

In a medium bowl, toss the potatoes with 1 ½ tablespoons olive oil, 1 teaspoon kosher salt, ½ teaspoon freshly ground black pepper.

Fit a large, rimmed baking sheet with parchment. Lay the potatoes out in a single layer, and roast for 15 minutes.

Flip, and cook for an additional 5 minutes.

In a small bowl, whisk together 2 tablespoons of the maple syrup and 1 teaspoon of chili powder. Drizzle over the potatoes and toss well to coat.

Bake for 5-7 minutes, or until lightly caramelized. Reserve.

Heat 1 ½ tablespoons unsalted butter in a large frying pan over medium heat. When the butter is melted, add the cored and sliced apple to the butter. Season with ½ teaspoon ground cardamom, ½ teaspoon ground cumin, ½ teaspoon ground ginger, and ½ teaspoon ground salt.

Sauté for 2-3 minutes, or until softened. Remove apples from the pan using a slotted spoon. Reserve.

Add 1 tablespoon of olive oil and ½ teaspoon red pepper flakes to the pan and stir well.

Add the 4 ounces of kale and 1 tablespoon apple cider vinegar. Sauté until wilted and softened. Reserve.

Divide ingredients between two bowls, serve immediately and enjoy!
About the Author
Launie Kettler is a food writer and photographer who lives in a suburb of Burlington, VT. She cooks big food in a small kitchen, and her husband and cats are tolerant of the fact that she plays the same Wilco and Son Volt albums over and over while pontificating about the beauty of cumin. Launie is the co-author of The Everything Mediterranean Slow Cooker Cookbook and her recipes have been featured in Where Women Cook, Fresh Magazine, and on Salon. You can follow her adventures on Instagram @teenytinykitchenvt and on her blog at TeenyTinyKitchen.com.