Paprika-Spiced Vermouth Chicken With Velouté Sauce
Recipe and photos by Launie Kettler
♪Velouté, velouté, velouté♪
It just sounds like a song, doesn't it? So, melodious. So, evocative of a rainy night in Paris.
All that joy, for mere pocket change to pull together. And when this mother sauce is combined with sumac-crusted chicken and a bright boozy sauce – well all is right in the world.
Now, don't get us wrong, we love us some white wine. But, when it comes to pan sauces, more and more we think vermouth is where it's at.
Somehow it both lightens up and increases the deep undertones of a pan sauce. How amazing is that?
So, get that chicken browning and whip up a batch of creamy sauce to round it out with.
You'll love yourself for it.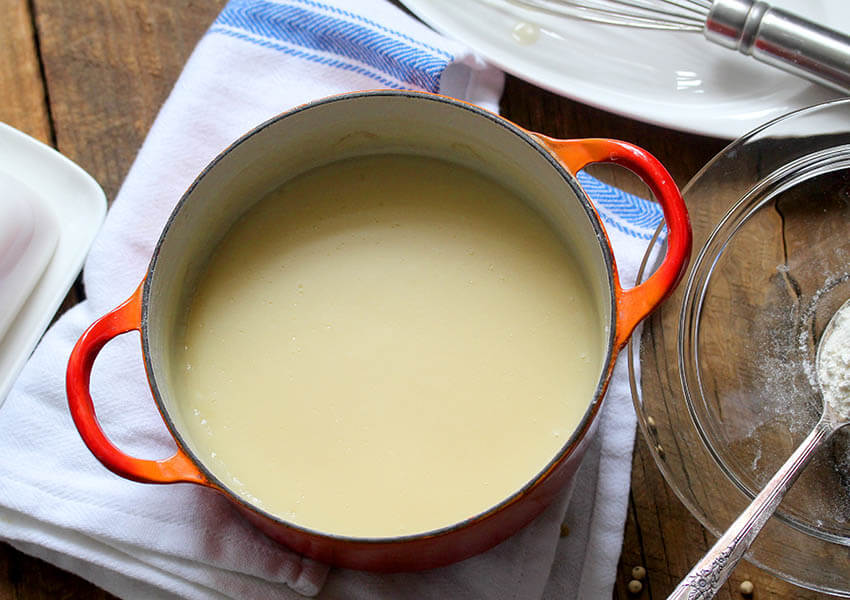 14

ingredients

2

servings
Hooray!
You have all the ingredients, let's start cooking!
Ingredients
0

/

14

ingredients
F.N.Sharp

No ratings yet
Good job!
Enjoy your meal, hope you had fun with us!
Directions
0

/

0

steps made
For the velouté, in a medium saucepan over medium heat, bring 3 cups chicken stock to a light boil. Reserve

In a medium Dutch oven, heat ¼ cup unsalted butter over medium heat until melted. Add ¼ cup unbleached flour and stir for 2 minutes.

Add the warmed stock by the ladleful to the butter mixture. When all the stock has been added, season with ¼ teaspoon white pepper.

Bring to a light boil, reduce heat to medium-low and simmer for 15 minutes.

For the Vermouth chicken, heat a large cast iron skillet over medium heat. When the skillet is hot, add 2 tablespoons unsalted butter.

Season the chicken with 2 teaspoons sumac, ½ teaspoon kosher salt, ½ teaspoon freshly ground black pepper.

Place the chicken skin side down in the pan. Cook for 5-7 minutes, or until browned.

Add shallot to the pan and stir.

Flip the chicken and cook for an additional 5-7 minutes, or until browned. Add 1 cup chicken broth, 1 cup velouté, 1/3 cup vermouth, and 2 teaspoons hot smoked paprika.

Stir the sauce well and bring to a light boil. Reduce heat to medium-low, and simmer for 10 minutes, stirring occasionally.

Garnish with parsley and serve.
About the Author
Launie Kettler is a food writer and photographer who lives in a suburb of Burlington, VT. She cooks big food in a small kitchen, and her husband and cats are tolerant of the fact that she plays the same Wilco and Son Volt albums over and over while pontificating about the beauty of cumin. Launie is the co-author of The Everything Mediterranean Slow Cooker Cookbook and her recipes have been featured in Where Women Cook, Fresh Magazine, and on Salon. You can follow her adventures on Instagram @teenytinykitchenvt and on her blog at TeenyTinyKitchen.com.