White Christmas Punch With Prosecco and Homemade Pear Liqueur
Recipe and photos by Launie Kettler
Oh, booze. How we love thee. Let us count the ways.
You quench our spiritual thirst.
You make our toes wriggle in joy.
You also might motivate us to dance in the kitchen (or on a table).
However, when it comes to booze and additional sugar we sing ♪Nah, nah, nah ♪
Fun story, when my husband and I were first married we rented a ramshackle "back to the land" hippie homestead that had been a chicken coop in the middle of the woods with little insulation, big windows, and a roving lawn filled with rocks for not a lot of moolah.
When you're in love, everything looks good, and this place was honestly charming.
So, we wanted to dress it up a little bit by doing yard work. It had been unattended for years and years, and we wanted to make it shine.
And so, we went out and bought some hard lemonade and lawn tools.
To be fair, neither of us had ever had hard lemonade before, but it was a hot day and it sounded appealing while we pulled weeds.
Fast forward two hours later with the two of us laying on our backs with lawn shears just beyond our fingertips, trying to figure out what animals the clouds were making in the sky.
Not a bad way to spend a Saturday afternoon, but it did make us aware of the fact that hard booze loves to be recognized for what it is – and not be disguised in a sugary drink.
But, I've digressed.
This pear and prosecco Christmas punch is magnificent. You may find yourself sneaking over to the punch bowl repeatedly for another cupful – and don't worry, this recipe can be doubled or even tripled so you can sneak in as many refills as you like!
The homemade pear liqueur – oh yes, we went there, and you can go there to if you plan ahead – gives it a kiss of sweetness, and the ice cream helps with the heavy lifting.
But the prosecco.
Oh, the prosecco.
It gives it the perfect bubbly and airy lift that will make you stare at the stars and get lost in their constellations – both real and made up by your eyes. This is the sweet – not "super sweet" – punch you want to serve for a gathering around the holidays.
It will make you seem charming. Because you are charming.
So go ahead and charm away with this totally sophisticated White Christmas Punch!
P.S. If you do make that homemade pear liqueur and somehow have leftovers, be sure to save it in a jar for the next time you need a little pick-me-up 😉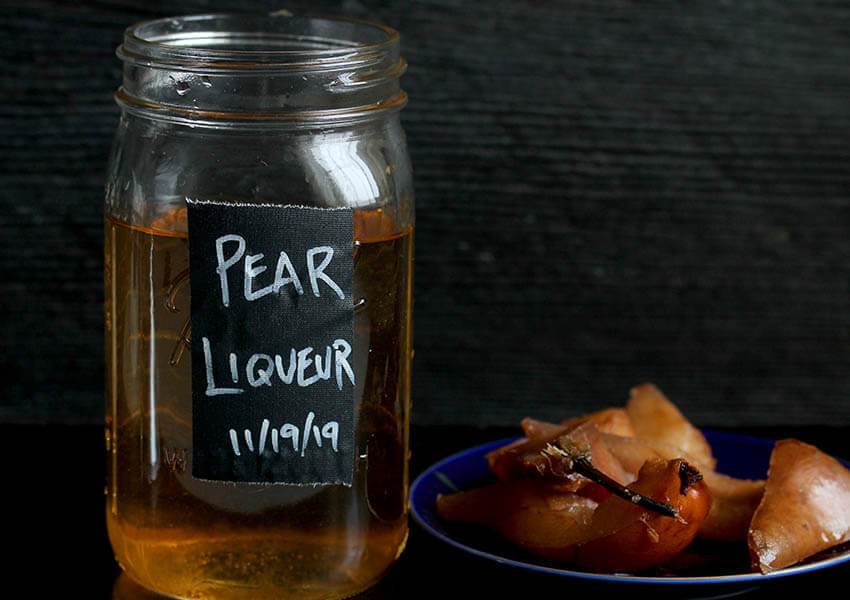 12

ingredients

6

servings
Hooray!
You have all the ingredients, let's start cooking!
Ingredients
0

/

12

ingredients
F.N.Sharp

No ratings yet
Good job!
Enjoy your meal, hope you had fun with us!
Directions
0

/

0

steps made
For the pear liqueur, combine 1 cup granulated sugar, 1 cup water, and 1 halved vanilla bean in a medium heavy-bottomed saucepan over medium heat. Bring to a simmer and stir well, until the sugar has dissolved. Reserve and let cool. Discard vanilla bean.

Place the pears in the bottom of a clean jar. Top with cooled simple syrup and vodka.

Shake well to combine.

Store in a cool dark place for four days, shaking the jar every day.

Remove the pears and strain the liqueur through a double folded cheese cloth.

Store the liqueur out of direct sunlight.

For the punch, in a large bowl, lightly mash the ice cream. Add the prosecco, ½ cup of the pear liqueur, coconut cream, and vanilla. Stir well to combine.

Garnish with pomegranates or cranberries.

Enjoy getting lost in the stars!
About the Author
Launie Kettler is a food writer and photographer who lives in a suburb of Burlington, VT. She cooks big food in a small kitchen, and her husband and cats are tolerant of the fact that she plays the same Wilco and Son Volt albums over and over while pontificating about the beauty of cumin. Launie is the co-author of The Everything Mediterranean Slow Cooker Cookbook and her recipes have been featured in Where Women Cook, Fresh Magazine, and on Salon. You can follow her adventures on Instagram @teenytinykitchenvt and on her blog at TeenyTinyKitchen.com.