Experience Greece in Florida's Greek Sister City of Tarpon Springs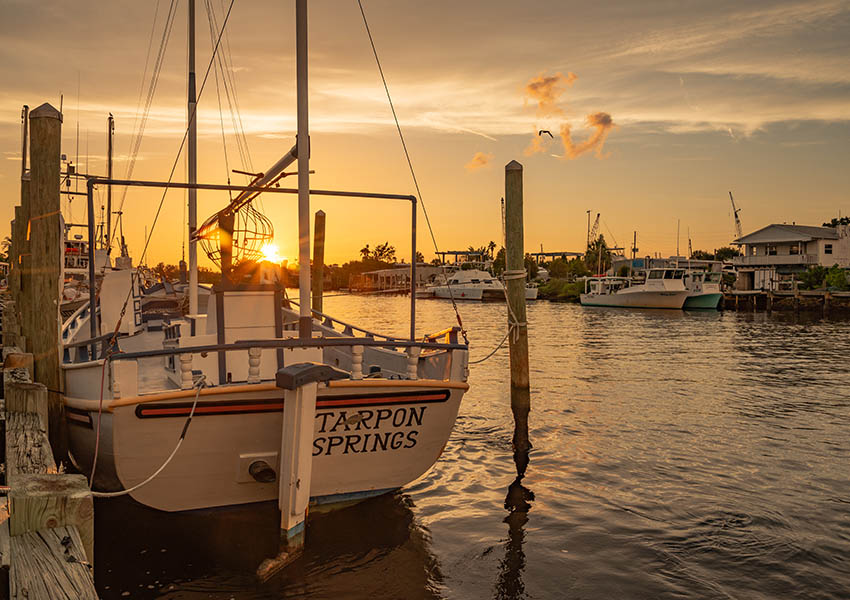 F.N.Sharp
When most of us think of Florida, we think of white sand beaches, swaying palms, warm blue oceans, citrus groves, maybe an alligator or two — but we don't think of Greece! If you find yourself on Florida's west coast, be sure to spend some time in Tarpon Springs, located about 45 minutes north of Tampa. This gem of a town has a fascinating history and cultural connection to Greece — and is home to the largest percentage of Greek Americans of any U.S. city. Greek immigrants came to Tarpon Springs in the 1880s and founded an enormously successful sponge diving industry in the early 1900s. One of the top attractions to see are the Tarpon Springs Sponge Docks that are still in operation today!
What Are the Tarpon Springs Sponge Docks?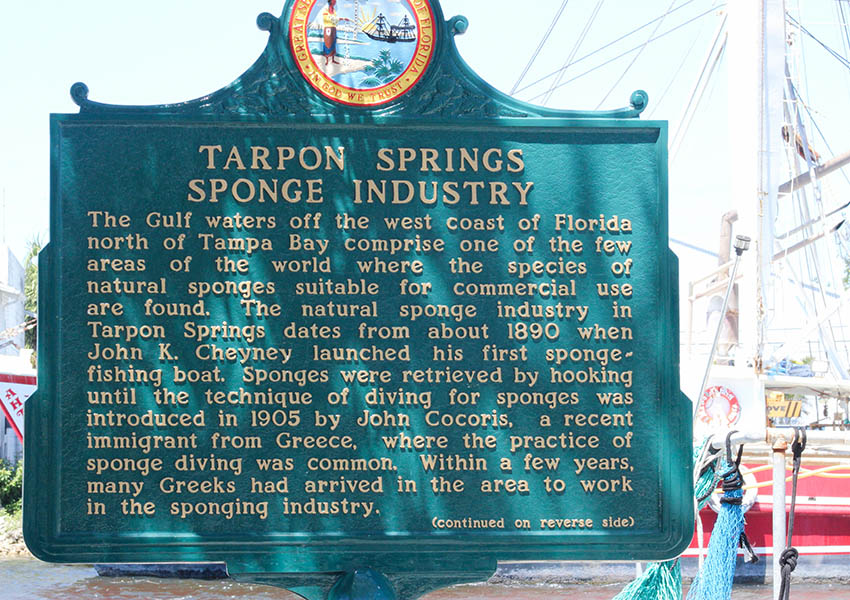 You might look at the brightly colored sponge next to your kitchen sink and wonder what it has to do with Greece and Florida — but before synthetic sponges were the norm, people used sponges from the sea. Greeks in the Dodecanese Islands have been harvesting these aquatic animals by diving to the seabed in the warm Mediterranean waters for centuries. In the late 1800s, they were using advanced technology, including weighted diving suits that enabled them to walk on the seabed and rake the sponges free.
Meanwhile, in the warm Gulf of Mexico off Tarpon Springs, sponge harvesters sat in boats and used long poles to harvest similar sponges. Beginning in 1905, a Greek named John Corcoris recruited 500 Greek divers from the Dodecanese Islands to dive for sponges in Tarpon Springs and the town became the "Sponge Capital of the World." The sponges are the dried skeletons of the animal — the animal is removed. At one point, Tarpon Springs sponge exports were economically more prosperous than citrus exports!
A whole industry sprung up around the Tarpon Springs Sponge Docks where the harvesting boats were tied up. Tourists began visiting the area to see the sponges and soon boat owners offered boat rides, while Greek families opened shops and restaurants to serve local Greeks and tourists.
What Is There to See & Do on the Tarpon Springs Sponge Docks?
Today, more than 100 shops and multiple restaurants are scattered along the sponge docks — you can even visit some of the original Greek shops and eateries! A city trolley runs between the docks and the downtown area, making it easy to get around without a car. In addition to offshore fishing charters, the top Tarpon Springs Sponge Docks attractions include:
Spongeorama Sponge Factory
Credit: @Gunnar Johnson
Spongeorama is an unusual little museum that shows a free movie telling the story of Tarpon Springs' sponge diving industry. Once the movie's over, you can shop for unique Floridian and Grecian gifts and souvenirs in the gift shop.
Spongeorama Cruise Lines
Credit: @Ted J Braverman
Tour the beautiful Gulf of Mexico and the Anclote River aboard a comfortable boat to see dolphins, birds, manatees, the Anclote lighthouse and other historic sites. Tours also stop at a beach on Anclote Island where you can search for seashells.
Where to Eat at the Tarpon Springs Sponge Docks
As with any coastal town, you'll find plenty of fried seafood — but to truly experience Tarpon Springs, you'll want to sample authentic Greek cuisine at restaurants near the sponge docks! A few not to miss include:
Hellas Bakery & Restaurant
Credit: @Andrew Demas
Since 1970, patrons have been enjoying award-winning Greek cuisine and delicious pastries at Hellas Bakery and Restaurant. Owned and operated by the Karterouliotis family, sample family recipes such as saganaki (flaming imported Greek cheese), dolmades (stuffed grape vine leaves) and Shrimp à la Hellas (pan-fried shrimp in butter and garlic).
Mykonos
Credit: @Carolyn Bell
You'll think you're sitting in a café on the Greek island Mykonos if you visit this family-owned and operated restaurant. Choose the charbroiled octopus or succulent lamb chops for an authentic Greek meal you won't forget!
Dimitri's On the Water
Credit: @Pilar
Owned by the same family as Mykonos, Dimitris offers a modern Greek menu that features traditional favorites such as moussaka, pastitsio, dolmades, keftedes, as well as more contemporary items such as prime rib, fish and pasta. Be sure to sit outside and enjoy wonderful views of the Anclote River and the historic sponge docks!
Mr. Souvlaki Restaurant
Credit: @Matt McFadden
For more than three decades, Mr. Souvlaki features traditional and contemporary Greek cuisine such as gyros, Greek salads, spanakopita, grilled octopus, shish kebobs, moussaka, dolmades, pastitsio, rice pudding and, of course, Tzatziki sauce with pita bread! Expect friendly service and large portions at this spot a few blocks from the sponge docks!
Tarpon Springs Signature Events
Like many of its Mediterranean neighbors, the Greeks are no different and they find plenty of reasons to celebrate with a variety of festivals and events. From Greek food festivals to arts and crafts fairs to boat parades, you'll find an event happening just about every month of the year in Tarpon Springs.
If you're lucky enough to be in town during one of the following, be sure to attend:
Tarpon Springs Epiphany Celebration — January 6
Credit: @JoseCheito Photography
For more than 100 years, each January 6 the Feast of Epiphany is the most important Tarpon Springs event — it's the largest Epiphany celebration in the Western Hemisphere and attracts around 30,000 visitors! The day-long celebration begins with a mass at St. Nicholas Cathedral and includes the "Dive for the Cross" where the Archbishop tosses a wooden cross into the water and teenage boys dive in after to try to retrieve it. The tradition says the retriever receives a year of blessings.
Opa! Palooza Greek Festival – June
Credit: @ammye miller
Every June, this family-friendly, three-day festival celebrates Greek heritage and culture along the Tarpon Springs Sponge Docks. You'll find dancing, live music, workshops, seminars, spirits, food, pastries, kids' games and more! You might learn how to cook a Greek meal, learn about sponge diving, sample delicious cuisine and pick up a few gifts from arts and crafts vendors.
Tarpon Springs & Its Greek Sister Cities
Credit: @Tʀᴀɴsғᴇʀ Vɪsɪᴏɴs Gʀᴇᴇᴄᴇ
Tarpon Springs' Greek and Greek American residents embrace their rich heritage. The town participates in a sister city program that promotes cultural education, unity and economic development with three cities in Greece: Kalymnos, Symi, Halki, plus a fourth in Cyprus: Larnaca. Local schools Skype with schools in these Greek cities, the communities share artifacts and promote educational programs in local colleges.
Immerse Yourself in Authentic Greek Culture and Cuisine — No Passport Required!
Credit: @Dan & Mari Road Life
If you've been dreaming of a vacation to Greece but can't swing it right now — head to Tarpon Springs! This picturesque town of about 25,000 is situated along a beautiful stretch of Florida's Gulf Coast. In addition to the historic Tarpon Springs Sponge Docks, you'll see buildings painted in the traditional blue and white colors so prolific in Greek island villages. Overhear lively conversations in Greek, admire the well-preserved Victorian-style buildings dotting the city streets and sip on some classic Greek drinks like retsina, a unique Greek white wine infused with pine flavors!