The Best Pubs for Dancing, Singing, and Drinking Your Way Through Dublin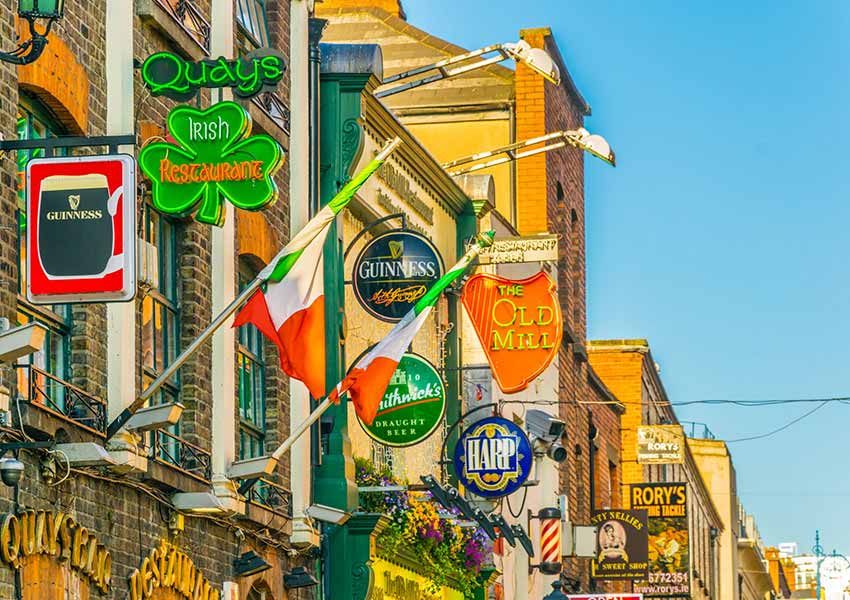 F.N.Sharp
For almost a thousand years, the Irish have used pubs as a space for celebration and community. Storytelling and music are the foundation of the Irish culture, as well as beer – the Irish really love their Guinness. So, it's no wonder why the pubs in Dublin have become such a quintessential Irish trademark.
Now, you can find an Irish pub in almost any city around the world – but, nothing compares to the real thing. Here are the best pubs to sing, dance, and have a pint at in Dublin.
The Brazen Head
Credit: @irish_daily
More commonly known as 'Dublin's Oldest Pub', The Brazen Head has been the go-to meeting spot for Dubliners since 1198, though it received its iconic name in 1653.
Located on Bridge Street, right next to the River Liffey where Dublin was first discovered, The Brazen Head is truly historic. Throughout the years, much gossip and intelligence has been whispered from patron to patron within the walls of The Brazen Head. In 1798, the pub was the main meeting place for locals as they planned their attack on the English, who were then occupying the nearby Dublin Palace. Now, the pub still attracts many locals who come in for a pint and the daily tales.
When you visit, be sure to try the bangers & mash – a traditional Irish recipe with pork sausage, mashed potatoes, seasonal vegetables, and a sundried tomato pesto and parsley sauce – and catch up on your history with their candlelit folklore and storytelling dinners.
The Brazen Head
20 Bridge Street Lower
Dublin, 8, Ireland
www.brazenhead.com
Tel: +353 1 6795186
Johnnie Fox's Pub
Credit: @Johnnie Fox's Pub
Venture thirty minutes out of town for a cultural experience like no other. Johnnie Fox's, known as the 'Highest Pub in Ireland', is nestled in the town of Glencullen on top of the Dublin Mountains. Established in 1798, this historical pub has retained its 19th century charm and serves as a living museum showcasing the relics of Irish history.
The pub hosts live music every night, including the "Hooley Show", featuring traditional Irish music and dance performances, along with a four-course meal complete with coffee or tea.
Get cozy by the fire and try their signature ribs, marinated in whiskey barbecue sauce, then slow roasted and served with prawns, seasonal vegetables, and chips.
Johnnie Fox's Pub
Glencullen
Co. Dublin, Ireland
https://www.johnniefoxs.com/
Tel: +353 1 295 5647
The Stag's Head
Credit: @Stags Head Pub
For some classic beauty, make your way to The Stag's Head, an authentic Victorian-era pub known for amazing hospitality and welcoming staff.
The Stag's Head was opened to the public in 1884 by George Tyson, a renowned menswear merchant of the time, and was popular among the city's elite. Now, it is arguably the best maintained Victorian Pub, with all of the original woodwork, marble floors, and granite countertops.
Visit on a Tuesday for their Ukulele night or for one of their comedy shows. And be sure to try their fish & chips, fried with a pale ale beer batter and served with a delicious tartar sauce.
The Stag's Head
1 Dame Ct
Dublin 2, D02 TW84, Ireland
https://stagshead.ie/
Tel: +353 1 6793687
O'Donoghue's Bar
Credit: @O'Donoghue's
Put on your dancing shoes and head over to O' Donoghue's – the birthplace of The Dubliners, one of Ireland's most famous traditional music bands.
Originally home to a grocery store built in 1789, the pub was founded in 1934 by Paddy and Maureen O'Donoghue, two music lovers who began the tradition of hosting Irish jam sessions every single night. It was there that The Dubliners and many other bands took shape, and the nightly jam sessions have continued to this day.
Stop in for a Guinness – it's rumored to be the best pour in all of Dublin. And if you have a little too much, you can sleep it off in one of their bed and breakfast guest rooms.
O'Donoghue's Bar
15 Merrion Row
Dublin, Ireland
https://www.odonoghues.ie/bar.htm
Tel: +353 (0)1 6607194
The Hairy Lemon
Credit: @The Hairy Lemon
The Hairy Lemon, a quirky 19th-century pub in central Dublin, is perfect if you're looking for something a little more unconventional.
Residing in a 19th century house, The Hairy Lemon is decorated with years of memorabilia from around the world and features a downstairs restaurant and bar, a sitting room suspended in midair, and semi-private areas for private parties of up to 150 people.
The pub has an intimate vibe with unamplified music, "the way it should be", and lots of nooks and crannies to curl into. They are well-known for serving up delicious homemade food from "Granny's Kitchen" for decades, and even released their own book of recipes, The Hairy Lemon Cookbook.
Stop in and say hello to one of the barkeeps – they're sure to have lots of stories to tell, including why the pub has such a funny name. And be sure to try their Beef and Guinness Pie, which is reduced to perfection in red wine and Irish Guinness and served with chips (fries) and brown bread.
The Hairy Lemon
41-42 Stephen Street Lower
Dublin 2, Ireland
https://thehairylemon.ie/
Tel: +353 1 671 8949
Whelan's
Credit: @Whelan's Bar
If you love live music, you will love Whelan's. It's the go-to spot for young people in Dublin.
Recognized as the original live music venue of Dublin, Whelan's has been serving up good beer and great music for the last three decades. From local indie bands to internationally up-and-coming artists, they are the forerunners of the music scene in Dublin, featuring new artists every night – sometimes two separate events at the same time as the pub boasts two different stages.
If you can recall the pub scenes from the movie P.S. I Love You, then you've already gotten an inside look into Whelan's, as it served as a setting for the movie. The main performance stage features an overlooking balcony, and the pub walls are adorned with photos of musicians who've graced the stage, from world-famous artists like Jeff Buckley and Ed Sheeran to up-and-coming local bands looking to make a splash in the music scene.
This pub is a must-see during your visit to Dublin, so start the night with dinner at The Hairy Lemon or O'Donoghue's, both less than a 10-minute walk away, and end it with a party at Whelan's.
Whelan's
25 Wexford St.
Dublin, D02 H527, Ireland
https://www.whelanslive.com/
Tel: +353 1 478 0766
Tagged in: