The New Rocky Mountain High: Craft Whiskey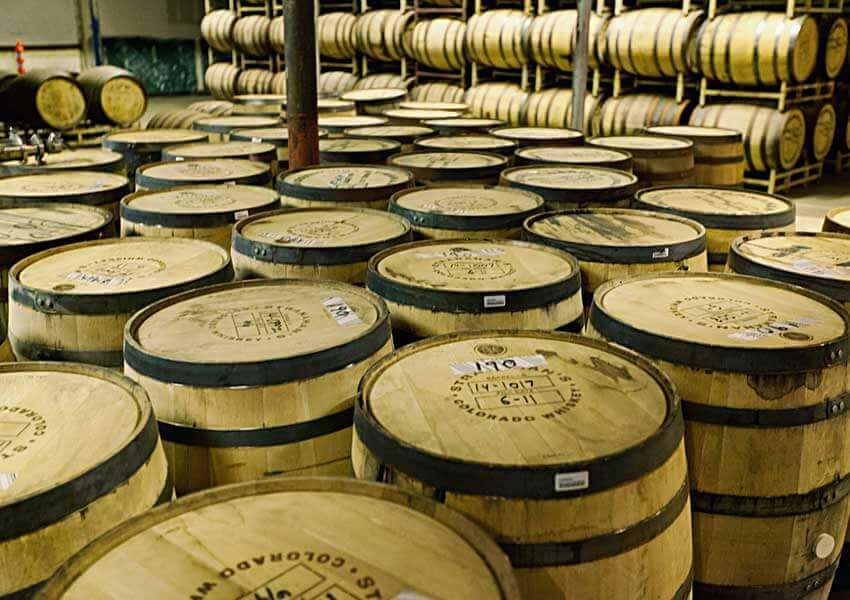 F.N.Sharp
If you've spent any time at an upscale restaurant, cocktail lounge or dinner party in the past few years, you might have noticed a new trend – no, we're not talking about gluten-free, Paleo, Keto or other dietary trends – we're talking about the rise in creative cocktails, often made using craft whiskey or other small batch spirits.
Whiskey Is the New "Old" Kid on the Block
Drinking establishments and home hosts across the nation are stocking their liquor cabinets with high-end craft spirits – craft whiskeys, in particular, which include bourbon, blended whiskey, single malt whiskey and rye.
And it's not just gray-haired gents sipping these fine spirits. Millennials and Gen Xers, including women, are driving much of the growth. Consumers are finding the new craft whiskeys more interesting than their grandfathers' brands.
Why? Because craft whiskeys offer enormous flavor varieties to be savored as stand-alone libations or mixed with enticing ingredients. And unlike vodka or gin, which tend to taste similar across brands, it's a good idea to have a few different styles of whiskey on hand because each has a distinctive flavor.
By the way, if you're wondering why whiskey is spelled two ways – whiskey and whisky – it's simply a regional difference. Distillers in the U.K and Canada tend to use whisky and in the U.S, it's whiskey.
And there is no "right" way or time to enjoy whiskey – some purists will say you should only drink it neat as an after-dinner drink. But if you love whiskey, you should enjoy it when and how you like it, whether it's neat, with a splash of water or other mixer, over ice, or in a cocktail.
Move Over Kentucky, Make Room for the Wild, Wild West
Like craft beer did a decade or so ago, craft spirits are exploding onto the market, and nowhere is this more prominent than in the western states.
Sure, Kentucky and Tennessee have been home to bourbon distilleries for centuries – and only malt whiskey distilled in Scotland can be called scotch – but American distillers in western states are introducing new techniques and innovative ingredients. They are creating a new class of spirits that are well worth your attention if you happen to find yourself in the wild, wild west!
And in the west, you'll find the Rocky Mountains, which are known for, well, a lot of things – world-class skiing, breathtaking national parks, outstanding hiking and fishing, a vast variety of wildlife – and now, award-winning craft whiskey can be added to the list.
Colorado, alone, is now home to about 90 craft distilleries of various types, with some standout whiskey distillers who will need to build more space just to hang their medals and awards. For example, Distillery 291's single-barrel Colorado Rye Whiskey won the "World's Best Rye" at the 2018 World Whiskies Awards, as well as numerous other awards for their whiskeys. Utah and Wyoming are in on the secret, too, producing their own award-winning creations.
Rocky Mountain Whiskeys Worth a Sip
For the optimum tasting experience, try to tour these distilleries — but if you're not near one, you can find their spirits in liquor stores, bars and restaurants all over the Rockies. Try to find a bar that specializes in craft spirits and serves flights so you can compare side by side.
Breckenridge Distillery: Breckenridge is known for its lively ski town vibe and acres of awesome terrain – and now the Breckenridge Distillery can put it on the map as a whiskey enthusiast's must-visit destination.
In addition to being named the 2018 "Brand Innovator of the Year" by Icons of Whisky, its Breckenridge Bourbon is a three-time Whisky Magazine "Best American Blended" winner. Other awards include a two-time Colorado "Distillery of the Year" winner, a Masters in Customer Experience and a Gold in Distillery Facilities.
Be sure to try the Breckenridge Whiskey PX Cask Finish, which is aged in barrels from a luscious Spanish dessert wine made with Pedro Ximenez (PX) grapes.
Credit: @Breckenridge Distillery
Stranahan's: Opened in 2004, Stranahan's became Colorado's first modern distillery and specializes in award-winning single malt whiskeys with four ingredients: 100% malted barley, local Rocky Mountain spring water, a propriety yeast more commonly used in beer brewing, and "time in the barrel."
If you happen to be in Colorado in December, you might be lucky enough to get a sip of their limited-release Snowflake whiskey, served for only one day – and it sells out fast! If you miss it, try Stranahan's Sherry Cask. They age their four-year-old Rocky Mountain Single Malt in Oloroso Sherry barrels, which they procure from Spain's renowned sherry producing Andalusia region.
Leopold Brothers: Another Colorado winner, Leopold Brothers makes 20+ spirits — including some pretty exotic ones to which they add local and regional fruits. In addition to small batch blended whiskey, bourbon and rye, other whiskeys available for tasting include New York Apple, Michigan Cherry, Rocky Mountain Peach, Rocky Mountain Blackberry and Georgia Peach.
One unique aspect about Leopold's distillery process is they use open wood fermentation tanks instead of the standard enclosed stainless-steel tanks. This allows ambient yeast into the mash, which then penetrates the wood grain and builds up layers of unique flavors over time.
Credit: @Leopold Bros.
Wyoming Whiskey: Founded by a family of fourth generation cattle ranchers and using only locally sourced, non-GMO barley, corn, wheat and rye grains, Wyoming Whiskey bourbon is as American West authentic as it gets. They get their water from a million-year-old limestone aquifer that lies a mile below the surface.
You won't be disappointed if you can get your hands on their Barrel Strength Bourbon, Barrel #3242 that was released in December 2018 – and earned 94 points from Distiller.com. If unavailable, go with their Barrel Strength Bourbon Whiskey, which earned 92 points from WhiskyAdvocate.com.
Credit: @Wyoming Whiskey
High West Distillery: Last on the list, but by no means the least, this Utah distillery consistently receives 90 to 95 points from multiple rating organizations for their concoctions – and was even named "Distiller of the Year" in 2016 by WhiskyAdvocate.com.
You can tour the distillery in Wanship, Utah or visit their three other locations in Park City and Salt Lake City. High West's standout is their High West Double Rye, which is a combination of two rye whiskeys aged two to seven years in new, charred white American oak barrels.
These are just a few of the options for enjoying carefully crafted, small-batch whiskeys in the Rocky Mountains. Embark on your personal journey and discover which brands, styles and flavors appeal to your palate!
Tagged in: