13 Ways to Experience Italy's Lake Como on Land and Water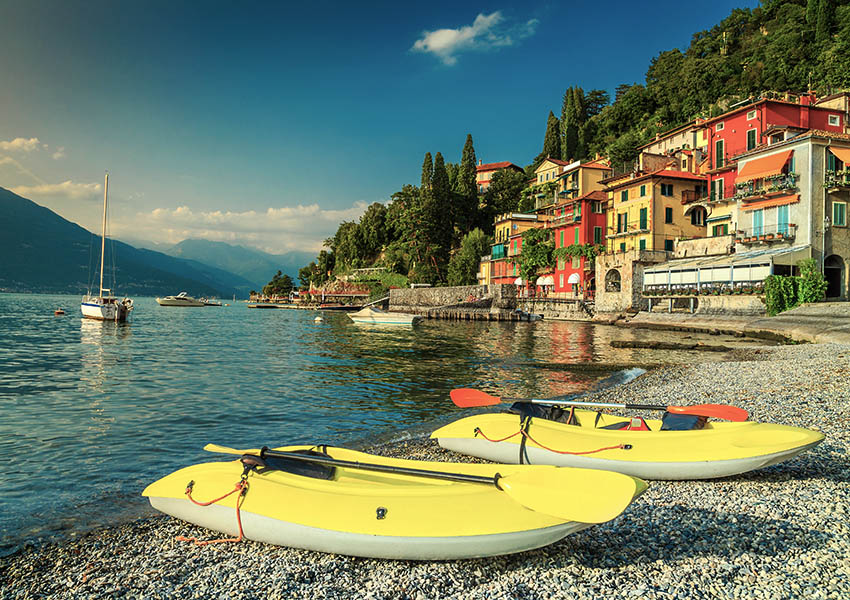 F.N.Sharp
Stunning Lake Como, the most popular and most beautiful of Northern Italy's three major lakes, is a feast for all senses. Surrounded by wooded hills and graced with gently winding shorelines that are home to spectacular homes and quaint villages, it's a vacationer's paradise. While it might be tempting to just sit and enjoy the view and the often gentle breezes of Italy's second largest lake, there are lots of things to do in Lake Como that will get you up and moving. If you're trying to decide what to do in Lake Como, here are a handful of ideas that'll make your holiday even more memorable.
Things to Do on the Water
Credit: @Lake Como Boats
Of course, the water is the centerpiece of Lake Como and when the weather is right, there's so much to enjoy on that sparkling lake. Many outfitters offer rentals, tours, and other adventures for you to enjoy the water, from rowing and fishing to sailing and diving.
Rowing: Whether you're an experienced rower or are simply ready to give it a try for the first time, you'll find that rowing is one of the most relaxing of all Lake Como water sports. It's super popular, too. As a matter of fact, rowing clubs were first established here in the 19th century and remain an important part of the culture of the lake area. Look for a variety of canoe rental services along the lake, or check out Canottieri Lario in Como, where you can take a beginner course or even participate in a competition. The youth hostel in Menaggio also offers courses for all ages.
Waterskiing and wakeboarding: Though the sometimes-windy days of the lake aren't always ideal for waterskiing or wakeboarding, there are plenty of calm sunny days for you to enjoy these Lake Como adventures. There are clubs and outfitters located along the lake that offer courses, rentals, and other amenities to help you enjoy these experiences, like Sci Nautico Lariano in Blevio and Club Morgan in Lezzeno.
Sailing and other "wind" sports: If you're wondering what to do on Lake Como on a particularly breezy day, consider sailing, windsurfing, or kitesurfing. Windy days on the lake are ideal for these water sports, and the whole area is ripe with sailing schools and clubs that will help you make your windy day on the lake a perfect one! Whether you prefer to be onboard a skiff or catamaran, or are adventurous enough to attempt windsurfing or kitesurfing, there's an instructor waiting to help – no matter your age. Some clubs work with children, as well. Try Marvelia Skiffsailing in Dongo for sail boating or KTS40 in Colico for kite and windsurfing adventures. You can also choose a sailing charter complete with a skipper and leave the hard work to him!
Diving: One of the deepest lakes in Europe, with a maximum depth of 1345 feet, Lake Come is ideal for diving. So, when searching for things to do in Lake Como, consider a dive. Groups of divers are constantly heading out into the water and equipment is available for rent, so you'll always find a dive waiting for you, whether you're a beginner or an experienced diver. A good place to start is Como Sub, where the staff is helpful and courteous.
Fishing: Want to be on the water but not looking to exert yourself too much? Then fishing is the ideal choice! Brown, rainbow, and marble trout are plentiful in this deep-water lake, as are perch, pike, and zander – when in season, of course. Rent a rod and stand on the shore or invest in a fishing boat excursion, which can be booked for just a few hours or an entire day.
Boat Renting: Want to explore Lake Como from the water? Consider renting a classic wooden boat, complete with driver, so you can just sit back and relax on your private luxury tour of the lake. Many of the boats hold up to 10 passengers for group excursions, and boating is a great a adventure to enjoy with friends old or new. You can also rent other types of boats, including sailboats, which you can pilot yourself or opt for a skipper to lead the way.
Things to Do on Land
Credit: @Heather Shearer
If you prefer to stay on solid ground, there are plenty of things to do in Lake Como that will keep you on land.
Hiking: For those who love the outdoors, the list of things to do in Lake Como should include hiking along the many trails surrounding the lake, such as the Wayfarer's Trail in Lecco. Several trails are easy to find and offer short walks that take just an hour or two. Others, however, are best explored with an experienced guide who knows the terrain and can also educate you on the flora and fauna surrounding Italy's beautiful lake. Feeling truly adventurous? Sign up for a three-day hike deep into the Alps!
Biking: Bicycle adventures in Lake Como include something for every member of the family and every skill level, from excursions that are suitable for even young visitors to hard and extra hard rides that test even the most seasoned cyclist. Whichever you choose, however, you'll be rewarded with stunning views of the lake and the region in general. Outfitters in the area offer excellent bikes for rent so you can explore on your own if you wish. However, it's more fun (and safer) to book a custom tour with a guide or to join a guided group tour. Both traditional and e-bike tours are available, and some are combined with food and wine tasting or other additional experiences.
Mountaineering: Climbers looking for things to do in and around Lake Como should check out all the mountaineering experiences available to them. The surrounding Alps allow opportunities for glacial hikes and climbs, and plenty of outfitters offer guides and all the equipment needed to traverse an ice field or head towards the summit. There are experiences for both the experienced mountaineer and the novice who's never before climbed a sizable peak.
Rock Climbing: Lake Como is in the middle of the Alpine range, so that makes it the perfect place for rock climbing! Instructors in the area are eager to teach visitors the basics of rock climbing and can offer experiences that range from just a brief climb up the hills just above the lake or a multiple-day Lake Como adventure that'll land you at some of the most breathtaking spots in the region.
You might also consider trying Via Ferrata, which is a form of rock climbing that includes pre-placed climbing aids (cables, pegs, ladders, etc.) that help you scale the heights. This is ideal for individuals with little or no climbing experience and can be accomplished by anyone who is physically fit. It's a great way to see Lake Como from up above and the easiest routes take just a few hours to conquer.
Golf: A number of golf courses are scattered around Lake Como, and the weather is often ideal for the sport. If you're heading there specifically for a Lake Como golf holiday, you'll find there are numerous package plans available for the golf aficionado, many of which include stays at some of the area's loveliest resort hotels. If you just want to play a game or two, be sure to set up a tee time in advance so you're not disappointed. Seven courses can be easily reached from just about anywhere on the lake.
Things to Do on Land and Water
Credit: @Lakecomocanyoning
If you want to experience the best of everything Lake Como has to offer, you'll find plenty to do on both land and water.
Canyoning: If you're super adventurous, canyoning just might be for you. With this land and water experience, you'll work with guides who will help you hone your skills for this popular Lake Como sport, which involves climbing, jumping, abseiling, swimming, and more. Ideal for the super fit vacationer who is looking for more than a little adventure, canyoning is very popular in the region and just might be the experience that makes your holiday unforgettable.
Cruising, Sailing, and Sightseeing Tours: While boating and sailing are among the most popular water sports along Lake Como, you can also climb aboard a seafaring vessel to simply take in the breathtaking sights from the lake. You'll find tours available aboard boats of all sorts, from large sailing vessels to speed boats and even traditional Venetian-style water taxis. Some tours include elegant lunches or dinners onboard or feature stops in a lakeside village for a meal and perhaps a little wine tasting. Others offer the opportunity to disembark and enjoy the sites in places like Bellagio or Varenna, two lovely villages that are well-worth exploring on foot.
So, whether your preference is for high-energy water sports that pump up your adrenaline, nail-biting experiences in the nearby Alps, a few rounds of golf in Italy's bucolic countryside, pedaling down the mountainside, boating in the breeze, or simply enjoying the beauty and tranquility of the region, you'll find plenty of things to do and instagrammable sights to see in Lake Como. Each will provide a memory that you'll long treasure, along with photos that will be beyond compare!
Tagged in: