The Top 3 Most Luxurious Castle Hotels of Ireland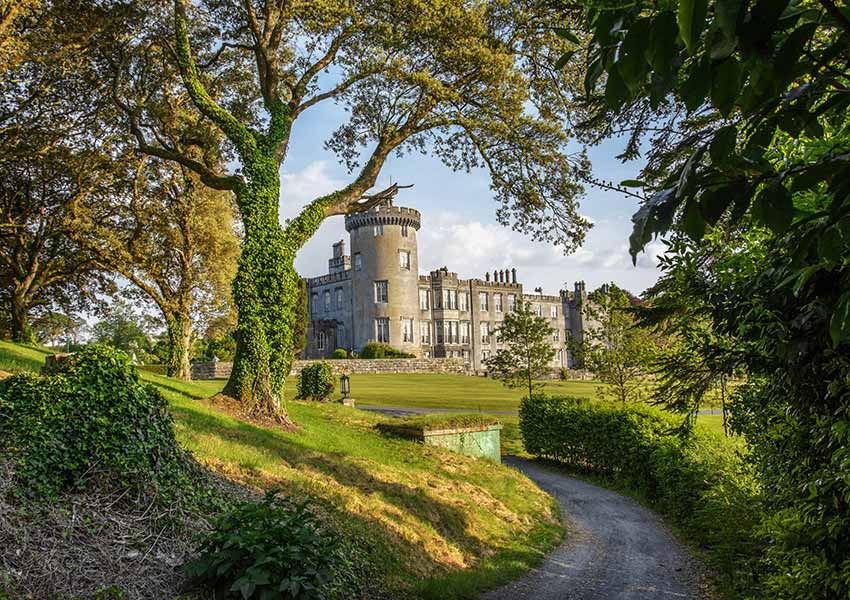 F.N.Sharp
For more than 2,000 years, Ireland has been home to thousands of medieval castles – more than 30,000 to be close to exact. Originally built as defensive military structures and safe retreats for Irish noble families, many of the most historic and famous castles of Ireland have been restored and now serve as the most popular destinations for experiencing the history and spirit of Irish culture. While we'd love to tell you all about all of the magnificent hotel castles of the Emerald Isle, we've narrowed our list down to the top three most luxurious castle hotel and resorts in Ireland – in no particular order.
Dromoland Castle
Credit: @Dromoland Castle Hotel
Newmarket-On-Fergus, Co. Clare
V95 ATD3, Ireland
https://www.dromoland.ie/
Tel: +353 61 368144 | USA: 1-800-346-7007
Situated on 450 acres in County Clare, Western Ireland, Dromoland Castle has been welcoming guests since the 16th century. The original home of the O'Briens of Dromoland – ancestors of Brian Boru, of one of the last High Kings of Ireland – the castle features a very rich history amidst luxurious accommodations.
In 1962, the Dromoland Castle was transformed into a luxury resort hotel, which now features lavish accommodations, an onsite spa, and a golf and country club. Accommodations range from standard, executive, and deluxe staterooms and suites to the elegant rooms of the Queen Anne Courtyard, which was originally built in 1736 and recently renovated to offer lavish accommodations overlooking the Courtyard Garden.
For a truly royal experience, book the Brian Boru Suite, featuring 600 square feet of luxury decorated in a duck egg and gold palette, including a bedroom complete with a four-poster bed, chandeliers and separate dressing room, a separate sitting room, and an impressive bathroom, featuring a double shower, a freestanding slipper bath, and luxury amenities, including signatures slippers and bathrobes, along with the Asprey bath and body line. The suite is flooded in natural light with huge windows offering breathtaking views of the estate and the tranquil waters of Dromoland Lough.
During your stay at Dromoland Castle, you can start and/or end your day in luxury at the golf and country club's leisure center, complete with a gym, sauna, steam room, jacuzzi, and pool, and enjoy a range of activities in between – from archery, clay shooting, and falconry to fishing, boating and hiking, as well as horseback riding and guided pony and trap tours of the estate.
You won't have to venture too far for fine dining, either – just head over to Dromoland's flagship restaurant, the Earl of Thomond, to enjoy an authentic taste of Ireland encompassed by the lavish decor of Venetian silk and sparkling chandeliers, along with sweeping views of the estate.
If you're in the mood for something a little more casual, then head over to the Golf & Country Club to enjoy a light lunch, snack or casual dinner at The Fig Tree Restaurant. Or get cozy in the fire-side sofas and armchairs of The Gallery with some coffee and scones, some afternoon tea or cocktails, or enjoy a casual evening meal. Or grab a window seat at The Cocktail Bar and order from the superb selection of wine and tap beers, or the extensive cocktail list complete with Irish whiskey and gin.
If you'll be spending most of your day exploring the great outdoors of Ireland, then allow the castle staff to pack a picnic basket for you, whether it's for light snacks, filling meals or a romantic picnic for two, complete with a bottle of champagne or your favorite wine. And if you really want to pamper yourself, then stay comfy in your room and order from the 24-hour in-room dining menu.
Kilkea Castle
Credit: @Leanne
Kilkea Demesne, Castledermot
Co. Kildare, R14 XE97, Ireland
https://www.kilkeacastle.ie/
Tel: +353 59 9145600 | USA: 1-855-954-5532
An important landmark of Irish history, Kilkea Castle was built in 1180 by Hugh de Lacy, the Earl of Ulster and Chief Governor of Ireland and is known as the oldest inhabited castle in Ireland. After a five-year renovation, the castle was reopened in late 2017 as a luxury hotel and resort.
Spreading across 450 acres in the countryside of County Kildare, about an hour outside Dublin, Kilkea Castle features 140 rooms, including deluxe and luxury castle bedrooms and suites, carriage rooms overlooking the courtyard, and up to three-bedroom lodges overlooking the championship golf course. To feel like the royals of Kilkea Castle, book the FitzGerald Suite situated at the very top of the castle in the Round Tower and enjoy 360-degree views of the estate. And if you're planning a big event, whether it's a castle wedding or family reunion, you can be the rulers of Kilkea as the entire castle is available to rent exclusively.
Kilkea Castle offers a variety of activities for exploring and enjoying the 180 acres of gardens and woodlands surrounding the estate, from nature walks and horseback riding through the countryside to archery and falconry to fishing and floating down the lazy River Greece with a glass of wine. And if you're a golf fan, you can test out your skills on the castle's 18-hole, par 70 championship golf course.
Wind down after a day of exploring the estate in the onsite spa, or grab a pint of Guinness and a bite to eat at The Keep, the castle's gastropub. Other dining options can be found at The Clubhouse, which overlooks the golf course and features two different dining options: The Bistro, an informal dining experience offering all-day dining, and Hermione's Restaurant, which is best known for its Sunday lunch menu.
For a fine dining experience, you can dine like royalty at Restaurant 1180, the castle's private dining room overlooking the rose garden and the impressive 18th hole of the championship golf course. All of the castle's dining experiences feature locally-sourced ingredients to offer a taste of Ireland with a hint of international flavor.
Ashford Castle
Credit: @Ashford Castle
Cong, Co. Mayo
F31 CA48, Ireland
https://www.ashfordcastle.com/
Tel: +353 94 954 6003
Last, but certainly not least, is Ashford Castle. Originally founded in 1228 and serving as home to the Guiness family in the 1800s, Ashford Castle became a first-class hotel in 1939 and underwent a complete restoration and expansion in 1970, then again from 2013 to 2015, to become the award-winning castle hotel it is today.
Situated in County Mayo, Western Ireland, on 26,000 acres – yes, you read that right – this 5-star luxury castle hotel features 83 rooms and suites, including standard Corrib Rooms featuring luxurious king-size beds, and Corrib Lake View Rooms overlooking Lough Corrib. The Deluxe and Lake View Deluxe Rooms feature spacious relaxation areas, and the Staterooms feature original fireplaces and exquisite furnishings, including four-poster beds.
If you need a little extra space, the Junior Suites feature king-size and sofa beds, along with private dining areas, while the Deluxe Queen Family Rooms overlooking Lough Corrib and the Parterre Gardens offer two queen-size beds and a relaxation area, along with a large bathroom and separate shower.
Credit: @Deborah Levy Designs
For a truly royal experience, look no further than the presidential suites located in the oldest wing of the castle. Named after U.S. President Ronald Reagan, who stayed at the castle in 1984, the split-level Reagan Presidential Suite is decorated with original portrait art and antiques, and features a bedroom with an antique George III style four-poster bed, a separate sitting area, and two bathrooms, along with floor-to-ceiling windows for spectacular views of Lough Corrib.
Located in the same wing is the Kennedy Suite, named after U.S. Senator Ted Kennedy who also stayed at Ashford in the early 1980s. The Kennedy Suite boasts exquisite antique furniture and spectacular views of Lake Corrib, and can be combined with the Reagan Presidential Suite to complete a private three-bedroom wing of the castle.
For the ultimate private getaway, you can rent the castle's Hideaway Cottage located on the shores of Lough Corrib. Originally serving as a boathouse during the Guinness era, Hideaway Cottage is surrounded by private gardens with lakefront views and features handmade furnishings, a private lakeside dining terrace, and private gated access .
With 26,000 acres to explore, there's a lot to see and do at Ashford Castle. From horseback riding, cycling, lake cruising and paddle boarding to archery, clay shooting, zip-lining and tree-climbing, there's something for everyone. Nature lovers can get lost in the tranquil surroundings of the Estate Gardens, and golf lovers can enjoy complimentary tee times at the onsite 9-hole golf course designed by Irish golf architect, Eddie Hackett – and if you're looking for the ultimate Irish golf experience, Ashford Castle is surrounded by some of the finest links golf courses in the world.
If you'd rather sit back and relax during your stay at Ashford Castle, you can catch a movie in the castle's luxurious picture house-style cinema, or enjoy a rejuvenating escape at the onsite spa, which was named Ireland's Best Hotel Spa in 2017. If you want to relax like the royals, then head over to the Connaught room for some afternoon tea, complete with an array of specialty teas, delicate finger sandwiches, and warm, freshly baked scones with homemade jam.
If you really want to feel like king of the castle, then enjoy one of Mr. Tollman's limited edition cigars with a whiskey or cognac at The Cigar Terrace, located on a rooftop corner of the castle overlooking River Cong. Or sit back and enjoy the finest in Irish hospitality at The Prince of Wales Bar, which offers a full selection of cocktails, liqueurs, brandies and, of course, pints of Guinness. Or head over to The Billiards Room for a round of pool, or sink into the lush armchairs to enjoy your favorite cocktail and nibble on some Irish and Cuban tapas.
Credit: @Ashley Nicole
And if you're a wine lover, you absolutely must visit The Wine Cellars at Ashford Castle. Located within the secret passageways of the castle that lead into three private spaces, The Wine Cellars offer private wine tasting and wine dinners with an extensive selection of wine – 600 bottles to be exact.
When it comes to dining, you'll find an array of options at Ashford Castle. Dine like royalty in the George V Dining Room and enjoy delightful recipes created by acclaimed Chef Philippe Farineau, or enjoy the bistro-style menu of traditional Irish cuisine at The Dungeon located on the lower ground floor. For fine contemporary Irish cuisine, take a 20-minute stroll over to Wilde's at The Lodge to enjoy inspiring creations by award-winning Chef Jonathan Keane. And if you're visiting the castle during season, take a short stroll over the bridge to enjoy a relaxed and casual dining experience at Cullen's at the Cottage with a menu of internationally and locally-inspired dishes.
Private dining is also available at Cullen's at the Cottage, the Connaught Room, and the Inglenook Room, which features the most impressive fireplaces of the castle, including a wooden fireplace dating back to the Renaissance period.
Ashford Castle has earned a seriously long list of awards and accolades year after year, including the No. 4 spot for two TripAdvisor Travelers' Choice Awards for 2019 – the Top 25 Hotels in Ireland and the Top 25 Luxury Hotels in Ireland, as well the No. 8 Hotel for Romance in Ireland.
So there you have it – our top three list of the most luxurious castle hotels in Ireland. Now it's time to start planning that trip to the Emerald Isle – and have fun storming the castle!
Tagged in: