Do the Desert in Style at These Palm Springs Hotels and Resorts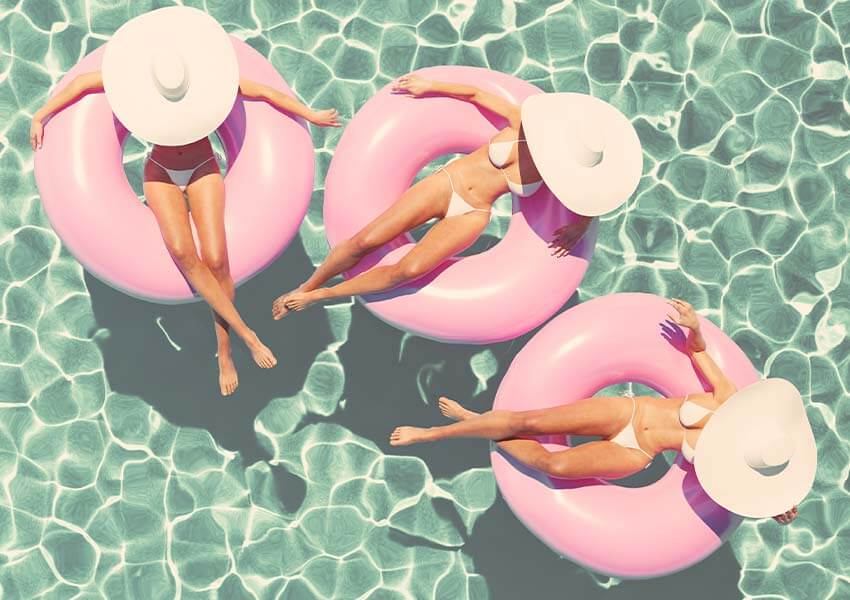 F.N.Sharp
For nearly a century, Palm Springs has hosted celebs such as Frank Sinatra, Cary Grant, Marilyn Monroe, Sony Bono and Steve McQueen. Today, celebs such as Angelina Jolie and Leonardo DiCaprio still flock to this oh-so-hip desert oasis about 100 miles from Los Angeles to escape the madness of the city. Why Palm Springs? Historically, actors often had clauses in their contracts that prevented them from traveling farther than a two-hour drive during a shooting season in case of re-shoots.
Palm Springs is also a living museum of mid-century modern architecture where you'll find endless glass, clean, geometric lines and innovative indoor/outdoor living spaces. This architectural trend found its way into Palm Springs hotels, so we found an assortment of the hottest luxury hotels and resorts to cool off in if you find yourself in this legendary playground for Hollywood A-listers.
Avalon Hotel
Credit: @Avalon Hotels
Since its origin in the 1930s, this four-star historic boutique hotel defines the ultimate in the Palm Springs spa resort experience. Stay in a one-bedroom or two-bedroom bungalow and enjoy a gas fireplace, a kitchen and large parlor, all in sleek black and white decor. Set in the San Jacinto Mountains foothills, this Spanish Mission-style features three pools with private cabanas and two Jacuzzis.
Meander the property's multiple terraces, lawns, and patios overflowing with fragrant citrus trees and lush gardens. Indulge in top-notch pampering in the serene indoor/outdoor Estrella Spa and you'll feel as if you slipped back into the iconic Golden Age of Palm Springs. Dine in the hotel's Chi Chi restaurant where you'll find a fresh, balanced California menu.
L' Horizon Resort and Spa
Credit: @Brendan Kelly
Designed by renowned architect William F. Cody in 1952, this very-Palm-Springs-architectural gem offers some of the most glamorous accommodations in town. L'Horizon was originally a private retreat for famous T.V. producer, hotel owner and oil baron Jack Wrather, who produced "The Lone Ranger" and "Lassie." Wrather would invite his Hollywood friends to relax poolside on weekend getaways. Betty Grable, Marilyn Monroe and Presidents Nixon and Reagan have been guests here.
You'll feel like you're in a private compound with 25 low-slung bungalows with floor-to-ceiling glass, indoor and outdoor showers, luxury linens, platform beds and private patios. Take a dip in the infinity-style pool surrounded by fire pits, desert landscaping and elegant cabanas. For a real splurge, book the Residence, Wrather's former home. The completely private Residence is a 2,000-square-foot, two-bedroom featuring a private pool, secluded yard, wood-burning fireplace and sunken living room. Be sure to eat at SO.PA, an innovative, sumptuous Middle-Eastern-leaning restaurant onsite.
Parker Palm Springs
Credit: @Parker Palm Springs
This 14-acre resort awash with gardens, hidden pools, tennis courts, an executive golf course, two petanque courts and quiet indoor/outdoor spaces was once the home of "Singing Cowboy" star Gene Autry. Autry used it as the spring training site for his baseball team, the California Angels.
Another example of the finest mid-century architecture designed by Jonathan Adler, the Parker Palm Springs is home to the renowned Palm Springs Yacht Club — which is actually a 22,000-square-foot world-class spa with indoor swimming pools, saunas, steam and therapy rooms. You can stay in one of the chic 144 rooms, villas and suites or in Gene Autry's luxurious former two-bedroom residence.
You'll find no shortage of dining without even leaving the grounds — dine in Norma's, an upscale diner that serves breakfast all day or in Mister Parker, a dark, fancy French restaurant with a decadent wine list. Sip a heavenly glass of vino at Counter Reformation, a stylish wine bar serving eclectic small plates. The Parker is rumored to be one of the best places to spot a celeb in Palm Springs!
La Quinta Resort and Club
Credit: @La Quinta Resort & Club
No, it's not that budget hotel chain, this Waldorf Astoria-owned La Quinta Resort and Club is yet another legendary celeb hideaway/playground built in 1926. The resort features exquisite landscaping, stunning mountain views, swank villas and 41 pools, all in a peaceful setting filled with colorful desert flowers, fragrant citrus trees and towering palms.
Housed in glorious whitewashed Spanish-style adobe buildings with red-tile roofs, the casitas, suites and villas feature fireplaces, hot tubs and French doors that open to private patios. Pamper yourself in the award-winning spa, play tennis on one of the 23 sunken, tournament style courts or play a few rounds of world-class golf at one of five amazing courses. When it's time to dine, choose from one of the seven noteworthy restaurants onsite, ranging from classic American fare to vintage cocktails to Wagyu beef.
Korakia Pensione
Credit: @Korakia Pensione
Unlike the sea of iconic mid-century modern buildings you'll find in Palm Springs, the Korakia Pensione is a Moorish/Mediterranean wonderland of adobe and stucco straight out of Morocco. This stunning 1.5-acre property features two lovingly restored villas, Arabesque archways, fountains, tiled courtyards, gorgeous gardens and landscaping, and saltwater pools. It, too, has seen its share of Hollywood legends — a Scottish painter owned one of the villas and entertained Rudolph Valentino and Errol Flynn here.
Korakia, once called "One of the sexiest hotels in America" by the "New York Times," remains a favorite getaway for the hipster crowd, including renowned actors, producers, writers and photographers. The appealing bungalows and guesthouses, all brimming with antiques and handmade furniture, blend harmoniously into the California desert. Be sure to be around for the nightly lighting of the property ritual when staff light hundreds of candles and lanterns around the property!
Colony Palms Hotel
Credit: @Colony Palms Hotel
The Colony Palms was also built before the mid-century mod architecture trend and features a Spanish-Moroccan colonial style as well. Mosaic tile work, stucco walls and red-tiled roofs define this 56-room beauty surrounded by lemon and palm trees. Some rooms feature claw-foot tubs and fireplaces.
The Colony Palms has seen its fair share of Hollywood A-listers such as Frank Sinatra, Elizabeth Taylor, Ronald Reagan, Humphrey Bogart, Lauren Bacall and Clark Gable. Not all celebs associated with the Colony Palms were A-listers — mobster and Purple Gang member Al Wertheimer once owned the hotel and hid a speakeasy, brothel and casino in the basement. The hotel's restaurant, The Purple Palm, is named for the former owner.
These six iconic Palm Springs properties offer Hollywood history, luxury, pampering and elegance against a resplendent backdrop of the open desert and local mountains. If you're in the mood for a more traditional mega resort experience with a zillion amenities, you'll find that in Palm Springs too! Check out the Ritz Carlton Rancho Mirage, the Hyatt Regency Indian Wells, the Westin Mission Hills Resort and Spa or the Omni Rancho Las Palmas Resort & Spa.
Tagged in: