Top Places in Ireland to Get Your Adrenaline Fix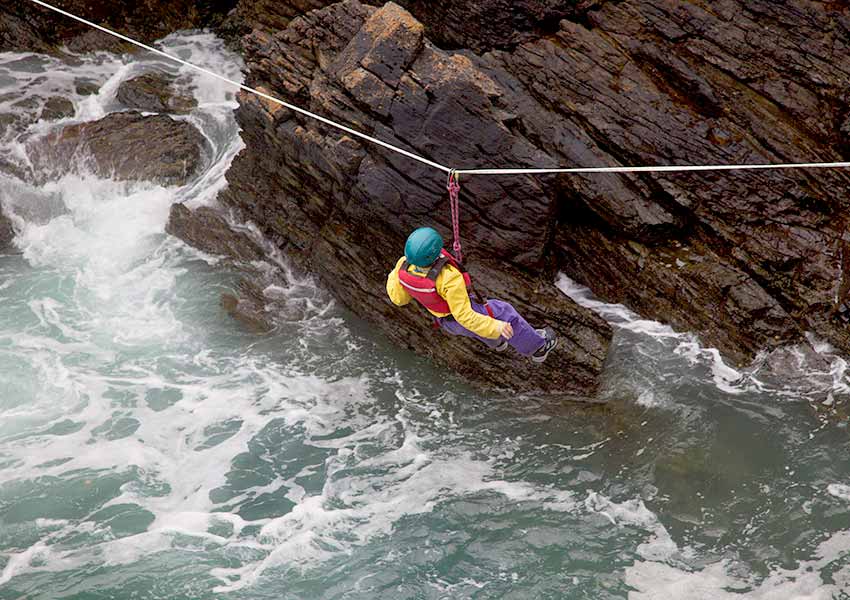 F.N.Sharp
When you mention to someone you're going to Ireland, it's difficult for most to think beyond pubs, the Guinness Factory, and maybe a visit to the Cliffs of Moher. What many don't realize, is that Ireland's wild side extends well beyond the pub walls of Dublin. As an island nation of over 32,000 square miles filled with mountains, valleys, forests, and of course, surrounded by the ocean, there are countless adventures to be found in the land of St. Patrick.
We've scoured tour books, asked locals and travelers, and searched the web far and wide to find some of the most unique tours, excursions, and activities that will get your adrenaline pumping during your next visit to the Emerald Isle.
Coasteering
Clare Island & Portrush
Credit: @Causeway Coasteering
Hiking is nice, but what if you added in a mix of rock climbing, cliff jumping, and swimming as well? Well, then you'd have coasteering. This unique activity is one of the most adventurous you'll find in Ireland and Northern Ireland and is best undertaken on Clare Island in County Mayo, or in Portrush in Northern Ireland. Not only will you get to experience the rugged coastline from the cliffs above, you'll also take a leap of faith into the Atlantic Ocean from up to 30 feet above to experience the surroundings from below the surface as well.
Each participant is equipped with a wetsuit, helmet, and floatation device, and are led throughout their adventure by expert guides who know the lay of the land, both above and below the waterline, to ensure each guest's safety during their coasteering adventure.
Mountain Biking
Ballyhoura Mountains
Credit: @Layton Hill
With 98km (approx. 61 miles) of trails that wind up and down rocky hills, pass over swampy bogs on elevated boardwalks, and send riders flying down steep drops, the Ballyhoura Mountain Bike Trails are one of the premier locations for mountain biking on the planet. The unique terrain, paired with unpredictable weather and conditions, make Ballyhoura a challenge for mountain bikers of all skill levels.
Not only are there five different trail systems throughout the Ballyhoura Mountains, but visitors to Ireland who want to get out on the trails can also rent a full-suspension bike from Ballyhoura Trailriders Bike Shop, located right at the trailhead for all of the loops throughout the forest.
One Man's Pass
Slieve League
Credit: @Brazen Jumper
The Slieve League mountain range is a stunning collection of sea cliffs that plunge directly into the Atlantic Ocean on one side and overlook the lush Irish countryside on the other. A much lesser visited destination than its little sister, the Cliffs of Moher, the Slieve League is filled with scenic outlooks and hiking trails for visitors to get a better look at how time – and the ocean – has eaten away at this massive mountain range.
For the ultimate thrill, and arguably the best view of Ireland, challenge yourself to climb One Man's Pass to the top of the Slieve League. This trail, recommended for experienced hikers only, follows a rocky ridgeline that can narrow down to less than 3 feet, hence its name. With 1,000+ foot cliffs flanking both sides of the trail paired with regularly strong winds and rain, One Man's Pass is one of the most challenging and rewarding hikes you'll find in all of Ireland.
Hurling
Kilkenny
Credit: @We Are Dublin GAA
No, it's not what you do after a long night at the pub! Hurling is an ancient Gaelic game that is still immensely popular throughout the country. Affectionately referred to as "the fastest game on grass", hurling is best described as a cross between soccer, field hockey, rugby, and lacrosse. A poll done by CNN placed the All-Ireland Senior Hurling Championship as the #2 must-see live sporting event, ahead of the World Cup and Super Bowl.
To try your hand at the national game of Ireland, visit the Kilkenny Way Ultimate Hurling Experience, where you'll get a crash course on hurling on a professional hurling pitch at Nowlan Park, home of the Kilkenny Cats who've won 34 All-Ireland Championship titles. During your introduction to hurling, you'll learn skills like lifting and striking the sliotar (ball) with your hurley (stick), making solo runs, and basic defensive strategies. After you've worked up a sweat and mastered the game, grab a pint at Legends Hurling Bar, the de facto hurling museum of Ireland where you can pose with a replica of the Liam McCarthy Cup, the trophy awarded to the winner of the All-Ireland Senior Hurling Championship.
Big Wave Surfing
Mullaghmore
Credit: @Hyperflex Wetsuits
When you're the western-most nation in Europe with over 300 miles of coastline on the Atlantic Ocean, there's bound to be waves. Within the last few decades, Ireland has exploded into the international surfing scene with its multitude of surf spots that dot the coastline. Despite water temperatures that average around 50 degrees, professional and amateur surfers from Europe and around the world descend on the rocky Ireland coast to score a ride of a lifetime.
When conditions are right, head out to County Sligo and follow the winding road towards Mullaghmore Head, Ireland's most famous surf spot. Here, you'll find a monstrous surf break that produces waves exceeding 30 feet in height. Watch from the cliffs high above as surfers are towed into the massive wave with the assistance of a jet ski, and are then  sent rocketing down the face of the wave as it unleashes it's power in a wall of foam and a roar that can only be compared to thunder. This is one activity we recommend watching from the sidelines – unless, of course, you're an experienced big wave surfer!
Thrill Riding
Kilbrew, County Meath
Credit: @Raj
Get the entire family an adrenaline fix at Tayto Park by riding the Cú Chulainn Coaster, Ireland's only wooden roller coaster, and one of the few throughout Europe that feature an inversion. The entire theme park is themed around Mr. Tayto, the iconic Irish mascot for Tayto Crisps, a national chip and popcorn distributor. After you've braved the Cú Chulainn Coaster a few times, head next door to the Tayto Factory Tour to learn how the beloved crisps are made, and taste test the Irish's favorite snack food in their wide variety of flavor offerings.
Sea Stack Climbing
Cnoc Na Mara, County Donegal
Credit: @Iain Miller
Rock climbing enthusiasts need to add a visit to Cnoc na Mara to their Ireland itinerary. This incredibly unique climbing location is found at one of the most remote corners of Ireland and is home to a group of sea stacks known as the 100 Guardians. These sea stacks, blasted away over thousands of years by the Atlantic Ocean, are what make Ireland's coastline one of the most distinct in the world. And with Unique Ascent, one of Ireland's premier climbing outfitters, you'll climb your way to the top of places that have been visited fewer times than the moon!
Sea Stack Climbing can be done by climbers of any experience level, as each stack has multiple routes to their summit, and the experienced guides of Unique Ascent will plan out your trip to ensure that your enjoyment and safety are paramount throughout the adventure. Once you reach the top of your first sea stack and take in the stunning panoramic views, you'll never want to climb any other way!
Tagged in: