3 Knife Set
What's included:
• 8" Chef Knife
• 6" Santoku Knife
• 3.5" Paring Knife
Specifications
Steel
67 layer Japanese Damascus VG10 for outstanding edge retention, rust prevention, and our breathtaking feather pattern
Edge
26° double bevel sharpening angle for a finely tuned cutting edge that balances durability and versatility
Hardness
HRC 60 +/- 2 for a durable, world-class blade resistant to chips and other deformations
Handle
G10 glass-based epoxy resin laminate for exceptional strength and hand feel
Meet the Superknives
---
F.N. Sharp blends the best knife making traditions from around the world to create peerless superknives for the modern chef. From our 8" Chef's Knife to our 3.5" Paring Knife, every one is forged from 67 layers of Japanese Damascus VG10 steel and features our signature WEB feel. Is it sharp? You're damn right—it's F.N. Sharp.
The Chef's Knife
---
Sharp chefs use sharp knives, and our Chef's Knife is the sharpest. No compromises. No excuses. Just eight uncompromising inches of exquisite Japanese Damascus VG10 steel, honed to the finest cutting edge you'll ever be lucky enough to wield.
---
Length overall — 13.5" (343mm)
Blade length — 8.5" (216mm)
Max spine thickness — 2.2mm
Max blade height — 45mm
Weight — 9.3oz (262g)
Santoku
---
Santoku translates as "three virtues," and after using this knife you'll find its design excels at three common kitchen tasks: slicing, chopping and mincing. Crafted much differently than the chef's knife, the Santoku's short, flat blade with rounded tip is perfect for uniform slices, while its Granton edge keeps ingredients from sticking to the blade.
---
Length overall — 11.25" (286mm)
Blade length — 6" (152mm)
Max spine thickness — 2.2mm
Max blade height — 42mm
Weight — 8.5oz (240g)
Paring Knife
---
Don't let the size of this little knife fool you! The F.N. Sharp Paring Knife has mad skills in the kitchen, from slicing and mincing dainty items like shallots, garlic cloves, fresh herbs and small fruits like dates, to hulling strawberries, peeling and segmenting citrus fruit, and even deveining shrimp and scoring meats.
---
Length overall — 8" (203mm)
Blade length — 3.375" (86mm)
Max spine thickness — 1.8mm
Max blade height — 20mm
Weight — 2.9oz (84g)
More F.N. Sharp Essentials
---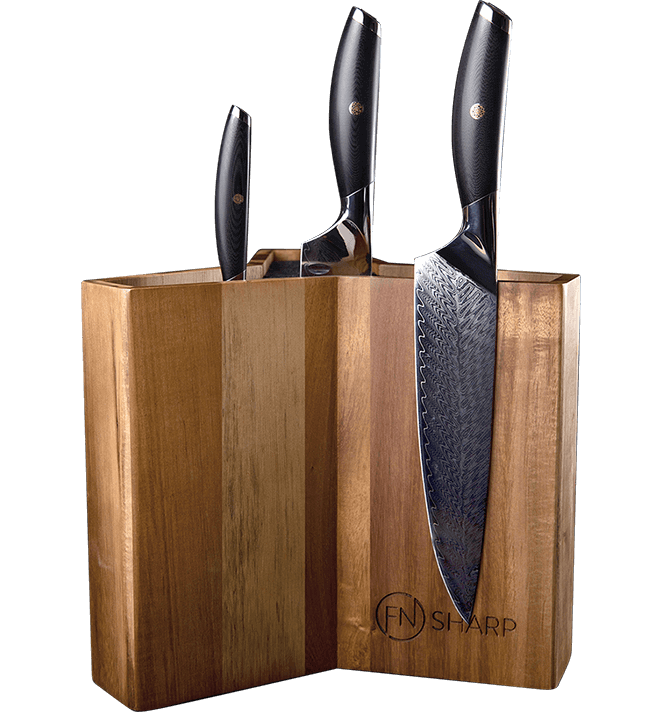 Magnetic Knife Block
Made of beautiful Acacia wood, our knife block features magnetic exterior areas to showcase your knives, as well as interior flex rods that give you the freedom to store knives or other culinary tools in any configuration you like.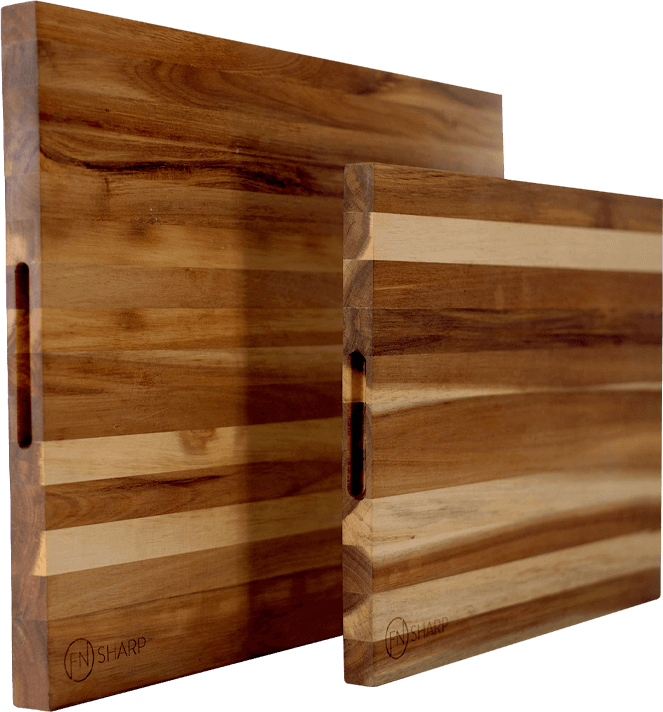 Cutting Boards
If you need a cutting board, we've got those. too! Also made of Acacia wood, our cutting boards are available in two different sizes to fit larger and smaller working spaces.
Shop F.N. Sharp Essentials
Shipping
---
Standard ground shipping is free! But if you need it sooner, you'll have the option to upgrade or expedite shipping during checkout (additional shipping fees apply). Orders placed before 3:00 PM eastern time are typically shipped the same day.
Returns
---
We think you'll love our knives! But if you aren't satisfied within the first 100 days of slicing and chopping, simply contact us for a refund.